Aya Gold & Silver Produces 338,624 Silver Ounces In Q3 2021, Increases 2021 Guidance To 1.55 Million Ounces
Aya Gold & Silver Inc. (TSX: AYA) shared today its quarterly production results for Q3 2021 at the Zgrounder Silver
The post Aya Gold & Silver…
Aya Gold & Silver Inc. (TSX: AYA) shared today its quarterly production results for Q3 2021 at the Zgrounder Silver mine in Morocco, recording silver production of 338,624 ounces. This is a decrease from Q2 2021's silver production of 439,149 ounces but an increase from Q3 2020's silver production of 113,655 ounces.
The quarterly silver production had an average grade of 242 g/t silver, compared to last quarter's 297 g/t silver and last year's 217 g/t silver.
"The better than anticipated operational performance and execution gives us the confidence to increase Zgounder's production guidance by 29% to 1.55 million ounces for the year," said Aya Gold & Silver CEO Benoit La Salle.
The mining company also noted a dip in the silver recovery rate, reaching 81% this quarter from 82% last quarter. The firm said this is primarily due to due to lower freshwater intake and excess evaporation in the tailings dam during the summer months. The plant availabilities for the flotation and cyanidation plants are at 87% and 89% this quarter, respectively.
Aya Gold & Silver Inc. last traded at $9.12 on the TSX.
---
Information for this briefing was found via Sedar and the companies mentioned. The author has no securities or affiliations related to this organization. Not a recommendation to buy or sell. Always do additional research and consult a professional before purchasing a security. The author holds no licenses.
The post Aya Gold & Silver Produces 338,624 Silver Ounces In Q3 2021, Increases 2021 Guidance To 1.55 Million Ounces appeared first on the deep dive.
Oil keeps pushing higher, gold above $1,800
OPEC+ in no mood to take the heat out of the oil market Oil prices are up around 1% at the start of the week, buoyed by comments from Saudi Arabia's…
OPEC+ in no mood to take the heat out of the oil market
Oil prices are up around 1% at the start of the week, buoyed by comments from Saudi Arabia's Energy Minister Prince Abdulaziz bin Salman who pushed back at suggestions that output should be ramped up faster than currently planned. Governments around the world are clearly concerned about oil prices which naturally puts a target on the back of OPEC+ as the group is still pumping well below pre-pandemic levels.
But producers have proceeded cautiously until now, despite high prices, increasing production by 400,000 barrels per day, each month, and the latest moves are clearly doing nothing to convince them to do more. They have made clear the uncertainty around the near-term outlook as a winter Covid surge triggers more restrictions and changes in behaviour that could weigh on demand over the period.
Soaring natural gas prices today may also be contributing to the moves in oil, with colder weather driving further demand for alternative energy sources. Oil demand is already expected to be at least 500,000 barrels per day higher as a result of the gas shortage and that number could rise, depending on the weather. Colder weather expectations for the next two weeks has been attributed to the 10% jump in natural gas prices today which may highlight just how sensitive they'll be to forecasts in the coming months.
Gold back above $1,800 but can it hold on this time?
Gold failed to hold onto gains above $1,800 into the close last week, perhaps a sign of vulnerability at those levels and a negative indicator going into this week. But prices are on the rise once more today and the yellow metal is up a little under 1% a little shy of $1,810.
While that may be encouraging, it's yet to surpass Friday's peak and there's still plenty of time to give back those hard fought gains. Another failure to hold on could highlight some underlying weakness in the market and point to an impending correction.
Denarius Silver: Corporate Overview
Denarius Silver Corp (TSXV: DSLV) is a Toronto-based junior silver exploration company engaged in the acquisition, exploration, development and eventual
The…
Denarius Silver Corp (TSXV: DSLV) is a Toronto-based junior silver exploration company engaged in the acquisition, exploration, development and eventual operation of mining projects in high-grade districts. The company is focused on developing the past-producing Guia Antigua and Zancudo silver-gold projects in Colombia, and its Lomero-Poyatos project in Spain's prolific Iberian Pyrite Belt, which hosts the world's largest concentration of massive sulphides.
The Investment Thesis
We base our investment thesis on the following factors:
The Lomero-Payatos project is located within the prolific Iberian Pyrite Belt in northern Spain, which is considered to be one of the world's largest and most productive volcanogenic massive sulfide (VMS) structures.
The Iberian Pyrite Belt been mined for over a thousand years and has produced over 2000 million tons of ore.
Spain and Colombia are both well established mining jurisdictions with a long history of mining. Denarius' projects are supported by well established mining infrastructure. 
Denarius' Colombia projects are in close proximity to Gran Colombia's Segovia Mine, and Gran Colombia is a major shareholder in DSLV.
The Colombia properties had historical production and vein structures offer significant discovery potential for new mineralized zones.
The company has an experienced management team that is focused on building a business around production and cash flow, and developing its exploration projects to a point where the added value will attract potential merger and acquisition partners.
The Deep Dive views Denarius Silver as a development-stage exploration company with considerable upside potential and relatively low downside risk. In Colombia, the two DSLV projects are close to Gran Colombia's flagship Segovia Mine and host to past-producing silver-gold mines that the Company will restart and conduct more extensive exploration to expand the size and scope of the deposits. Positive exploration results could generate interest from larger players and could prompt an exit transaction or strategic partnership for Denarius.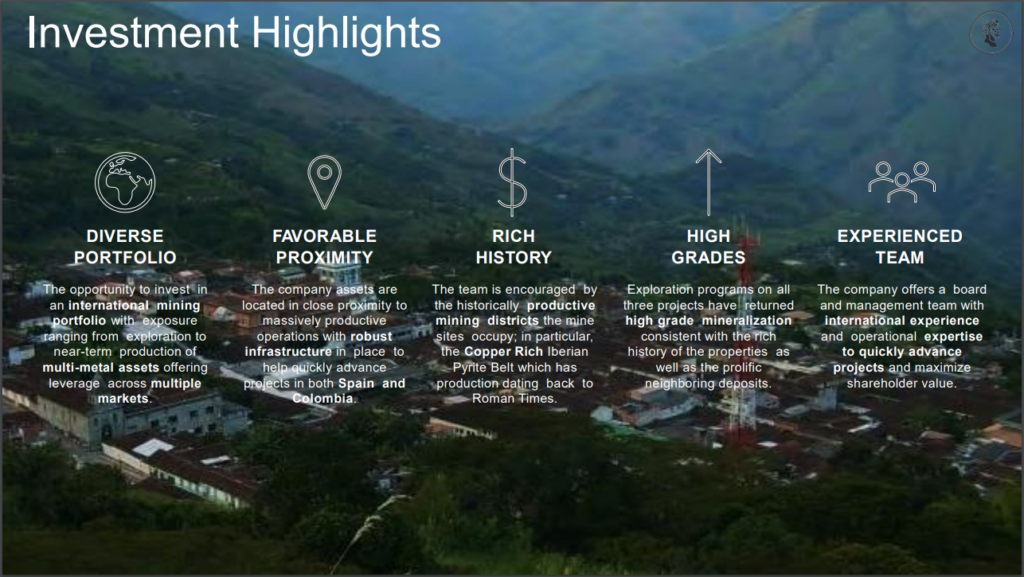 The Projects
Lomero-Poyatos Project
The Lomero-Poyatos deposit is located in the north-east part of the prolific Spanish/Portuguese Iberian Pyrite Belt in the Huelva Province of Southern Spain, one of the world's most productive volcanogenic massive sulfide IVMS) belts. The site has a well established water, power and highway infrastructure, a reliable local workforce and services, as well as proximity to several high-capacity processing facilities and the port at Huelva.
The Lomero-Poyatos deposit has two separate near-surface mineral deposits, the Lomero to the east and Poyatos to the west, that combine to form a single deposit at depth. Mineralization is said to consist of gold, as well as zinc, lead, and copper. Further, Lomero has one of the largest concentrations of gold mineralization in the region, having assayed 2.0 metres at 14.1 g/t gold as well as 0.55 metres at 16.84 g/t gold.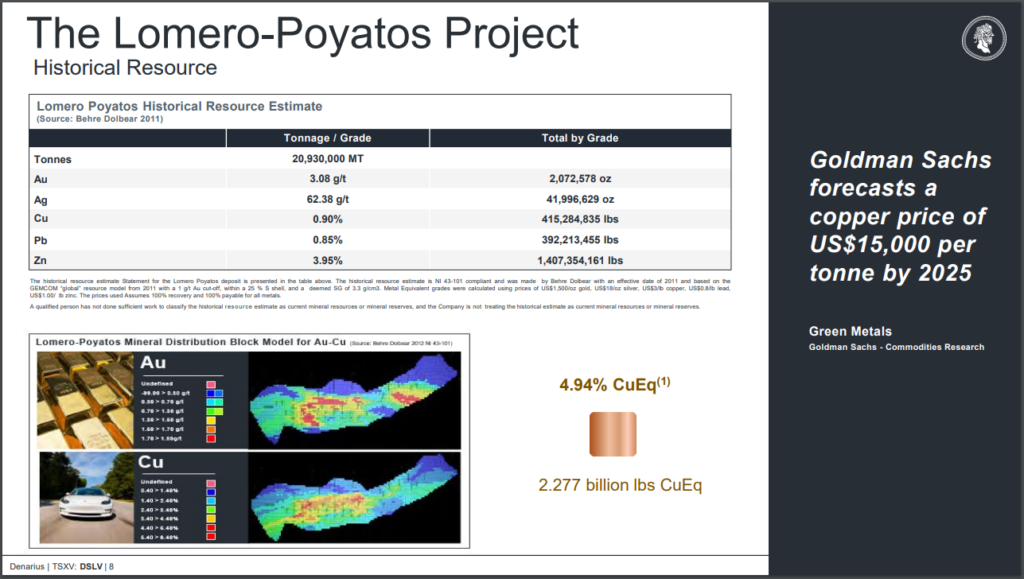 The Lomero-Poyatos deposit was discovered in 1853 and is a former sulphide pyrite mine with underground development on eight levels, which are currently flooded. The property was initially mined in the late 1850's as an open pit operation until 1905 when it became an underground mine until its eventual closure in 1991.
Most of the historical production of 2.6 million tonnes came from underground operations, and the mined massive pyrite ore was used as a source of sulphur for sulphuric acid production. The historical resource calculation as per a 2002 NI-43-101 report showed 20.61 Mt of 3.1 g/t gold,  70 g/t silver, 3.3% zinc, 1.2% copper, 1.2% lead, and 37% sulfur. Management believes that because a gravity survey identified anomalies at depth and the deposit is open along strike and down dip, there is potential to significantly increase the resource estimate for the deposit.
A 23,500 metre exploration program is currently underway on the property, with the program slated to consist of 81 drill holes which will include both infill and step out drilling.
Guia Antigua Project
The Guia Antigua Project was acquired from Gran Colombia Gold Corp (TSX:GCM), Colombia's largest underground gold producer and is located in the prolific Segovia-Remedios mining district, Department of Antioquia, 130 kilometers northeast of Medellin. The Guia Antigua Project gives Denarius exploration, development and mining rights under a mining license agreement to a 386-hectare area of the eastern part of Gran Colombia's mining title RPP-140. The high-grade mines in this region have produced roughly 5 million ounces of gold over a 150 year period.
The property is host to the Guia Antigua mine, which was operated by Sociedad Guias-Gold from 2014–2016 and processed 6,034 tonnes of ore resulting in production of 78,558 ounces of silver and 1,174 ounces of gold with an average head grade of 404.9 g/t silver and 6.05 g/t gold. 
The Guia Antigua property has a highly productive vein system, and a 2018 drill program discovered 3 new veins which returned values of 3,268 g/t of silver and 8.57 g/t gold over 1.2m, and provides significant potential for additional discoveries. Denarius will focus its exploration activities on the Guia Antigua vein, which has similarity to the geology, structure, vein type, and mineralization of the high-grade Segovia Mine veins.
Zancudo Project
The Zancudo property is a 1,052-hectare mining concession within the Middle Cauca Gold Belt in the Titiribi mining district in Antioquia, near GoldMining's (TSX: GOLD) Titiribi Project, about 27 km south of Medellin. It is host to the historical Independencia silver-gold mine, with the region as a whole having historical production of 1.5 million ounces of silver and 2 million ounces of gold equivalent dating back to 1793. 
The Zancudo deposit lies within the Romeral terrane, which is located on the western side of the Central Cordillera of the Colombian Andes and is covered by continental sediments. Gold mineralization occurs in two zones, the Upper Zone has flat-lying veins with sandstones, and the lower zone, which runs north-south in steep dipping veins.
The Zancudo Project is currently being explored by IAMGOLD Corp. (TSX: IMG) pursuant to an option agreement for the exploration and potential purchase of an interest in the project, which was previously established by Gran Colombia. Iamgold completed a total of 16,224 meters of drilling at Zancudo between 2017 and 2018 and has incurred over $4 million of its $10 million exploration commitment, but due to covid-19, Iamgold suspended its drilling program in 2020. Denarius expects to form a joint venture with IAMGOLD to advance the project.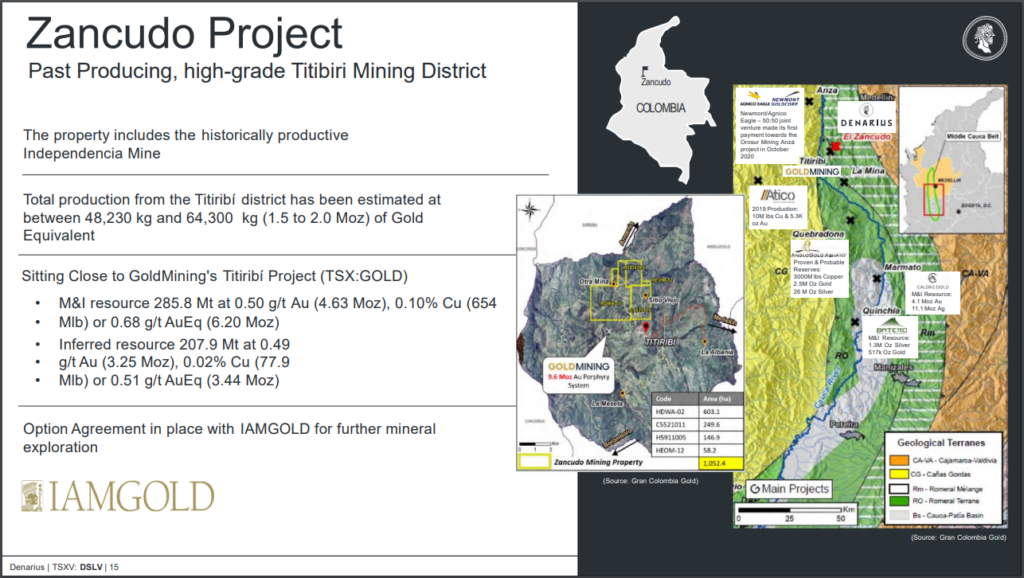 The Management Team
Serafino Iacono – Interim Chief Executive Officer, Executive Chairman
Mr. Iacono is Executive Chairman of Gran Colombia Gold Corp, and has over 30 years experience in capital markets and public companies, having raised in excess of $4 billion for numerous natural resource projects internationally in Latin America, Canada and the United States. He was a co-founder of Bolivar Gold Corp and Pacific Stratus, and has served as a director and senior executive for a number of resource companies including Pacific Exploration and Production Corp and PetroMagdalena Energy Corp.
Michael Davies – Chief Financial Officer
Mr. Davies holds a B. Commerce degree from the University of Toronto and has over 20 experience as a Chartered Professional Accountant (Ontario) for a number of international and public natural resources companies, providing financial management and strategic planning. He has served in senior management positions several resource companies, including with PetroMagdalena Energy Corp., Coalcorp Mining Inc., Medoro Resources Inc., and LAC Minerals Ltd. 
Jeff Couch – Director
Mr. Couch is a senior financial services executive with extensive experience in the natural resources sector, having advised and raised capital for clients globally, with a particular focus in emerging markets. He has advised several governments on their natural resources capital requirements and has served as a director for a number of resources companies. Mr. Couch works with Orion Resource Partners, a mining focused private equity firm with $6 billion under management, and previously held senior investment banking positions at several large international banks, including BMO Capital Markets (Bank of Montreal), Credit Suisse Europe and Citigroup. 
Lombardo Parades-Arenas – Director
Mr. Paredes-Arenas holds a B. Science in Mechanical Engineering and Master of Economic Analysis and Financial Economics. He currently serves as Chief Executive Officer of Gran Colombia Gold Corp. and brings over 20 years of corporate leadership and operations management experience in the Latin American resource sector. Mr. Paredes held various roles at Petroleos de Venezuela (PDVSA) before becoming an international energy and environmental consultant.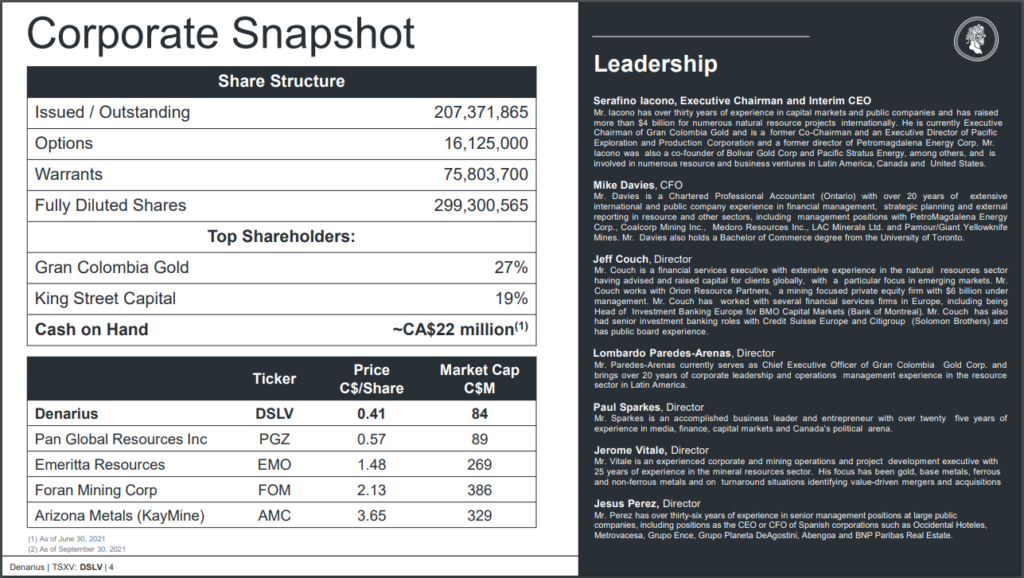 The Comparables
Colombia
Colombia is rich in minerals and base metals, which are dispersed throughout the country, and include silver, gold, copper, platinum, emeralds, coltan, and coal. The country has had a long history of gold and silver mining. Although there are a number of gold mines operated by publicly-traded companies in the central and southern parts of the country, much of Colombia's gold and silver mining production comes from artisanal miners. The Segovia-Remedios mining district is a prolific gold mining district that hosts a number of rich gold mines, yet despite that, the region is still largely unexplored.
In Colombia, the Zancudo and Guia Antigua Projects are close to several medium and large-scale producers, including:
Gran Colombia Gold: produced 225,000 ounces of gold in 2020
AngloGold and B2 Gold Joint-Venture: 6 million ounces of gold reserves at the Gramalote mine
Zijin: 6 million ounces of gold reserves at the Buriticá mine, which Consolidated Gold, sold  to Zijin for USD $1.4 billion
Other exploration companies in the area include:
Antioquia Gold Inc (TSXV: AGD) is a Calgary, Alberta-based mineral exploration and development company that is engaged in the acquisition, exploration, and development of mineral resource properties in Colombia. The company's project includes their flagship Cisneros project, a 5,630 hectare property located in the central portion of the department of Antioquia, about 80 kilometers northeast of Medellin. The Cisneros mine commenced production in 2019 and the Company is actively exploring the rest of the property to further delineate the size and scope of the deposit.
Soma Gold Corp. (TSXV: SOMA) is a Vancouver-based junior exploration and development company that owns and operates three producing gold mines on a 29,000 hectare property in Antioquia, Colombia within the Central Cordillera of the Andes Mountains. The ore extracted from the La Ye, El Limon and Nechí projects is processed at two mills operated by the company. The mills also process ore from local artisanal miners. Soma is actively continuing its exploration activities to add to its gold reserves.
Gran Colombia Gold Corp (TSX:GCM) is a Toronto-based gold and silver exploration, development and production company with a focus on gold projects in the South American countries of Colombia and Guyana. The Company's flagship asset in Colombia is the Segovia Project, which hosts the El Silencio gold mine that produced 225,000 ounces of gold in 2020. It is considered to be one of the world's highest-grade gold mines with proven and probable reserves of over 632,000 ounces at an average grade of 8.92 g/t gold. Gran Colombia is actively exploring the Segovia project that has several other mineralized zones on the property.
O2Gold Inc. (TSXV: OTGO) is an early-stage Canadian mineral exploration company focused on the acquisition and development of mineral projects in Colombia, South America. The Company's management and professional teams are based in Medellin, Colombia, and have extensive experience in the region. Its Otú Central Project is a 30,000 hectare property comprising 26 mining claim titles and applications located on the Otú Fault and is in close proximity to several other gold producers in the Segovia and Zaragoza regions of Antioquia in Colombia. During the second half of 2021, O2Gold will be actively drilling its Aurora-Quintanillo trench to determine its production strategy to validate its 30 year mining license and to generate cash flow that will help fund the Company's other exploration activities on the Otú property.
Spain
The Iberian Pyrite Belt is arguably the world's most productive volcanic-hosted massive sulphide (VMS) district with over 80 known deposits producing copper, zinc, lead, gold, silver and tin. The belt hosts eight giant-sized deposits of more than 100 million tonnes of massive sulphides and a number of major mining companies such as Lundin Mining, Trafigura Mining Group and ALMINA have major operations in the region. Aside from Denarius, there are several other junior companies exploring in the vicinity.
Aside from Denarius there are several other junior companies exploring in the vicinity.
Vancouver-based Pan Global Resources Inc (TSXV: PGZ) is a junior exploration company that is developing its Aguilas and Escacena projects in the Iberian Pyrite Belt in southern Spain. The Escacena property is in close proximity to the past-producing Aznalcóllar and Los Frailes mines, and First Quantum's Las Cruces operating copper mine, 40 km from Seville.
Emerita Resources Corp (TSXV: EMO), is a Canadian resource company currently developing two world-class zinc projects in Spain. The first project, the Iberian Belt West property, has a historical resources estimate of 34.0 tonnes of 0.42% copper, 1.10% lead, 2.30% zinc, 44.0 g/t silver and 0.80 g/t gold. It's second project, which it expects to be awarded soon, meanwhile hosts a deposit of 20.0 tonnes of of +10% zinc, lead, and silver in an open pit model.
The Risks
From our view the following risks are worth considering.
Price of copper, gold and silver. Just as metals prices can be a catalyst, a potential decline in price would have a negative impact on exploration stocks. Copper tends to mirror the economic cycle and poor economic conditions can depress copper prices. If the Chinese economic recovery stumbles, that could cause copper demand to slow and prices to decline.
Drill Results. Poor drill results could negatively affect price performance of the stock.
Market Sentiment. Markets can fluctuate wildly as investor expectations can change rapidly depending on the two most common drivers; fear and greed.
The Catalysts
Some of the potential catalysts we see that could have a large impact on the share price include:
The price of copper, gold, and silver. The most obvious variable for any mineral explorer, developer, or producer is the price of the underlying metals. As the price of a metal rises so does the net asset value of projects rise, which increases shareholder value. 
Broad economic indicators. Given the recent COVID stimulus packages which have seen a massive number of jobless claims, the assumption is that governments and central banks will take on debt funded through quantitative easing (money printing) to fill the gap. Eventually this will likely become inflationary; historically the price of gold and other metals increases with an increase in inflation as investors seek a hedge against inflation. .
The results of any future drill programs at the Company's projects. DSLV is working to put the Lomero-Poyatos deposit into production and continuing its exploration program with the goal of expanding the resource and getting a better understanding of the underlying size of the deposit. The work programs at the Colombian projects are designed to expand the size and scope of the mineralized zones and to prepare for production. Any meaningful discovery could serve as a catalyst for the common shares. 
Potential future merger and acquisition activity. Due to DSLV management's extensive experience, expertise, and credibility in Spain and Colombia, it has the ability to attract opportunities to acquire additional quality projects through acquisition or joint venture.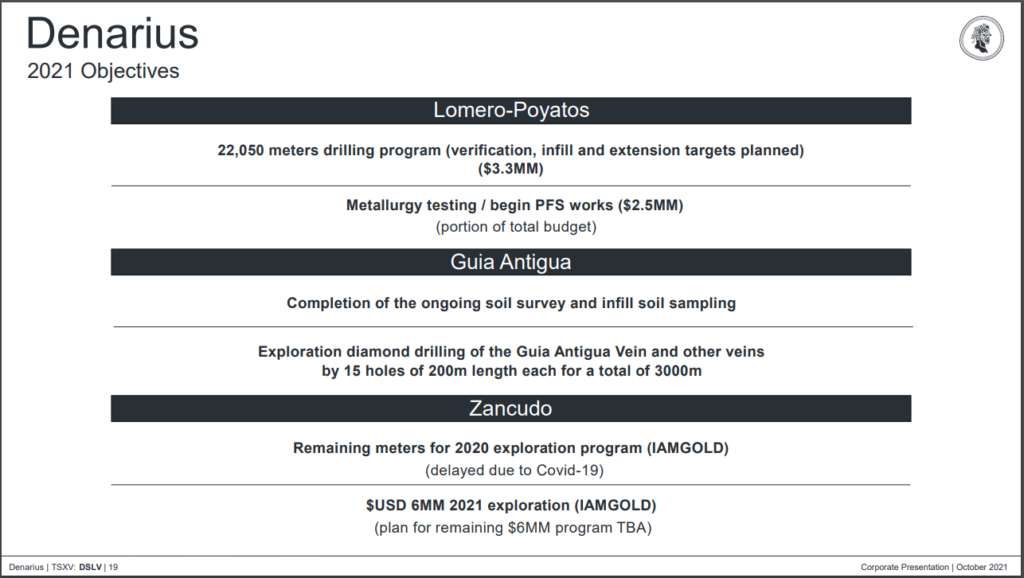 In Conclusion
Denarius Silver Corp is well-positioned in two prolific mining districts in Spain and Colombia which offer shareholders a degree of diversification and somewhat helps de-risk the company. Any meaningful exploration results on the properties could lead to a takeover or joint venture event. The company plans to commence production on its Lomero-Poyatos project in Spain as soon as feasible and will be conducting drilling to expand the size of the deposit and to increase its resources. 
Denarius Silver Corp. represents a compelling new silver-gold opportunity for junior exploration investors. 
---
FULL DISCLOSURE: Denarius Silver Corp is a client of Canacom Group, the parent company of The Deep Dive. The author has been compensated to cover Denarius Silver Corp on The Deep Dive, with The Deep Dive having full editorial control. Not a recommendation to buy or sell. Always do additional research and consult a professional before purchasing a security.
The post Denarius Silver: Corporate Overview appeared first on the deep dive.
tsx
tsxv
gold
silver
copper
zinc
tsx-gcm
gran-colombia-gold-corp
S&P, Dow Jones climb to fresh highs ahead of big tech earnings
The S P 500 Index and Dow Jones closed at record highs on Monday October 25 ahead of quarterly earnings of big technology companies like Apple Amazon…
The S&P 500 Index and Dow Jones closed at record highs on Monday, October 25, ahead of quarterly earnings of big technology companies like Apple, Amazon, and Alphabet this week.
The S&P was up 0.47% to 4,566.48. The Dow Jones rose 0.18% to 35,741.15. The NASDAQ Composite rose 0.90% to 15,226.71, and the small-cap Russell 2000 rose 0.93% to 2,312.64.
Market participants are in high spirits as the third-quarter earnings season is in full swing. Several major financial and retail companies have reported robust growth in the quarter.
The earnings come in the backdrop of inflation, supply disruptions, and labor shortages. Hence, some analysts were initially worried over quarterly performance amid these factors.
Traders will now eagerly wait for the earnings of mega-cap technology companies that have around 30% weightage on the S&P 500 index by market capitalization.
According to Refinitiv data, some 165 S&P 500 companies are expected to report this week. Analysts expect the index to grow by 34.8% in the quarter YoY.
In addition, of the 119 companies reported so far, 83.2% beat Wall Street estimates.
On Monday, consumer discretionary and energy stocks led gains on S&P. Utilities and financial stocks were the bottom movers. Nine of the 11 stock segments of the index stayed in the green.
Shares of Tesla, Inc. (TSLA) jumped 12.66% at the market close on Monday, taking its market cap to more than US$1 trillion for the first time, as the car rental company Hertz said it placed an order for 100,000 Tesla vehicles. Morgan Stanley also raised its price target to US$1,200 from US$900.
PayPal Holdings, Inc. (PYPL) stock was up 2.70% after it said it had no plan to buy Pinterest Inc. (PINS). Media reports had earlier claimed that it was in talks to acquire the social media firm for US$45 billion in a stock-and-cash deal. The PINS stock fell 12.71% after PayPal's clarification.
Facebook, Inc. (FB) shares jumped 3.78% in after-market trading after missing analysts' expectations in the third quarter. Its revenue surged 35% YoY to US$29.01 billion in Q3, FY21, and its net income rose 17% to US$9.19 billion, or US$3.22 per diluted share. Analysts had predicted diluted EPS of US$3.19 on revenue of US$29.57 billion, Refinitiv data showed.
In the consumer discretionary sector, Home Depot, Inc. (HD) rose 1.44%, LOWE's Companies, Inc. (LOW) rose 1.33%, and Target Corporation (TGT) gained 1.73%. TJX Companies, Inc. (TJX) and Aptiv PLC (APTV) advanced 1.71% and 1.13%, respectively.
In energy stocks, Exxon Mobil Corporation (XOM) increased by 1.95%, ConocoPhillips (COP) rose 1.06%, and EOG Resources, Inc. (EOG) gained 2.22%. Schlumberger N.V. (SLB) and Kinder Morgan, Inc. (KMI) ticked up 1.33% and 1.02%, respectively.
In the utility sector, Duke Energy Corporation (DUK) declined 0.91%, Dominion Energy, Inc. (D) fell 1.02%, and American Electric Power Company, Inc. (AEP) fell 1.06%. Xcel Energy Inc. (XEL) and WEC Energy Group, Inc. (WEC) plummeted 1.36% and 1.40%, respectively.
Also Read: Top companies to watch for quarterly earnings this week
Also Read: Seven most anticipated IPOs this week
Also Read: Kimberly-Clark revenue up 7%, OTIS raises 2021 outlook
Futures & Commodities
Gold futures were up 0.71% to US$1,809.05 per ounce. Silver increased by 0.83% to US$24.652 per ounce, while copper rose 0.70% to US$4.5293.
Brent oil futures increased by 0.58% to US$85.13 per barrel and WTI crude was down 0.08% to US$83.69.
Also Read: Top artificial intelligence stocks to explore amid AI boom
Bond Market
The 30-year Treasury bond yields was down 0.37% to 2.083, while the 10-year bond yields fell 1.36% to 1.633.
US Dollar Futures Index increased by 0.21% to US$93.817.