Collective Mining (TSXV:CNL) Commences Maiden Drilling Program at Guayabales
With funding closed and planning completed, Collective Mining (TSXV:CNL) has announced this morning that its maiden 7,500 metre diamond drilling program…
With funding closed and planning completed, Collective Mining (TSXV:CNL) has announced this morning that its maiden 7,500 metre diamond drilling program is not underway at its Guayabales Project. The project, located immediately along strike and northwest of Aris Gold's Marmato gold mine, is the company's flagship project in the country. 
After encountering abundant precious metal mineralization throughout the property during exploration, Collective moved quickly to begin the drill program. This includes identifying the five unique grassroots targets at Guayabales which include Donut, Box, Olympus, Victory, and ME. The five targets make up this 7,500 metre maiden drilling program which has now begun.
The program will consist of short, fanned holes measuring up to 300 metres from a single drill pad. The pad will cover various depths beneath the shallow underground workings to define the potential grade and extent of the mineralized system. Some drilling has already been completed, and the visual observation of that drilling has intersected porphyry breccia with a pyrite matrix overprinted by a quartz-carbonate-sphalerite vein stockwork associated with intense sericite alternation over intersection lengths of up to 250 metres. 
Donut is of particular interest to Collective and remains a first priority for the program. It has been traced along strike and to the west for at least 600 metres and is open in all directions. To test the strike extent of the target, the company will construct additional drill pads.
Ari Sussman, Executive Chairman of Collective Mining, commented on the news: "The commencement of drilling activities within the Guayabales project represents another important and exciting milestone in the Company's evolution from early-stage explorer to outlining multiple large, continuous and mineralized porphyry, breccia, and high-grade vein systems. In total, we now have five distinct targets defined for first-pass drill testing over the next six months with more to come as we continue to explore and evaluate our highly prospective land package."
As an exploration and development company working to identify and explore prospective gold projects in South America, this is Collective's kickoff drill program that will begin the road ahead to discovery. The stock has remained steady since its IPO, and now investors will be looking to results from this maiden drill program for further guidance. 
The above references an opinion and is for information purposes only. It is not intended to be investment advice. Seek a licensed professional for investment advice. The author is not an insider or shareholder of any of the companies mentioned above.
The post Collective Mining (TSXV:CNL) Commences Maiden Drilling Program at Guayabales appeared first on MiningFeeds.
tsxv
gold
diamond
Central Bank Of Afghanistan Says Over $12 Million Cash Seized From Homes Of Former Officials
Central Bank Of Afghanistan Says Over $12 Million Cash Seized From Homes Of Former Officials
Representatives of the Taliban have continued…
Central Bank Of Afghanistan Says Over $12 Million Cash Seized From Homes Of Former Officials
Representatives of the Taliban have continued to publicized funds which they say were unlawfully appropriated by corrupt former national government officials, among them ex-President Ashraf Ghani and officials close to him.
The Central Bank of Afghanistan this week announced the Taliban seized more over $12 million in cash and gold from the homes of ex-government officials, which comes on the heels of last weekend a raid by Taliban militants on the home of the man who servied as Ghani's vice president, Amrullah Saleh. A video from the search of the residence purported to show that the former longtime Afghan politician had about $6 million in cash and at least 15 gold bars stashed in his home.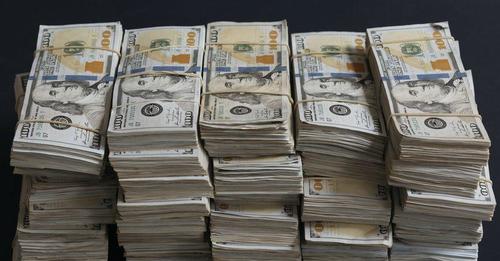 There's long been reports and confirmation out of the Pentagon and US officials who've admitted to flying entire crates and bricks of cash into the country over the past couple decades of war. It's believed that the abundance of foreign and military-supplied aid that poured into the war-torn country to the tune of trillions often went to line the pockets of corrupt officials, amid complaints that nothing ever really got done in terms of intended infrastructure projects for the public.
This past week's Central Bank of Afghanistan statement revealed the following:
"A certain amount of cash found at the residence of Mr. Amrullah Saleh, the first Vice-President of the previous government and a number of previous high ranking government officials was submitted to Da Afghanistan Bank by the authorities of the Islamic Emirate of Afghanistan."
The bank said further in the accusatory announcement: "The total of the aforementioned cash amounts to USD twelve million three hundred sixty-eight thousand two hundred forty-six (12368246) and a number of gold bricks most of which were found at Amrullah Saleh's residence".
Likely the Taliban will continue to release evidence of uncovering piles of cash, jewelry, and gold at former Afghan officials' residence, in order to underscore the self-serving nature of the prior corrupt US propped-up government. This all appears intended to humiliate the country's past government which had been propped up by the US and NATO.
Cash and gold amounting to over $12 million have been taken in raids by the Taliban on former members of the Afghan government, as #Afghanistan experiences a severe cash shortfall | via Deutsche Wellehttps://t.co/77jJXr8flf

— WikiLeaks (@wikileaks) September 16, 2021
The Taliban has meanwhile vowed that it will serve the people in a transparent manner, and according to the principles of Islam, which has lately included the establishment of a 'morality police'.
Tyler Durden
Sun, 09/19/2021 - 21:30
gold
BPM finds two walk-up drill targets at its Claw gold project
Special Report: BPM Minerals has won the historical data lottery after identifying two walk-up drill targets at its Claw Gold … Read More
The post BPM…
BPM Minerals has won the historical data lottery after identifying two walk-up drill targets at its Claw Gold Project in WA.
The company found the Lewi and Chickie anomalies by reviewing all the available open file data sets from exploration drilling completed by Reynolds Australia Metals more than 30 years ago.
The historical data included 138 air core and rotary air blast holes for a total of 3,882m targeting the same structure that hosts Capricorn Metals' (ASX:CMM) Mount Gibson gold project.
"It is rare for a junior exploration company to acquire such highly prospective ground directly along-strike from a 2-million-ounce gold project," BPM Minerals (ASX:BPM). CEO Chris Swallow said.
"Perhaps even rarer is to find walk-up RC drill targets from an initial data review.
"We have signed a contract for an aeromagnetic survey to be completed later this year."
Chickie and Lewi anomalies
Key intercepts from the historic drilling at the Chickie anomaly include:
11m at 0.1 parts per million gold (46-57m) including 1m at 0.54 parts per million gold (48-49m);
1m at 0.24 parts per million gold (72-73m EoH); and
10m at 0.17 parts per million gold (50-60m EoH).
At the Lewi anomaly, several anomalous values up to 90 parts per billion gold were reported within the weathering profile.
And the fresh rock – the potential primary source of mineralisation – was never tested below the regolith anomaly.
Plus, the Lewi anomaly is less than 1km from the Mount Gibson project.
Rare exploration opportunity
The company is confident that the Claw project presents a rare exploration opportunity to cover the interpreted southern extension of the Mount Gibson shear zone.
Particularly since 80% of the tenement area regolith is covered and the project is largely unexplored.
The upcoming aeromagnetic survey is planned for Q4 once the Claw tenement has been granted in the coming weeks.
The company will then conduct an RC drilling program of around 3,000m, targeting primary gold mineralisation in the fresh rock.

This article was developed in collaboration with BPM Minerals, a Stockhead advertiser at the time of publishing.
This article does not constitute financial product advice. You should consider obtaining independent advice before making any financial decisions.
The post BPM finds two walk-up drill targets at its Claw gold project appeared first on Stockhead.
asx
gold
What Is Congress Doing To Retirement Accounts?
What Is Congress Doing To Retirement Accounts?
Via SovereignMan.com,
What happened:
In the proposed infrastructure bill, as well as the…
What Is Congress Doing To Retirement Accounts?
What happened:
In the proposed infrastructure bill, as well as the proposed tax increases to fund it, Congress is messing with retirement accounts.
Here are some of the worst proposals currently on the table.
IRA accounts will not be allowed to invest in anything based on account holder's status.

That applies to investments that require "accredited investor" status, certain financial credentials, or a minimum net worth, such as many private investments (i.e not publicly listed companies). You have two years to get out of current investments that violate this rule.

The IRA will also be prevented from investing in anything in which the owner has 10% or larger ownership, or is an officer.

This is terrible for Self-Directed IRAs — more on these below. Fortunately, it does not currently apply to 401(k)s.

Restrictions on Roth funding and conversions

The Roth structure allows after-tax contributions to retirement plans which then grow tax free. Since you paid taxes up front, you do not owe taxes on distributions, even if the value has grown substantially from good investments.

Congress is proposing to prohibit any after-tax contributions to Roth structures in workplace plans, and ban converting after-tax money paid into a regular plan into a Roth plan (this tactic can currently help avoid Roth contribution limits).

It would also ban ALL Roth conversions for workplace plans for singles who make over $400,000 per year, and couples who make more than $450,000 — but this would not go into effect until after December 31, 2031.

Converting to Roth triggers a taxable event, meaning you pay the taxes on the account now and not on distributions. This can be preferable if you think your investments will grow enough that you would owe more taxes later on distributions than you would owe currently if the account value was taxed today.

Contribution Limits and Minimum Required Disbursements

According to the House Ways and Means summary, "the legislation prohibits further contributions to a Roth or traditional IRA for a taxable year if the total value of an individual's IRA and defined contribution retirement accounts generally exceed $10 million as of the end of the prior taxable year."

This applies "to single taxpayers (or taxpayers married filing separately) with taxable income over $400,000, married taxpayers filing jointly with taxable income over $450,000, and heads of households with taxable income over $425,000 (all indexed for inflation)."

Under those circumstances, the owner of the account would be forced to take a 50% distribution of the combined value of all applicable plans over $10 million (i.e. if the accounts have $11 million total, the minimum required distribution is $500,000).

It becomes even more restrictive if the accounts exceed $20 million in value.
What this means:
This all translates into less choice and flexibility for individuals planning their retirements.
But it does not eliminate the benefits of the two main self-directed retirement structures that can benefit the self-employed, and people with side income.
What you can do about it:
For a long time we have presented self-directed retirement accounts as a good way to plan for retirement.
A Self-Directed IRA owns one, and exactly one, asset: a limited liability company (LLC) that you manage. That's why they are called "Self-Directed". And through that LLC, you can invest your retirement savings in a wide array of assets — precious metals, real estate, cryptocurrency, private businesses*, and much more, in the US, or overseas.
It's a fairly straightforward setup: you establish an account with the custodian, then establish an LLC in a zero-tax state (like Wyoming or Florida) where the IRA is the owner (member) of the LLC, but YOU are the manager.
You'll also want to open a bank account for the LLC. Afterward, the custodian transfers your retirement funds to the LLC, putting you in the driver's seat for determining how the funds are invested.
The contribution limits for the Self-Directed IRAs themselves are not that high, however — only $6,000 (under age 50) or $7,000 (50 and older), so the earlier you start contributing to it, the better.
*If this legislation passes in its current form, the main change to the Self-Directed IRA is that you will no longer be allowed to invest in private companies which require an investor to be accredited, hold certain credentials, or have a minimum net worth.
That is really unfortunate, but it does not entirely negate the benefits of this retirement structure.
Plus, this restriction does NOT currency apply to Solo 401(k)s.
Solo 401(k) is an option to consider if you're self-employed, or if you generate "side hustle" income.
With a Solo 401(k), you wear BOTH the employer and the employee hats, so you contribute in both roles. A Solo 401(k) allows for contribution levels ranging from $58,000 to $64,500 per year in 2021, depending on your age — offering incredible flexibility, and the ability to significantly lower your personal income tax burden.
Just like a Self-Directed IRA, a Solo 401(k) gives you a much wider array of investment options — real estate, precious metals, private businesses, etc. — that can help maximize your return.
Of course, none of this is definite yet. This is how the legislation currently looks, but there is no guarantee that it will pass in its current form. This is a heads-up about what changes could soon be coming for your retirement accounts.
Keep in mind that we are not tax or investment professionals, and this is not tax or investment advice. You should always consult with a trusted professional, familiar with your particular situation.
Tyler Durden
Sun, 09/19/2021 - 20:00
precious metals