Gold Prices Accelerate as Fears Over Global Inflation Mount
Gold prices are once again on the rise, as investors around the globe prepare for the elevated risk of inflation
The post Gold Prices Accelerate as Fears…
Gold prices are once again on the rise, as investors around the globe prepare for the elevated risk of inflation that is anything but transitory.
December gold futures hit a high of more than $1810 per ounce on Friday, marking an increase of about 2.5% during the week— the fastest weekly gain since the beginning of spring. The bullion's popularity has accelerated over the past month, as investors look to hedge against growing inflation risks despite assurance from central banks and policymakers that price pressures will abate soon.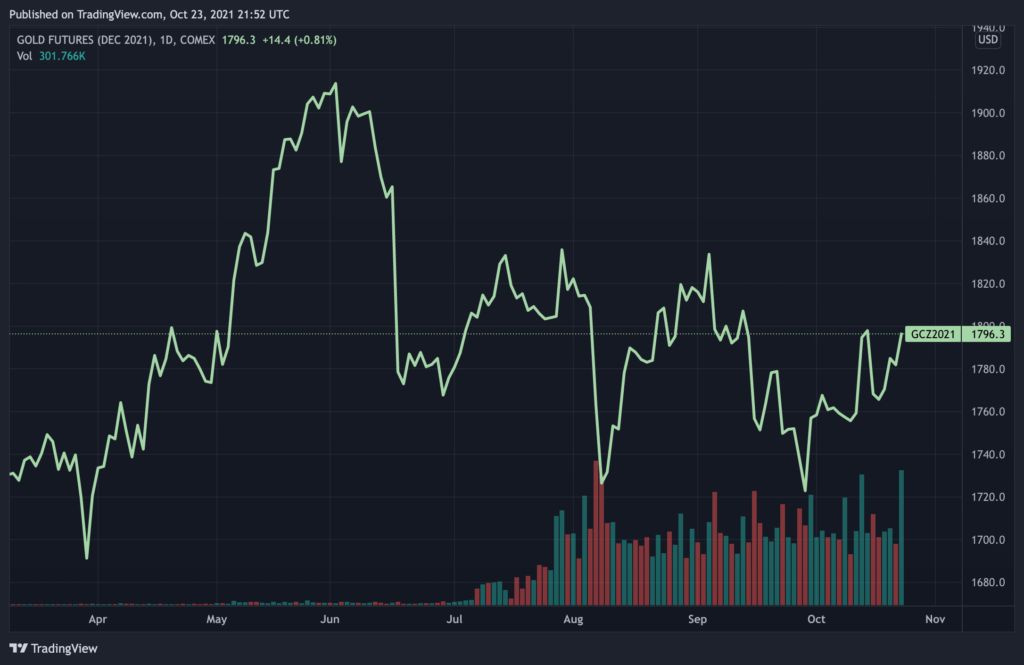 Moreover, gold prices are also getting a boost from a declining dollar index, as the US dollar continues to weaken against other major currencies, most notably the euro, yen, and the yuan.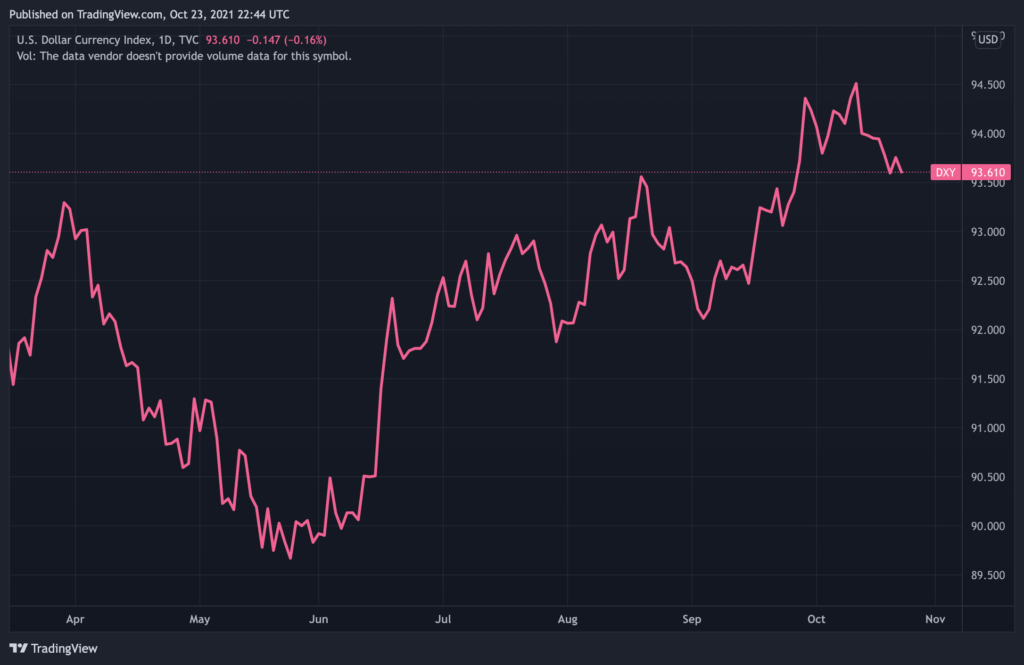 Indeed, the latest rally suggests that an increased number of investors prefer "hard" assets such as precious metals to counter a rising inflationary environment. As a result, some industry leaders are expecting the rally to continue, and likely coincide with price accelerations across other commodities, such as natural gas and aluminum.
Former chiefs of Canadian-based gold mining company GoldCorp Inc., Rob McEwen and David Garofalo, recently told Bloomberg that the inflationary phenomenon currently witnessed around the globe will not be as transient as central banks' official figures suggest. As investors begin to take into account a more permanent state of price pressures, the price of gold could hit $3,000 per ounce, they said.
"I'm talking about months. The reaction tends to be immediate and violent when it does happen. That's why I'm quite confident that gold will achieve $3,000 an ounce in months not years," explained Garofalo, arguing that gold makes a better hedge against inflation than cryptocurrencies, due to the precious metal's long-standing history as a universal asset.
---
Information for this briefing was found via Bloomberg. The author has no securities or affiliations related to this organization. Not a recommendation to buy or sell. Always do additional research and consult a professional before purchasing a security. The author holds no licenses.
The post Gold Prices Accelerate as Fears Over Global Inflation Mount appeared first on the deep dive.
How Low Can Gold & Silver Go?
  Last week we wrote that the precious metals sector remained in a larger correction.   We discussed the performance before the first rate hike in a…
---
Last week we wrote that the precious metals sector remained in a larger correction.
We discussed the performance before the first rate hike in a new Fed rate hike cycle. Gold typically declines several months before the hike, but then rebounds significantly. Same for the gold stocks.
Although the recent decline could be part of the pre-rate hike decline, its speed surprised us.
We noted that a decline in line with history would take Gold below $1700.
Let's look at important support levels that would come into play should the decline continue.
The 40-month moving average has been an excellent trend indicator for decades. It currently sits at $1618.
Here we plot Gold's weekly line chart with an equivalent moving average (to the 40-month).
Gold has initial support at $1750, followed by the corrective low at $1670 to $1690. The two major support lines are the rising 40-month moving average and the 50% retracement near $1570. 
The 40-month moving average could reach $1670 by April 2022. 
The monthly line chart for Silver shows key support at $21 and strong support at $18.70. The 62% retracement from the 1993 low and 2011 high is $21. The 80-month moving average for Silver should reach $18.70 in 2022.
Here is a zoomed-in look at Silver using the monthly candle chart. Support at $18.70 stands out. Initial support is at $21.
The trend remains down, and the relative weakness in Silver and the gold stocks is a warning signal of potential for more selling.
Although I am confident that bullish catalysts lie ahead for precious metals in 2022, one must respect the technicals and potential for more downside into 2022. It is advisable to cut your losers and other positions in which you have low confidence.  
That would also allow you to build some cash to buy bargains over the coming months. I have covered potential buy targets for my top 10 stocks in my premium service. 
I continue to be laser-focused on finding quality juniors with at least 5 to 7 bagger potential over the next few years. To learn the stocks we own and intend to buy, with at least 5x upside potential after this correction, consider learning more about our premium service.
Weekly Market Pulse: Discounting The Future
The economic news recently has been better than expected and in most cases just pretty darn good. That isn't true on a global basis as Europe continues…
The economic news recently has been better than expected and in most cases just pretty darn good. That isn't true on a global basis as Europe continues to experience a pretty sluggish recovery from COVID. And China is busy shooting itself in the foot as Xi pursues the re-Maoing of Chinese society, damn the economic costs. But here in the US, the rebound from the Q3 slowdown is in full bloom. Just last week we had pending home sales, ADP employment, both ISM reports, jobless claims, Challenger job cuts, the unemployment rate and factory orders all better than the pundits' expectations. I didn't list the official employment report (establishment survey) because the headline was less than expected but there were some obvious seasonal adjustment issues with that report. And there was a lot of very good news in the household report that more than offset any disappointment in the number of jobs part of the report. There are still a lot of reports to go before the end of the quarter but right now the Atlanta GDPNow page is showing 9.2% GDP growth for Q4 based on the quarterly data released to date. The economy certainly looks like it is on solid ground right now.
So, why in the world are bonds rallying like a Bored Ape NFT  Bitcoin  natural gas crude oil  a cruise line stock Chinese tech stock  a vaccine stock? The 10 year Treasury yield fell 10 basis points on Friday after the payroll report. Well, actually that isn't accurate. Right after the employment report at 8:30 the yield rose and peaked at 9:30 at about 1.47%. But yields fell relentlessly for the rest of the day, closing at about 1.35%. Short term rates have been rising due to anticipation of Fed policy but the long end is in full on conundrum mode. The result is a yield curve (10/2) that has flattened all the way back to where it started the year. The 10 year yield peaked in the spring around 1.75% and except for a brief pop higher from August to October, it has been downhill every since. TIPS yields have been even more pessimistic with the 10 year yield still less than 10 basis points from its all time low.
The fact that the current economic data is quite good while the bond market points to something less positive is actually not that odd. The movements in bond markets today are not – mostly – about the economic data being released today. The incoming data obviously has some impact but really what bond market players are trying to do is look ahead to next year. The time frame of that focus – 6 months, 9 months or 12 months ahead – shifts based on events but it is always some point in the future. And those expectations about the future are shaped by past experience and unexpected events.
So, why is this happening? What is it that bond traders see that has them marking down future growth? If you've been reading my commentaries for any length of time you won't be surprised when I say I don't know. There are a lot of things that influence bond traders, some of them having nothing to do with what is going on the US economy. European investors may buy US Treasuries because the yield, while miniscule, is higher than they can get at home. But in general, as I've said many times, we take bond yields at face value. If bond yields are falling, that means growth expectations are falling. More recently the drop in nominal bond yields has been mostly about falling inflation expectations but the fact that TIPS yields remain near their all-time lows tells you that investors are still on edge about rising prices. But the bottom line is that we can never know what is in the minds of millions of investors making decisions about whether to buy or sell bonds. It is obvious though that if investors are buying 10 year Treasuries at a big negative real yield their expectations about future growth aren't very good. And that was true even when the 10 year was trading at 1.75%. It's just gotten worse recently.
The emergence of a new variant of COVID may have had an impact recently but yields were falling well before that became news. I would venture a guess that omicron, by itself, is not the cause of more economic pessimism but it may have caused a reassessment of the time line for COVID. I think a lot of people were thinking that Delta was the final wave and now, suddenly, we've got another one. It has certainly caused me to think about whether we'll be dealing with COVID – and more importantly the political response to it – for a long time to come. We don't know how the omicron variant is going to play out yet but cases are rising and investors may just be taking pre-emptive action, selling stocks and buying bonds. But that is just a guess.
It could also be that the market is starting to price in a Fed policy error which would certainly be consistent with past experience. The last three Fed Chairpersons haven't exactly been maestros and the one who originally had that title was also the one who couldn't figure out why bonds were rallying while he hiked short rates (Greenspan's "conundrum"). Policy errors are the Fed's default mode; the surprise would be if they actually got something right. I have to say though that assuming economic harm from the end of QE requires a more positive view of the impact of QE than I can muster. That is unless you assume that ending QE will negatively impact risk assets and that will negatively impact the economy. In our current speculative state, that may be more true than in the past so I won't discount it completely.
While the recent stock market sell off has been generally blamed on the emergence of the omicron variant the bond market says it is more likely that investors are starting to question the long term growth outlook. With Fed policy now turning more restrictive – that is how most people see the end of QE even if we at Alhambra don't  – attention may be turning to the fiscal and regulatory side of the growth equation. On that front I see little in the pending legislation that directly addresses our long-standing economic shortcomings. There is also the small matter of the ongoing upheaval in China which seems to have the potential for a large – negative – impact on the global economy. China, in my opinion, is looking more every day like Japan at the end of the 1980s. That isn't necessarily negative for the rest of the global economy – just as the end of Japan's boom wasn't – but it adds an element of uncertainty that didn't exist until recently.
As for the pullback in stocks, it has actually been going on longer and is deeper than the averages show. Only 41% of the stocks in the S&P 500 are currently trading above their 50 day moving average compared to 92.5% in April and 76% as recently as a couple of weeks ago. Only 60% are above their 200 day moving average, a number that was 97% in the spring. It has been a small number of large company stocks holding up the averages and they've started to join the rest since Thanksgiving. I wouldn't get too negative too quickly though. Many of the sentiment measures I watch are getting to levels where we would normally expect a rally. Even if this is the top of this incredible bull run it won't happen overnight. It takes time to change behavior and right now everyone has been trained to buy every dip. That won't change easily but it will change eventually. For now, I am staying cautious with our allocations, holding a larger than normal level of cash.
The bond market is offering a warning about future growth but remember it is just a warning. The bond market, like any market, is not infallible and the economy may not perform as badly as bond traders currently expect. We don't know what the omicron variant means yet; it could well mark the beginning of the end of the pandemic rather than just another bad chapter. We also don't know the impact of future Fed policy; could it be that ending QE is actually a positive for the economy? Maybe. We also don't know how the changes in China will impact the global economy, how other countries may change in response. I am contrarian enough to wonder if Japan might not be the major beneficiary of China's demise as they move to reassert themselves – militarily and economically – in the region. By the way, if you want to know what is behind the recent moves in China, you should probably read up on Wang Huning. His influence is all over Xi's moves against their big tech companies and I'd bet there is a lot more to come.
---
The economic environment is unchanged: Falling growth, rising dollar
As I said above, the current economic data isn't the problem. It is the future the bond market is worried about.
A light week of data ahead but the JOLTS report will be interesting as always.
The only major asset class in the plus column last week was, of course, bonds. Real estate is also rate sensitive and ended the week basically flat. Small caps have been the big losers in this correction another indication that the correction is about economic growth. Interesting that EM stocks managed to stay green for the week, mostly due to, oddly, Latin America. I'm not sure I have a good reason for that other than that those stocks had been killed already. Value outperformed last week but still lags growth by a small amount.
Utilities managed to eke out a gain last week while most everything else was down. Gold was flat on the week and is up over the last month as growth concerns have emerged. The VIX hit 35 last week which is fairly high based on history.
All markets look to the future, discounting the consensus view of millions of traders and investors. The wisdom of the crowd is always shifting though; the current market is just a moment in time. I've said many times over the last year that there is lot we don't know about the post-COVID economy and that is still true. The view of the bond market carries a lot of weight but it can only reflect the knowledge and best guesses of its participants. As we learn more about the changes that COVID has wrought, today's consensus may prove too pessimistic. I sure hope so.
Joe Calhoun
Resources Top 5: Big hits, Chalice's new 'Julimar like' target, and Greenland — one of exploration's final frontiers
Manhattan hits 8m at 40.5g/t gold, including 3m at 105.34g/t Chalice completes first stage of Venture Minerals nickel-copper-PGE project earn … Read…
Manhattan hits 8m at 40.5g/t gold, including 3m at 105.34g/t
Chalice completes first stage of Venture Minerals nickel-copper-PGE project earn in deal
Coda Minerals' 'Emmie Bluff Deeps' IOCG discovery keeps getting bigger
Here are the biggest small cap resources winners in early trade, Monday December 6.
The stock excited punters late last year when a maiden drilling program discovered a new shallow and high-grade gold lode ' at the 'Tibooburra' project in NSW, 240m west of the historic 'Main Zone' at the project's New Bendigo prospect.
The company failed to maintain this momentum into 2021.
Now the excitement could be back, with MHC pulling up nice hits like 8m at 40.5 g/t gold from about 70m, including 3m at 105.34 g/t at Main Zone.
This wasn't the only big hit from the completed 20 hole, ~2,100m program either, which is also a good sign.
It also only covered a small, 650m chunk of a much larger 5km long gold-in-soil anomaly.
Future drilling will focus on testing the size of Main Zone which has the potential to be a significant shallow, high-grade gold resource, MHC says.
A planned 5,000m drilling program will now be significantly increased and extended to include diamond drilling at depth (>100m). Drilling is scheduled to kick off after the Christmas Break.
"These are the best gold drill intersections reported from the Koonenberry Region to date," exec director Kell Nielsen says.
"We are extremely pleased with their significance and feel that they prove the potential of the Tibooburra Project to host multi-million-ounce gold discoveries."
"The next steps and drill planning will be important in understanding the potential of the mineralised system at New Bendigo where numerous individual lenses (or shoots) may exist."
"From the recently completed RC drilling, MHC is better placed to target future drilling, specifically the high-grade lenses that traditionally can be up to 15-20m thick and 50-150m wide and plunge or extend over several hundred metres in length."
The $20m market cap stock is up 30% over the past month, and down 57% year-to-date. It had $3.8m in the bank at the end of September.
Chalice Mining (ASX:CHN) reckons Venture Minerals has some of the best-looking ground in the Julimar region (besides their own, of course), which is why they inked a earn in JV agreement over VMS' 'South West' nickel-copper-PGE project.
$3.2bn market cap CHN has now completed the first stage of the deal by spending at least $300,000 on exploration by November 30.
The focus right now is Thor', a 20km long Julimar lookalike magnetic anomaly.
Results of an early-stage electromagnetic program will be announced "once Chalice's exploration team have received the final data and completed their interpretation of any resultant bedrock conductors", VMS says.
This is expected in early 2022.
Chalice will follow-up any conductors from the EM program with soil sampling to define potential drill targets. Should Chalice elect to drill the targets it will need to spend a cumulative $1.2 million by 29th July 2022 to earn 51%, and then a further $2.5 million to earn 70%.
"With Venture's JV partner Chalice Mining completing the first stage of the JV earn-in through the completion of a detailed EM survey, the company now eagerly awaits the survey results," VMS managing director Andrew Radonjic says.
"The knowledge gained from Chalice's Julimar discoveries will be a huge advantage in determining which conductors should be drilled first and this no doubt increases the probability of bringing a discovery forward."
$68m market cap VMS – which also has advanced iron ore and tin-tungsten projects in the portfolio — is up 20% over the past month and down 4% year-to-date. It had about $9m in the bank at the end of September.
On 9 June Coda announced that its first diamond drillhole at 'Emmie Bluff Deeps' IOCG target in South Australia had intersected 200m of "intense IOCG alteration", including~ 50m of copper sulphides.
The market loved it. IOCG (iron oxide copper gold) discoveries — while often super deep — are big, lucrative, and rare as hens' teeth.
Subsequent assay results confirmed the potentially company making find which, since then, has only gotten bigger.
The mineralised envelope at Emmie Bluff Deeps has now been "materially extended by drilling to the north, east and south". It remains open in all directions, COD says.
Critically, hole 'EBD3W3B' encountered additional zones dominated by bornite — a high-grade copper sulphide — extending the core of the mineralised zone a further 70m to the south where it remains open.
Assay results from five drill holes, for which visual observations of mineralisation have been released to ASX, remain outstanding due to delays at assay labs, COD says.
The company expects to receive and release most of these results prior to Christmas. A maiden resource for the shallow Emmie Bluff Zambian-style copper cobalt deposit is also on track for release before the end of the year.
"We have now had an outstanding run of nine holes from this and the previous drilling program," Coda CEO Chris Stevens says.
"All have returned materially important intersections and we are beginning to demonstrate a clear trend of increasing thickness and tenor of mineralisation as we systematically follow the bornite-dominant zone to the south-east."
"In particular, the results from EBD3W3B are exceptional. Once confirmed by assays, this hole will not only materially extend the known bornite-dominated zone but should also give us one of our thickest sulphide intersections to date."
"It also appears to have identified at least one major mineralising structure, providing a significantly improved structural understanding of the deposit – and possible vectors towards a basement-tapping source or 'pipe' structure."
COD has now approved an "ambitious" ongoing exploration program which is underpinned by a strong cash balance of $17.8m at the end of the September quarter.
The $90m market cap stock is up 11% over the past month, and 211% year to date.
(Up on no news)
Former coal minnow PDZ has done a full 180-degree swivel, dumping its fossil fuel focus in favour sexier, 'new age' metals like copper, nickel and PGMs. It is also changing its name to GreenX Metals.
The main game is some newly acquired ground in Greenland called 'Arctic Rift', where historical exploration results are indicative of an extensive mineral system "with potential to host world-class copper deposits".
Greenland is increasingly recognised as one exploration's final frontiers, as melting ice caps reveal more ground. All the big boys want a slice, PDZ says.
"Greenland is increasingly recognised as one of the last great mineral resource frontiers having recently attracted interest from Rio Tinto, Anglo American, DeBeers, Glencore, Trafigura, and IGO, as well as KoBold Metals who have joint ventured with Bluejay Mining to explore in Greenland for critical materials used in EVs," it said October 6.
"KoBold is backed by Microsoft co-founder Bill Gates, Bloomberg founder Michael Bloomberg, Amazon founder Jeff Bezos, and Ray Dalio, founder of the world's largest hedge fund Bridgewater Associates."
The $61m market cap stock is up 4% over the past month, and 41% year-to-date. The company is looking to raise $4.6m to fund the Greenland acquisition and exploration into the new year.
POSCO-backed BKT wants to bring its advanced 'Mahenge' graphite project in Tanzania into production.
Mahenge's 212 million tonne graphite resource makes it the fourth largest in the world. BKT says it has lowest peak capital expenditure per annual tonne of production of any development stage global graphite project and would enjoy a high AISC margin of 63.1% once in production.
The company has just completed a massive 500t pilot plant run – the largest ever, it says — to send to off for qualification (testing) to POSCO and potential customers in North America, Asia and Europe. This will ultimately support project financing, BKT says.
"Black Rock has delivered the largest customer qualification program in the graphite sector globally, that continues to demonstrate to the market that we have a high-quality commercial grade product," BKT managing director John de Vries says.
"The positive outcomes from this large-scale qualification plant campaign effectively provide a robust platform for our strong customer base to now base their decisions to confidently partner with Black Rock for the long-term."
"This in turn provides confidence to financiers that the robust economics of the Project are supported through a clear path to market."
BKT now needs to finalise off-take terms with POSCO and secure finance to underpin $US116m Phase 1 development capex.
The $170m market cap stock is down 17% over the past month, and up 100% year-to-date. It had $9.3m in the bank at the end of September.

The post Resources Top 5: Big hits, Chalice's new 'Julimar like' target, and Greenland — one of exploration's final frontiers appeared first on Stockhead.