Gold Price Outlook: Levels to Watch Amid an Improved Risk Appetite
Gold price is hovering around $1780 amid a decline in the value of the US dollar. The drop of Treasury yields has further boosted the precious metal. Weakening…
Gold price is hovering around $1780 amid a decline in the value of the US dollar. The drop of Treasury yields has further boosted the precious metal.
Weakening US dollar
Gold price gains on Wednesday are largely founded on the decline in the value of the US dollar. The inverse correlation between precious metals and the greenback means that weakness in the dollar creates a bullish environment for gold. At the time of writing, the dollar index was down by 0.07% at 93.71.
An improvement of the risk sentiment has lowered the currency's safe-haven appeal. On the same note, the shares market is rallying with Dow Jones at its highest level since late-August. The tech-heavy S&P 500 is also at an over one-month high.
The decline in US bond yields has further boosted gold price. The benchmark 10-year Treasury yields is at 1.64 after falling from its intraday high of 1.67. evidently, investors have lessened their bets of the Federal Reserve hiking interest rates by next year.
Despite the decline in the value of the US dollar, gold's upward movement will likely be limited. This is for as long as the dollar index's support level of $93.50 remains steady.  
Gold price technical outlook
After dropping to an intraday low of 1,767.03 on Tuesday, the precious metal has rebounded by over 1%. Subsequently, it is trading above 1,780, which has been a crucial level for gold since the beginning of the year.
At the time of writing, gold price was up by 0.99% at 1,787.03. Notably, the metal has been trading around 1,760 for the better part of October. As such, the surge to the current zone has investors keen on the underlying drivers and its next move.
On a two-hour chart, it is trading above the 25 and 50-day exponential moving averages. While these technical indicators signal further gains for the commodity, I hold the opinion that its upside potential is rather limited. This assertion is largely founded on the fundamentals.
In the near term, I expect 1,780 to remain a crucial support level for gold price. It will likely experience resistance at 1,789.00. The bulls may manage to push it higher to 1,796.57 before pulling back. On the flip side, it may drop below 1,780 to find support along the 25-day EMA at 1,775.05.
The post Gold price outlook: levels to watch amid an improved risk appetite appeared first on Invezz.
dollar gold commodity reserve metals interest rates correlation us dollar
Tossing up ASX-listed African gold stocks? Here's the ultimate, only guide you'll ever need
In recent years attitudes towards African mining stocks have arguably changed as investors have become more risk averse and sensitive … Read More
The…
In recent years attitudes towards African mining stocks have arguably changed as investors have become more risk averse and sensitive to both ESG and geopolitical risk.
The words "Tier 1 jurisdiction" are becoming more prominent in the lexicon of gold majors, a turn of phrase that appears to value projects in developed nations like Australia and Canada over "riskier" jurisdictions like Africa and the Pacific.
But with Australian gold miners facing rising costs, a stagnant gold price and struggling to find traction in equity markets, some mid-tier miners in West Africa have punched above their weight in 2021.
According to Euroz Hartleys, the two lowest cost mid-tier gold miners in the September quarter could be found there – West African Resources (ASX:WAF) with its new Sanbrado mine in Burkina Faso and Perseus Mining (ASX:PRU), which recently opened the low cost Yaoure mine in Cote d'Ivoire.
Simon Taylor, the managing director of Malian gold explorer Oklo Resources (ASX:OKU), says investors who count West Africa out could be sleeping on the next major gold discovery.
"It's been easy to invest in the West Australian gold space and some of the Canadian space over the last four or five years," he told Stockhead.
"For investors, I think what you're getting from Oklo and from other companies is huge upside on very large deposits that can be found, and that's why we're there."
African gold stocks = incredible value on offer
The next gold producer in line appears to be Tietto Minerals (ASX:TIE), which this week completed an $85 million equity raising to secure funding for the US$200 million Abujar gold mine in Cote d'Ivoire.
Tietto was trading at just 6c a share in early 2019 before a string of high grade, shallow gold hits saw the explorer increase its gold bounty by 146% to 1.7Moz in the space of a couple months.
After two years of sustained drilling success Abujar now contains 3.4Moz, and Tietto plans to produce its first gold bar in the fourth quarter of 2022.
At 42c and a market cap of $195 million Tietto is a long way from where it once was.
But with a post-tax NPV of US$722 million and IRR of 95%, it's not hard to imagine the market may price the same thing at a higher premium if it were out the back of Kalgoorlie.
"You always need to challenge your biases or your views," Tietto executive director Mark Strizek said.
"And that's one of the things that I love explaining is that Africa isn't what we think it is.
"In some areas, I'd probably say the Ivoirian phone network is better than it is in Australia. So you've got to leave your biases and preconceptions behind.
"We know where we stand and we're really excited about the opportunities and I think that's where shareholders need to have a look at that as well.
"I think we probably are moving into an area that as the valuations in Australia start hitting the peak, this is where the opportunities lie.
"There is an incredible amount of headroom or uplift to come on valuations from obviously us getting into production and also for the established producers as well."
&nsbp;
Looking for multi-million ounce potential
As Tietto has shown, new discoveries in West Africa can be large and drilled out at a fast click.
$70 million capped Oklo is not at the same stage as Tietto, but its initial resource for the Seko deposits at its Dandoko project of 11.34Mt at 1.83g/t for 668,500oz should be a launching pad for further resource growth.
It has since enjoyed some high grade hits from its Disse prospect and has started a 9000m drilling program to grow the Seko resource, which will continue into next year.
Dandoko is located within the Kenieba Inlier of west Mali, between B2Gold's 7.1Moz Fekola mine and Barrick's world class 17.9Moz Loulo-Gounkoto mining complex.
Oklo secured 500km2 of tenure between the two giant gold mines, and even though Dandoko is further from the famed Senegal-Mali Shear Zone, Taylor says the Australian explorer is finding the same mineralising systems.
With scoping studies and resource drilling both underway, Taylor said Oklo's aim is to uncover something of million-ounce potential or better.
"Rule of thumb on these projects is a 10-year mine life. If you hit the 10-year mine life, over 100,000 ounces a year, that's what we want to get to," he said.
"So that's that million-ounce mark, which we're aiming for, and we want to ensure that is constrained and modelled and robust.
"But the ultimate prize from there is to find the multi-million ounce potential which we think the area has, and we know it has from what our neighbours have found over the last few years."
Top African producers deliver on costs
In recent times major mining discoveries in mature mining destinations like the WA Goldfields have increasingly been made under deep cover.
On the other hand, many recent discoveries in the relatively under-explored West African gold fields like the Senegal-Mali shear zone and Birimian greenstone belt have been made close to surface with big oxide components.
Lower pre-stripping and processing costs often mean the early years of new West African mines like Sanbrado are cheaper, providing early cashflow to pay back capex quickly.
Tietto's Abujar is expected to produce 260,000oz at sector-low costs of just US$651/oz in its first year, and 200,000ozpa over its first six years at an average AISC of just US$804/oz.
While that could come apart in execution, Strizek says recent history has shown some of the cheapest operators are in West Africa.
"I think in terms of the cheapest cost production, it's obviously WAF and where we're looking at our first year, and the first six years, we're right up there," he said.
"So (Africa's) very, very competitive. And I think that's one of the keys that as investors you run the ruler over.
"You've got to look at the track records of Perseus and obviously now WAF and at Tietto we've tried pretty hard.
"We've secured a fantastic build team that we've got fresh out of the Sanbrado build working for us and we're running very, very hard to get this thing up and running for Q4 next year."
Like Strizek, Taylor believes investors will move into African gold companies when they see the success many are having building large gold deposits.
It was not so long ago that Papillon Resources, an Australian company run by Oklo chairman Mark Connelly, sold along with the Fekola deposit to B2Gold for $600 million in 2014.
Taylor pointed to the $181 million takeover by Ramelius Resources (ASX:RMS) of gold explorer Apollo Consolidated (ASX:AOP) and its 1.1Moz Rebecca gold project near Kalgoorlie as an example of the premiums being offered in WA.
"You can see with the recent takeover of Apollo and other assets in WA, if some of these (African) assets were in Western Australia, the market cap and valuation would be a lot higher I think," Taylor said.
"I think the investment appetite will come back, it always does.
"There's fantastic geology where we are, it's very under-explored and you've seen some good successes in the last two or three years on companies exploring there.
"The majors are all there and you've seen great success stories like WAF, which is now in production and going very well."
What about the political instability?
There have been a number of incidents in recent years that have underlined the risks of operating in Africa.
In the past two years there have been successful coups in Mali and Guinea.
Civil unrest this year in South Africa caused supply chain delays and saw Rio Tinto call force majeure at its Richards Bay mineral sands mine, while resource nationalism agendas can make mining and environmental policies unpredictable.
But the impact of social and political events on mining operations is not always clear cut.
At Abujar, Strizek says Cote d'Ivoire has a modern mining code – just seven years old – and a maturing local industry.
The country has set ambitious targets to increase the share of its GDP that comes from mining.
The Ivoirian Government takes a 10% free carried equity interest in projects like Abujar, but Strizek said it also has a 25% corporate tax rate, well-resourced mining department and sensible environmental approval system.
"They looked around the world and in some instances modelled on the West Australian mining jurisdiction, the good aspects of it," he said.
"Especially in Cote d'Ivoire you've got a mining department that's resourced, has skilled, professional people that are working for it, and you can get decisions made.
"There's a very good mix of professionals and good contractors operating in country as well.
"And it's without the cost pressure and inflationary aspects we're seeing here, especially in Western Australia, you just don't have that. There's a large pool of workers and a large pool of contractors that are eager to do business with you."
Taylor notes Oklo continued to operate following the 2020 Malian Coup and even after Mali's previous coup in 2012, Connelly's Papillon continued to drill Fekola into a world class resource worth over half a billion bucks.
"There was a coup in Mali last year (and) it hasn't affected any of our operations," he said.
"It hasn't affected any of the gold mines. We're getting on with business as usual.
"And one of the keys to operating in places like West Africa is really good personnel. And we have some fantastic Malian guys involved, in particular our director in country Madani Diallo."
Outside of Tietto and Oklo there are a number of African gold stocks on the ASX.
We picked out five producers and 13 explorers and three potential IPOs on the lookout for gold on the African continent.
PRODUCERS
$1.3 billion capped West African Resources is one of the star gold miners on the ASX right now, and is the poster child for African gold on the bourse, sitting on a 51% gain over the past year.
Having kicked off production at the Sanbrado mine in Burkina Faso in March 2020 at the start of the Covid-19 pandemic, the company is now one of the lowest cost mid-tier gold producers on the ASX.
It is on track to beat the 280,000oz upper end of its production guidance in its first full year of operations in 2021, and has purchased the 6.8Moz Kiaka mine from B2Gold in the hopes of becoming a 400,000ozpa producer by the middle of the decade.
"We're in this to make money for our shareholders and stakeholders and the two best performing or the two highest margin producers on the ASX right now are West African gold producers in Perseus and West African Resources," WAF managing director Richard Hyde told Stockhead this month when asked about operating in Africa.
"It just shows you that new projects over there, they generate a lot of free cash flow early on.
"West Africa seems to me that it is kind of where the West Australian Goldfields were at in the 1980s and '90s when new discoveries were being made."
Resolute is one of the oldest gold mining companies on the ASX and is known as a trailblazer for Aussie gold stocks in Africa, having operated there for three decades.
It now owns the Syama mine in Mali and the Mako gold mine in Senegal, purchased via the takeover of Toro Gold in 2019.
Unfortunately for Resolute that portfolio has not performed as planned in recent years, with the gold miner cutting production guidance for 2021 in August from 350,000-370,000oz at US$1200-1275/oz to 315,000-340,000oz at US$1290-1365/oz.
It recently did bank US$90 million from the sale of its mothballed Bibiani gold mine in Ghana, having sold the Ravenswood gold mine in Queensland to EMR Capital and Golden Energy and Resources in January 2020.
$408m-capped, 38c a share, Resolute has lost 80% of its value over the past two years having hit a five-year peak of $2 in August 2019.
While Resolute has been on the decline, fellow West African mid-tier Perseus has been moving in the other direction.
It is now the most valuable primary ASX-listed African gold miner with a market cap of ~$2 billion.
Up almost 200% over the past five years and 25.75% YTD, Perseus has been rewarded for consistent EBITDA growth in recent years.
Its Edikan, Sissingue and Yaoure mines in Ghana and Cote d'Ivoire delivered record quarterly gold production for Perseus of 112,786oz at a weighted all in cost of US$966/oz in the September quarter.
That came after a 2021 financial year which saw the growing gold miner deliver a 1.5c maiden dividend, 9.5 years after declaring commercial production from its first mine Edikan.
Perseus says it is on track to become a 500,000ozpa producer from organic sources, but is also facing questions on whether it will buy out competitors in order to grow faster.
"In terms of the potential to implement step changes in our ambitions by merging Perseus with other companies, this possibility is ever present, and we continue to search for opportunities that will achieve our strict investment criteria and enhance the overall value of our asset portfolio and our organisation," managing director Jeff Quartermaine said at Perseus' AGM last Thursday.
"I have said many times, that it is easier to talk about these things than to implement.
"To those who are anxious that Perseus will 'miss the boat' in the area of consolidation, let me say that we have not missed any opportunities that we have set our sights on in the past and the results of our selectivity speak for themselves – look no further than the value created for all shareholders by the acquisition of Amara and its Yaouré Project several years ago."
Firefinch is up a whopping 239.47% year to date, making the relatively new gold miner a $600 million company.
It was more before a sell-off following the announcement of a Share Purchase Plan on Thursday conducted at 58c, a discount to its 70c price on Wednesday.
That SPP was hardly bad news though, with Firefinch accepting $51 million worth of bids for what was intended to be a $25 million SPP owing to the massive demand from existing sharholders.
That is no doubt a vote of confidence in its plans to return the Morila gold mine in Mali to its former glory.
Firefinch paid just US$28.8 million for the mine, owned by AngloGold and Barrick, which has produced upwards of 7Moz since opening in 2000.
It was once known as Morila the Gorilla for the astonishing grade and scale of the Morila Super Pit, which was at its peak a 1Moz producer.
It is currently producing around 50,000ozpa and rising from satellite pits and tailings, but with Firefinch planning to restart mining at the main Morila Pit next year, it plans to make Morila a 100,000oz producer in 2022 with longer term plans to become a 200,000ozpa mine.
Firefinch is also priced for its giant Goulamina lithium project, which will be developed in a joint venture with China's Ganfeng through a demerged company Leo Lithium.
Primarily listed in America and Johannesburg but dual-listed in Australia where it runs the big Sunrise Dam and Tropicana gold mines.
AngloGold's attitude towards its home continent has shifted over the years. Formely the gold division of Anglo American it has now sold out of its costly assets in its homeland of South Africa.
But the world's third biggest gold producer, which merged with Ghana's Ashanti Goldfields in 2004, still has an expansive portfolio of African gold mines and JVs that delivered 1.6Moz across five operations in 2020.
These include the 600,000ozpa Geita mine in Tanzania, its share in the Kibali JV with Barrick in the DRC, Iduapriem and Obuasi in Ghana, and the 10Moz Siguiri mine in Guinea.
EXPLORERS
Turaco Gold is run by Justin Tremain and if his history in Africa is anything to go by, he may develop a company worthy of a big money takeover.
Tremain led Exore Resources ahead of its takeover by Perseus Mining last year in a ~$80 million deal, having previously headed Renaissance Minerals before its takeover by Asian gold producer Emerald Resources (ASX:EMR).
Formerly known as Manas Resources, Turaco has undergone a facelift since Tremain and Co. came on board in November last year, driving a near doubling of the West African explorer's share price.
Turaco describes itself as a leading Cote d'Ivoire explorer. Its investment case rests on the 8350sqkm landholding it has built on the Birimian Greenstone Belt.
That includes the Boundiali and Ferke projects in the northern part of the African nation, 89% owned JVs with Predictive Discovery where Turaco has made high grade discoveries including 20m at 10.45g/t, 30m at 8.3g/t (Boundiali) and 45.3m at 3.16g/t (Ferke).
The Nyangoubue discovery at Boundiali South presents as a runs-on-the-board opportunity, with a maiden JORC resource likely early next year.
It also owns the Eburnea gold project, where a large scale discovery was declared on the basis of auger drilling last month that delineated 4.5km of strike and saw shallow grades of up to 9.91g/t.
Turaco additionally owns the Tongon North gold project, an expansive near-2000sqkm land package abutting Barrick's 4.5Moz Tongon mine.
In a recent note Far East Capital analyst Warwick Grigor said to "keep this one on your radar" after its shares dipped following a $10 million placement at 12c a pop.
"There seems to be plenty of gold on its licences, judging by assays so far," he wrote. "The shares have been quite strong since September, but dipped recently owing to the placement.
"Once this has been digested by the market the impending exploration news should help in the resumption of uptrend."
Dominated by artisanal miners, Ethiopia's economic reform agenda has seen gold exports skyrocket in 2020 and 2021.
Around 75% of the country's gold comes from prospectors, who have been encouraged to deliver into the State-owned trading centres so the value of the commodity to the Ethiopian economy can be quantified.
Renowned as a source of the precious metal for the Pharoahs of Ancient Egypt, Ethiopia is on the cusp of re-emerging as a gold exporter.
One Aussie stock riding this theme is Megado, which listed in October last year in a $6m IPO to chase to explore six gold projects in the forgotten region.
The $4.4m microcap says it has had promising results at its Babicho and Chakata projects.
$334 million capped prospect generator Predictive Discovery is up 308.33% in 2021 after hitting the mother lode at its North-East Bankan find in Guinea's Siguiri Basin.
The Eureka moment arrived when the company struck 46m at 6.58g/t from its Bankan project in April 2020.
PDI released a maiden inferred resource of 72.8Mt at 1.56g/t for 3.65Moz for Bankan at a "discovery cost" of just $4/oz.
The company subsequently dipped last month amid reports questioning the legality of setting up mining operations at Bankan, which sits within the outer buffer zone of the Upper Niger National Park.
Those concerns have dissipated in the month since, with the stock climbing to multi-year highs upwards of 24c.
Listed in 2019, African Gold shares popped in September after it announced shallow screen fire assays including a hit of 10m at 123g/t gold from its Didievi project in Cote d'Ivoire.
The Evan Cranston and Tolga Kumova backed ~$25 million small cap has since settled back into the 20c a share range.
It owns a swag of six pre-resource projects across the Ivory Coast and Mali. African Gold has been most active at Didievi, where Glencore, Equigold, Lihir and Newcrest all set foot between 2006 and 2011.
The 391km2 project is located in central Cote d'Ivoire on the emerging Oume-Fetekro Birimian greenstone belt, which hosts Allied Gold's plus-3Moz Bonikro/Hire (+3Moz) and Endeavor's 1Moz Agbaou gold mine to the south and the recent plus-2.5Moz Fetekro discovery made by Endeavour to the north.
Follow up drilling is set to take place this quarter at Didievi where African Gold has identified a large 1.5km x 1km gold system at the Blaffo Gueto target that it says is open in all directions.
Chaired by metallurgical engineer David Sproule, Polymetals bears the same name as his successful former private explorer, which went public and merged into the ill-fated Black Oak Minerals with Southern Cross Goldfields.
This Polymetals has a different angle to Sproule's former vehicle, which ran mines across Australia, and listed this year bearing the rights to two exploration licences covering 112km of Guinea's Siguiri Basin.
Polymetals' Alahine and Mansala projects are located near the 10Moz Siguiri mine.
Its exploration activities have been unaffected by the coup that saw Guinea's military take the capital of Conakry a couple months ago, completing its phase 2 exploration program at East Alahine in the September Quarter, comprising 98 drill holes including 94 aircore and 4 Reverse Circulation holes for a total of 7,320m.
Golden Rim Resources boasts a resource of 2Moz at 1.3g/t gold in its Kouri gold project in Burkina Faso and last year acquired the Kada gold project in Guinea, where it is earning the right to own up to 75%.
The project hosts a non-JORC resource in its oxide profile to around 100m deep, and sits just 36km south of AngloGold's Siguiri mine.
Kada was previously drilled by Newmont, which sunk 33,857m worth of diamond and RC holes, but was considered too small a target for the world's biggest gold miner.
That's all good for $22m capped Golden Rim, which is going to undertake a 6500m resource definition RC drilling campaign with the intention of delivering a maiden resource in January next year.
Another Ivoirian explorer on the hunt for high grade gold deposits in the West African nation.
Founded by the husband-wife team of Peter and Ann Ledwidge who led Orbis Gold into its $178 million takeover by SEMAFO in 2015, Mako owns the Napie gold project and the Korhogo project adjacent to Barrick's 4.9Moz Tongon mine.
Located on the same belt as Tietto's Abujar, Mako this year reached an agreement to take its share in its Napie JV with Perseus from 51 to 90%.
In exchange the leading African mid-tier has become a 5.1% cornerstone shareholder in Mako.
Four prospects are currently being drilled in an expansive 35,000m RC and diamond program at Napie. Like Orbis, Mako is hoping to find a multi-million ounce resource, with maiden numbers due soon for the Tchaga and Gogbala prospects.
Marvel Gold was a struggling African graphite company known as Graphex before it locked down a suite of Malian gold assets to change course.
Marvel recently spun Graphex's old Chilalo graphite project into a new ASX-listed graphite company, Evolution Energy Minerals (ASX:EV1), which popped on debut and is now worth $51 million to Marvel Gold's own $45m market cap. Go figure.
Marvel's own stake in EV1 was worth $25.5 million as of last week, which added to its $5.4 million bank balance values its own 1Moz plus gold inventory at just $11 million.
MVL is sitting on ~1Moz of gold at its 'Tabakorole' project in southern Mali, a region which includes Firefinch's 7.5Moz Morila gold mine and Resolute Mining's 7Moz Syama gold mine.
It also has a strong pipeline of regional targets, with a mammoth 15,000m auger and 15,000m aircore drill program now underway.
The company is assessing its options with respect to the EV1 investment "to ensure value is maximised for shareholders", MVl managing director Phil Hoskins says.
The $45m market cap stock is up 10% over the past month, and 54% year-to-date.
MVL had about $5.2m in the bank at the end of the September quarter which, alongside this $25.5m windfall, gives the company plenty of cash to either return to shareholders or sink into exploration/acquisitions.
Formerly focused on Australian exploration projects, Arrow moved into Africa with the takeover of Boromo Gold in 2019.
That brought Boromo's impeccably named Howard Golden – a geo involved in the Syama and Oyu Tolgoi discoveries – in as chief executive.
Arrow's focus is in Burkina Faso, where it controls five gold projects including the Dassa gold discovery, where more than 12,500m has been completed with 60% of drill holes intersecting gold above 1g/t.
Arrow controls an unbroken 80km of strike over the Boromo belt, near Ouagadougou and is currently sinking 6000m of RC drilling into the Vranso project including 50 holes at Dassa, Guido, Semapoun and Bantole.
Klaus Eckhof's tiddler Amani Gold owns the Giro Gold Project, just 35km west of the aforementioned Kibali in the DRC.
Amani chairman Eckhof is intimately familiar with the region, having led Moto Gold Mines ahead of the sale of the 22Moz Kibali gold mine to AngloGold and Randgold and previously chaired DRC lithium explorer AVZ Minerals (ASX:AVZ).
Giro hosts the 4.1Moz Kebigada gold deposit, where Amani plans to run a 3500m diamond drilling program over the December and March quarters.
Bassari Resources hasn't traded on the ASX for over a year.
After a board shake-up that saw former South African and Zimbabwean international cricketer and lawyer John Traicos become executive chairman it has been working to revive its Makabingui project in Senegal.
That is the project that needed to be redrilled back in 2017 to ensure it hadn't been depleted after the mine wasoverrun by up to 50,000 illegal miners "from all parts of Africa".
This month it said a settlement had been reached over a dispute regarding a finance facility and an MoU has been signed with the Senegalese Government to allow the company's operating permit to be renewed beyond its initial five-year term in July next year.
Among the terms and conditions, Bassari's local subsidiary Makabingui Gold Operation SA is required to "immediately re-commence operations at the Project and carry out preproduction works (civil, earthworks, plant construction, mine site preparation) and commence mining in accordance with an agreed schedule of works towards gold production by August 2022."
Unlike the other companies in this list Theta Gold Mines operates in a mature gold field in South Africa.
The former Stonewall Resources owns the TGME underground project in the Eastern Transvaal gold fields, near Johannesburg and around 300km northeast of the famous Witwatersrand Basin.
Theta says it dominates the Eastern Transvaal with a 620km2 tenement package covering 43 historical mines and nine mining rights.
The first phase of the underground project would involve the development of three mines – Frankfort, CDM and Beta – with a probably ore reserve of 419,000oz and 3.5Moz of inferred mineral resources beyond that.
A PFS in April said the mine could produce 60,000ozpa from its third year of operations with a 7.67 year mine life at AISC of US$905/oz and a capital cost of US$79m.
South Africa has become a less predictable place to invest in recent times, and Theta has run into some permitting issues with the SA Minister for Forestry, Fisheries and the Environment declaring a forest nature reserve over an area containing 20% of its potential resource base and the first phase of underground mining last month.
Theta shares hit a 12 month peak of 40c early this year but are now down 48% year to date at 17c.
Another South African gold hopeful, West Wits owns the Witwatersrand Basin Project.
A DFS showed its first stage, the Qala Shadows mine could deliver 663,000oz over a glacial 17-year mine life, with a 5.5-year payback period on its US$50 million development costs and peak steady state production of 53,000ozpa over a 10-year period.
The broader WBP would produce 1.57Moz of gold over a 25-year life of mine, with average steady state production of 80,000ozpa over an 18-year period, according to a scoping study.
$62 million-capped WWI has run afoul of environmentalists, who lodged failed objections to its mining approval this year. The company is planning to begin production from an "early mining initiative" at the Qala Shallows in February.
WWI shares have dropped 56.25% over the past 12 months to 3.5c.
Another Mark Connelly-chaired company chasing riches in West Africa, Chesser also counts Oklo MD Simon Taylor as a non-exec director.
The gold explorer has been banging about for a few years, selling the modest Kestanelik discovery in Turkey to a local conglomerate back in 2014 for $40 million.
That made for happy shareholders after a $33 million special payout and left Chesser hunting for a new calling.
It found that in Senegal's Diamba Sud, a greenfields gold project located on the rich Senegal-Mali Shear Zone.
Chesser last week released a maiden gold resource for Diamba Sud, four years after acquiring the project, of 15.2Mt at 1.6g/t for 781,000oz. That came around 16 months after making the discovery of high grade gold at its Area D target.
Around 69% of those are in the indicated category and, as is common in West Africa, 95% of the ounces are within 135m of surface.
A 15,000-20,000m drill program is planned to commence in January 2022 target resource expansion.
"We are very pleased to deliver the maiden Mineral Resource at Diamba Sud at a low discovery cost of US$11 per ounce," Chesser MD Andrew Grove said. "The shallow, high-grade nature of the mineralisation has resulted in a robust resource that we believe will continue to grow with additional drilling."
Time for a break. Go for walk or take some tea; we'll be back right after this with upcoming IPOs.
 

POTENTIAL IPOS
Another of Grigor's picks, Sarama is reportedly keen on returning to its bosses' Aussie roots by listing on the ASX, though the move announced in October last year has been stalled by permitting issues.
Sarama owns the Sanutura project in southwest Burkina Faso, which between the Tankoro and Bondi deposits has a mineral resource of 2.9Moz, including 9.4Mt at 1.9g/t for 600,000oz in the indicated category and 52.7Mt at 1.4g/t for 2.3Moz inferred.
The gold explorer is led by MD Andrew Dinning, a former WMC man who was COO at Moto Gold Mines, the company which outlined the 22Moz Kibali gold mine in the DRC and flipped it to Randgold (now Barrick) and AngloGold Ashanti for US$600 million in 2009.
Its market cap is just ~C$19m on last count – too low in Grigor's opinion.
"It is contemplating a a mineable resource in the order of 2Moz at around 2 gpt with low technical risk and high gold recoveries. The target resource across its portfolio of projects is 3-3.5Moz. All the negatives have been factored into the share price, and then some," Grigor said.
"A market capitalisation of only $20m for 2.9 Moz is way too cheap. We expect that once the ASX listing is sorted, and there is another $5m in the kitty, the share price will rise above the long term downtrend in which it is currently imprisoned."
HARANGA RESOURCES
Haranga was chasing up $6-6.5m in an IPO led by CPS Capital Group.
Not to be confused with the delisted iron ore explorer of the same name, it owns the Issia project to the south of Tietto's Abujar project in southern Cote d'Ivoire.
Issia boasts "extensive" geochemical gold anomalies but no previous exploration drilling despite evidence of 'artisanal mining' from local prospectors.
Haranga wants to launch a RAB drilling program in early 2022.
It is also holds or is securing permits for gold projects in the southern part of Burkina Faso, and the Saraya uranium and lithium project over in Senegal.
LUKIN RESOURCES
This IPO hopeful recently opened a $7.5 million IPO through Novus Capital seeking cash to explore gold and base metals projects in Queensland and South Africa.
Its South African projects are all located in the Northern Cape Province, including the Koa project 15km south of Orion Minerals' large Prieska VMS deposit and the 412,000t Bushy Park zinc deposit.
Lukin's gold interests come at the Vaalkop project, which hosts the polymetallic Salt River deposit.
That contains 440,000oz of gold, 434,000t of zinc and 140,000t of copper.
At Stockhead, we tell it like it is. While Oklo Resources and Firefinch are Stockhead advertisers, they did not sponsor this article.
The post Tossing up ASX-listed African gold stocks? Here's the ultimate, only guide you'll ever need appeared first on Stockhead.
Should I Invest in Gold After the Current Dip?
The gold price has weakened from its recent highs above $1877 registered on November 16 and closed the week below $1800. This precious metal's price…
The gold price has weakened from its recent highs above $1877 registered on November 16 and closed the week below $1800.
This precious metal's price still remains under pressure, but concerns that the new variant of coronavirus could hit the economy may help Gold to advance again above $1900 resistance.
Safe-haven asset
Gold price closed the week below the $1800 level even though riskier assets have weakened as news of a new COVID variant makes investors around the world worried.
Gold is considered a safe-haven asset, and the price should advance if the pandemic situation worsens as investors look for safer places to invest their money. Alexander Zumpfe, a precious metals dealer at Heraeus, added:
Authorities globally reacted with alarm to the virus variant, with the EU and Britain among those tightening border controls as researchers sought to establish out if the mutation was vaccine-resistant. The gold price should remain supported in this environment, and the topic of (Fed) tapering should take a back seat for the time being.
The battle against the coronavirus is still not over; Austria imposed a nationwide lockdown while Germany's Health Minister Jens Spahn said that Germany is also not ruling out a new lockdown.
On the other side, FED announced the tapering of its $120 billion in monthly bond purchases by $15 billion per month, and some investors believe a startling rise in consumer prices may accelerate the speed of raising interest rates.
The prospect of interest rate hikes positively influenced the U.S. dollar, and the appreciation of the U.S. dollar in the last several weeks had a negative influence on Gold.
Federal Reserve Governor Christopher Waller said coronavirus and supply problems may complicate the FED decision on monetary policy in 2022.
These problems may limit job gains and output growth, and if the U.S. dollar loses its value in the upcoming days, it could also help Gold to advance above the current levels.
$1900 represents strong resistance
Gold price has weakened from $1877 to $1778 since November 16, and the current price stands at $1791.
Those whose interest is to invest in commodities like Gold should consider that the price of this precious metal should advance if the pandemic situation worsens as investors look for safer places to invest their money.
The important resistance level stands at $1900, and if the price jumps above this level, it would be a signal to trade Gold, and we have the open way to $1950. 
On the other side, if the price falls below $1750 support, it would be a firm "sell" signal, and the next target could be around $1700.
Summary
Gold's price weakened from its recent highs registered in the third week of November but concerns that the new variant of coronavirus could hit the economy may help Gold advance again. Gold is considered a safe-haven asset, and if the price jumps above $1850, the next target could be $1900 resistance.
The post Should I invest in Gold after the current dip? appeared first on Invezz.
dollar
gold
commodities
monetary
reserve
policy
metals
interest rates
fed
monetary policy
The Euro's Death Wish
The Euro's Death Wish
Authored by Alasdair Macleod via GoldMoney.com,
Last week's Goldmoney article explained the Fed's increasing commitment…
The Euro's Death Wish
Authored by Alasdair Macleod via GoldMoney.com,
Last week's Goldmoney article explained the Fed's increasing commitment to dollar hyperinflation. This week's article examines the additional issues facing the euro and the Eurozone.
More nakedly than is evidenced by other major central banks, the ECB through its system of satellite national central banks is now almost solely committed to financing national government debts and smothering over the consequences. The result is a commercial banking system both highly leveraged and burdened with overvalued government debt secured only by an implied ECB guarantee.
The failings of this statist control system have been covered up by a pass-the-parcel any collateral goes €10 trillion plus repo market, which with the TARGET2 settlement system has concealed the progressive accumulation of private sector bad debts ever since the first Eurozone crisis hit Spain in 2012.
These distortions can only continue so long as interest rates are suppressed beneath the zero bound. But rising interest rates globally are now a certainty — only officially unrecognised by central bankers — so there can only be two major consequences. First, the inevitable Eurozone economic recession (now being given an extra push through renewed covid restrictions) will send debt-burdened government deficits which are already high soaring, requiring an accelerated pace of inflationary financing by the ECB. And second, the collapse of the bloated repo market, which is to be avoided at all costs, will almost certainly be triggered.
This article attempts to clarify these issues. It is hardly surprising that for the ECB raising interest rates is not an option. Therefore, the recent weakness of the euro on the foreign exchanges marks only the start of a threat to the euro system, the outcome of which will be decided by the markets, not the ECB.
Introduction
The euro, as it is said of the camel, was designed by a committee. Unlike the ship of the desert the euro and its institutions will not survive — we can say that with increasing certainty considering current developments. Instead of evolving as demanded by its users, the euro has become even more of a state control mechanism than the other major currencies, with the exception, perhaps, of China's renminbi. But for all its faults, the Chinese state at least pays attention to the economic demands of its citizens to guide it in its management of the currency. The commissars in Brussels along with national politicians seem to be blind to the social and economic consequences of drifting into totalitarianism, where people are forced into new lockdowns and in some cases are being forced into mandatory covid vaccinations.
The ECB in Frankfurt has also ignored the economic consequences of its actions and has just two priorities intact from its inception: to finance member governments by inflationary means and to suppress or ignore all evidence of the consequences.
The ECB's founding was not auspicious. Before monetary union socialistic France relied on inflationary financing of government spending while Germany did not. The French state was interventionist while Germany fostered its mittelstand with sound money. The compromise was that the ECB would be in Frankfurt (the locational credibility argument won the day) while its first true president, after Wim Duisenberg oversaw its establishment and cut short his presidency, would be French: Jean-Claude Trichet. Membership qualifications for the Eurozone were set out in the Maastricht treaty, and then promptly ignored to let in Italy. They were ignored again to let in Greece, which in terms of ease of doing business ranked lower than both Jamaica and Columbia at the time. And now the Maastricht rules are ignored by everyone.
Following the establishment of the ECB the EU made no attempt to tackle the divergence between fiscally responsible Germany with similarly conservative northern states, and the spendthrift southern PIGS. Indeed, many claimed a virtue in that Germany's savings could be deployed for the benefit of investment in less advanced member nations, a belief insufficiently addressed by the Germans at the time. The ECB presided over the rapidly expanding balance sheets of the major banks which in the early days of the euro made them fortunes arbitraging between Germany's and the PIGs' converging bond yields. The ECB was seemingly oblivious to the rapid balance sheet expansion with which came risks spiralling out of control. To be fair, the ECB was not the only major central bank unaware of what was happening on the banking scene ahead of the great financial crisis, but that does not absolve it from responsibility.
The ECB and its banking regulator (the European Banking Authority — EBA) has done nothing since the Lehman failure to reduce banking risk. Figure 1 shows current leverages for the Eurozone's global systemically important banks, the G-SIBs. Doubtless, there are other lesser Eurozone banks with even higher balance sheet ratios, the failure of any of which threatens the Eurosystem itself.

Even these numbers don't tell the whole story. Most of the credit expansion has been into government debt aided and abetted by Basel regulations, which rank government debt as the least risky balance sheet asset, irrespective whether it is German or Italian. Throughout the PIGS, private sector bad debts have been rated as "performing" by national regulators so that they can be used as collateral against loans and repurchase agreements, depositing them into the amorphous TARGET2 settlement system and upon other unwary counterparties.
Figure 2 shows the growth of M1 narrow money, which has admittedly not been as dramatic as in the US dollar's M1. But the translation of bank lending into circulating currency in the Eurozone is by way of government borrowing without stimulation cheques. It is still progressing, Cantillon-like, through the monetary statistics. And they will almost certainly increase substantially further on the back of the ongoing covid pandemic, as state spending rises, tax revenues fall, and budget deficits soar. Bear in mind that the new covid lockdowns currently being implemented will knock the recent anaemic recovery firmly on the head and drive the Eurozone into a new slump. There can be no doubt that M1 for the euro area is set to increase significantly from here, particularly since the ECB is now nakedly a machine for inflationary financing.

In the US's case, rising interest rates, which the Fed is keen to avoid, will undermine the US stock market with knock-on economic effects. In the Eurozone, rising interest rates will undermine spendthrift governments and the entire commercial banking system.
Government debt creation out of control
The table below shows government spending for leading Eurozone states as a proportion of their GDP last year, ranked from highest government spending to GDP to lowest (column 1). The US is included for comparison.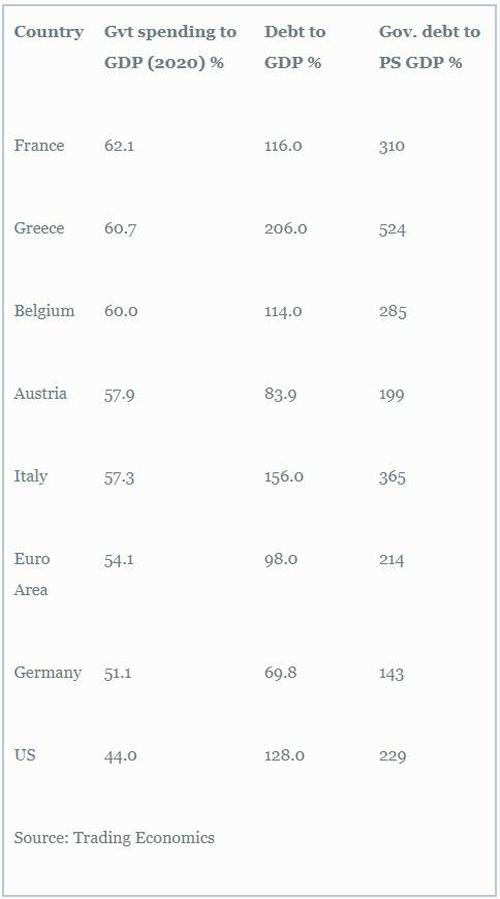 Some of the increase in government spending relative to their economies was due to significant falls in GDP, and some of it due to increased spending. The current year has seen a recovery in GDP, which will have not yet led to a general improvement in tax revenues, beyond sales taxes. And now, much of Europe faces new covid restrictions and lockdowns which are emasculating any hopes of stabilising government debt levels.
The final column in the table adjusts government debt to show it relative to the tax base, which is the productive private sector upon which all government spending, including borrowing costs and much of inflationary financing, depends. This is a more important measure than the commonly quoted debt to GDP ratios in the second column. The sensitivity to and importance of maintaining tax income becomes readily apparent and informs us that government debt to private sector GDP is potentially catastrophic. As well as the private sectors' own tax burden, through their taxes and currency debasement they are having to support far larger obligations than generally realised. Productive citizens who don't feel they are on a treadmill going ever faster for no purpose are lacking awareness.
These are the dynamics of national debt traps which only miss one element to trigger them: rising interest rates. Instead, they are being heavily suppressed by the ECB's deposit rate of minus 0.5%. The market is so distorted that the nominal yield on France's 5-year bond is minus 0.45%. In other words, a nation with a national debt that is so high as to be impossible to stabilise without the necessary political will to do so is being paid to borrow. Greece's 5-year bond yields a paltry 0.48% and Italy's 0.25%. Welcome to the mad, mad world of Eurozone government finances.
The ECB's policy failure
It is therefore unsurprising that the ECB is resisting interest rate increases despite producer and consumer price inflation taking off. Consumer price inflation across the Eurozone is most recently recorded at 4.1%, making the real yield on Germany's 5-year bond minus 4.67%. But Germany's producer prices for October rose 18.4% compared with a year ago. There can be no doubt that producer prices will feed into consumer prices, and that rising consumer prices have much further to go, fuelled by the acceleration of currency debasement in recent years.
Therefore, in real terms, not only are negative rates already increasing, but they will go even further into record territory due to rising producer and consumer prices. It is also the consequence of all major central banks' accelerated expansion of their base currencies, particularly since March 2020. Unless it abandons the euro to its fate on the foreign exchanges altogether, the ECB will be forced to raise its deposit rate very soon, to offset the euro's depreciation. And given the sheer scale of previous monetary expansion, which is driving its loss of purchasing power, euro interest rates will have to rise considerably to have any stabilising effect.
But even if they increased only into modestly positive territory, the ECB would have to quicken the pace of its monetary creation just to keep Eurozone member governments afloat. The foreign exchanges will quickly recognise the situation, punishing the euro if the ECB fails to raise rates and punishing it if it does. But it won't be limited to cross rates against other currencies, which to varying degrees face similar dilemmas, but measured against prices for commodities and essential products. Arguably, the euro's rerating on the foreign exchanges has already commenced.
The ECB is being forced into an impossible situation of its own making. Bond yields have started to rise or become less negative, threatening to bankrupt the whole Eurozone network as the trend continues, and inflicting mark-to-market losses on highly leveraged commercial banks invested in government bonds. Furthermore, the Euro system's network of national central banks is like a basket of rotten apples. It is the consequence not just of a flawed system, but of policies first introduced to rescue Spain from soaring bond yields in 2012. That was when Mario Draghi, the ECB's President at the time said he was ready to do whatever it takes to save the euro, adding, "Believe me, it will be enough".
It was then and its demise was deferred. The threat of intervention was enough to drive Spanish bond yields down (currently minus 0.24% on the 5-year bond!) and is probably behind the complacent thinking in the ECB to this day. But as the other bookend to Draghi's promise to deploy bond purchasing programmes, Lagarde's current intervention policy is of necessity far larger and more destabilising. And then there is the market problem: the ECB now acts as if it can ignore it for ever.
It wasn't always like this. The euro started with the promise of being a far more stable currency replacement for national currencies, particularly the Italian lira, the Spanish peseta, the French franc, and the Greek drachma. But the first president of the ECB, Wim Duisenberg, resigned halfway during his term to make way for Jean-Claude Trichet, who was a French statist from the École Nationale d'Administration and a career civil servant. His was a political appointment, promoted by the French on a mixture of nationalism and a determination to neutralise the sound money advocates in Germany. To be fair to Trichet, he resisted some of the more overt pressures for inflationism. But then things had not yet started to go wrong on his watch.
Following Trichet, the ECB has pursued increasingly inflationist policies. Unlike the Bundesbank which closely monitored the money supply and paid attention to little else, the ECB adopted a wide range of economic indicators, allowing it to shift its focus from money to employment, confidence polls, long-term interest rates, output measures and others, allowing a fully flexible attitude to money. The ECB is now intensely political, masquerading as an independent monetary institution. But there is no question that it is subservient to Brussels and whose primary purpose is to ensure Eurozone governments' profligate spending is always financed; "whatever it takes". The private sector is now a distant irrelevance, only an alternative source of government revenue to inflation, the delegated responsibility of compliant national central banks, who take their orders from the economically remote ECB.
It is an arrangement that will eventually collapse through currency debasement and economic breakdown. Prices rising to multiples of the official CPI target and the necessary abandonment by the ECB of the euro in the foreign exchanges in favour of interest rate suppression now threaten the ability of the ECB to finance in perpetuity increasing government deficits.
The ECB, TARGET2 and the repo market
Figure 3 shows how the Eurozone's central bank balance sheets have grown since the great financial crisis. The growth has virtually matched that of the Fed, increasing to $9.7 trillion equivalent against the Fed's $8.5 trillion, but from a base about $700bn higher.

While they are reflected in central bank assets, TARGET2 imbalances are an additional complication, which are shown in the Osnabrück University chart reproduced in Figure 4. Points to note are that Germany is owed €1,067bn. The ECB collectively owes the national central banks (NCBs) €364bn. Italy owes €519bn, Spain €487bn and Portugal €82bn.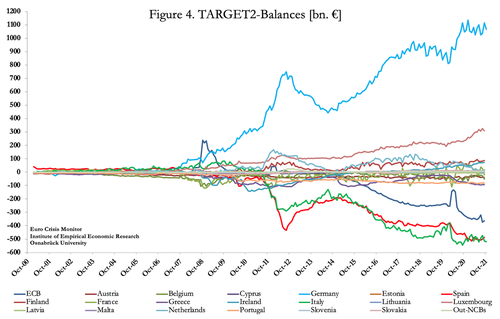 The effect of the ECB deficit, which arises from bond purchases conducted on its behalf by the national central banks, is to artificially reduce the TARGET2 balances of debtors in the system to the extent the ECB has bought their government bonds and not paid the relevant national central bank for them.
The combined debts of Italy and Spain to the other national central banks is about €1 trillion. In theory, these imbalances should not exist. The fact that they do and that from 2015 they have been increasing is due partly to accumulating bad debts, particularly in Portugal, Italy, Greece, and Spain. Local regulators are incentivised to declare non-performing bank loans as performing, so that they can be used as collateral for repurchase agreements with the local central bank and other counterparties. This has the effect of reducing non-performing loans at the national level, encouraging the view that there is no bad debt problem. But much of it has merely been removed from national banking systems and lost in both the euro system and the wider repo market.
Demand for collateral against which to obtain liquidity has led to significant monetary expansion, with the repo market acting not as a marginal liquidity management tool as is the case in other banking systems, but as an accumulating supply of raw money. This is shown in Figure 4, which is the result of an ICMA survey of 58 leading institutions in the euro system.

The total for this form of short-term financing grew to €8.31 trillion in outstanding contracts by December 2019. The collateral includes everything from government bonds and bills to pre-packaged commercial bank debt. According to the ICMA survey, double counting, whereby repos are offset by reverse repos, is minimal. This is important when one considers that a reverse repo is the other side of a repo, so that with repos being additional to the reverse repos recorded, the sum of the two is a valid measure of the size of the market outstanding. The value of repos transacted with central banks as part of official monetary policy operations were not included in the survey and continue to be "very substantial". But repos with central banks in the ordinary course of financing are included.
Today, even excluding central bank repos connected with monetary policy operations, this figure probably exceeds €10 trillion, allowing for the underlying growth in this market and when one includes participants beyond the 58 dealers in the survey. An interesting driver of this market is negative interest rates, which means that the repayment of the cash side of a repo (and of a reverse repo) can be less than its initial payment. By tapping into central bank cash through a repo it gives a commercial bank a guaranteed return. This must be one reason that the repo market in euros has grown to be considerably larger than it is in the US.
This consideration raises the question as to the consequences of the ECB's deposit rate being forced back into positive territory. It is likely to substantially reduce a source of balance sheet funding for commercial banks as repos from national central banks no longer offer negative rate funding. They would then be forced to sell balance sheet assets, which would drive all negative bond yields into positive territory, and higher. Furthermore, the contraction of bank credit implied by the withdrawal of repo finance will almost certainly have the knock-on effect of triggering a widespread banking liquidity crisis in a banking cohort with such high balance sheet gearing.
There is a further issue over collateral quality. While the US Fed only accepts very high-quality securities as repo collateral, with the Eurozone's national banks and the ECB almost anything is accepted — it had to be when Greece and other PIGS were bailed out. High quality debt represents most of the repo collateral and commercial banks can take it back onto their balance sheets. But the hidden bailouts of Italian banks by taking dodgy loans off their books could not continue to this day without them being posted as repo collateral rolled into the TARGET2 system and into the wider commercial repo network.
The result is that the repos that will not be renewed by commercial counterparties are those whose collateral is bad or doubtful. We have no knowledge how much is involved. But given the incentive for national regulators to have deemed them creditworthy so that they could act as repo collateral, the amounts will be considerable. Having accepted this dodgy collateral, national central banks will be unable to reject them for fear of triggering a banking crisis in their own jurisdictions. Furthermore, they are likely to be forced to accept additional repo collateral rejected by commercial counterparties.
In short, in the bloated repo market there are the makings of the next Eurozone banking crisis. The numbers are far larger than the central banking system's capital. And the tide will rapidly ebb on them with rising interest rates.
Inflation and interest rate outlook
Starting with input prices, the commodity tracker in Figure 6 illustrates the rise in commodity and energy prices in euros, ever since the US Fed went "all in" in early 2020. To these inputs we can add soaring shipping costs, logistical disruption, and labour shortages — in effect all the problems seen in other jurisdictions. Additionally, this article demonstrates that not only is the ECB determined not to raise interest rates, but it simply cannot afford to. Being on the edge of a combined government funding crisis and with a possible collapse in the repo market taking out the banking system, the ECB is paralyzed with fear.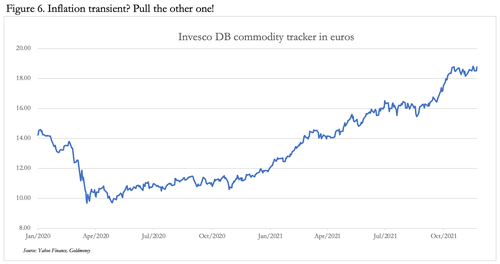 That being so, we can expect further weakness in the euro exchange rate. And the commodity tracker in Figure 6 shows that when commodity prices break out above their current consolidation phase, they will likely push alarmingly higher in euros at least. The ECB's dilemma over choosing inflationary financing or saving the currency is about to get considerably worse. And for probable confirmation of mounting fear over the situation in Frankfurt, look no further than the resignation of the President of the Bundesbank, who has asked the Federal President to dismiss him early for personal reasons. It was all very polite, but a high-flying, sound money man such as Jens Weidmann is unlikely to just want to spend more time with his family. That he can no longer act as a restraint on the ECB's inflationism is clear, and more than any outsider he will be acutely aware of the coming crisis.
Let us hope that Weidmann will be available to pick up the pieces and reintroduce a gold-backed mark.
 
Tyler Durden
Sun, 11/28/2021 – 07:00
dollar
gold
inflation
commodities
commodity
monetary
markets
policy
money supply
interest rates
fed
central bank
us dollar
negative interest rates
monetary expansion
monetary policy
bailouts
debasement
inflationary