How To Survive The Mega Collapse Of 2022
How To Survive The Mega Collapse Of 2022
Authored by MN Gordon via EconomicPrism.com,
Welcome to 2022!
The New Year's edition of the Economic…
How To Survive The Mega Collapse Of 2022
Authored by MN Gordon via EconomicPrism.com,
Welcome to 2022!
The New Year's edition of the Economic Prism is a place of wild guesses and rough suppositions.  Today we focus our eyes through our proprietary prism.  We set our sights over a 12 month viewshed.  What do we see?
First off, 2022 will be a year where everything under the sun happens precisely as it should.  Some good.  Some bad.  Each day shall unfold before you with symbiotic disharmony.  You can bet your bottom bitcoins on it.
But what else?
Will gold top $3,000 per ounce?  Will Beeple sell another digital art medley NFT for $69 million?  Will a paper cup full of Starbucks coffee mixed with syrup and milk froth hit $10 before the year's over?
What about the S&P 500, the yield on the 10-Year Treasury note, and the price of oil?
Will Fed tapering cause a simultaneous tantrum in both the stock and bond markets?  Will Fauci finally be run out of Washington on a rail like a 19th century con man?  Will China invade Taiwan?  Did WWIII just commence in the Ukraine?  Are we fated for complete social distortion?
You likely have opinions on these matters.  Many people do.  The answers to these questions, no doubt, will be revealed in due course.  In the meantime, our advice is to trust your gut.  Your guesses are better than most.
After a deranged 2021, and with Jen Psaki as White House Press Secretary, anything and everything can happen in 2022 – including a mega collapse!
Thus we're eschewing a broad range of predictions for the 12 months before us.  But not to worry, we won't leave you empty handed…
Rather, with humility and modesty we've zeroed in on one critical – yet hated – opportunity.  We offer this opportunity to you here, free of charge, with the sole intention of helping you survive the mega collapse of 2022.
Where to begin…
Significantly Overvalued
A look at the S&P 500 is a good place to start.  The broad market index just hit a new record high – again!  But price is one thing.  Does the S&P 500 have the earnings to back it up?
The S&P 500's current valuation, when compared to its historical valuations going back to 1871, reveals a stock market with significant risks.  As of the December 30 market close, the Cyclically Adjusted Price Earnings (CAPE) ratio is 40.09.
That's over 137 percent higher than the CAPE ratio's long-term historical average…and well above the 32.56 CAPE ratio reached in September 1929.  The only time the CAPE ratio has been higher is for a brief moment at the dot com bubble peak, in December 1999, in the run-up to the new millennium, when it hit 44.19.
Following both of these CAPE ratio peaks – September 1929 and December 1999 – the stock market crashed in spectacular fashion.
In short, based on the current CAPE ratio, the S&P 500 is now well over double the cost of its historical average.  The NASDAQ and DJIA are also both at nose bleed levels.
Similarly, the Buffett indicator, which is a ratio of the total market capitalization over gross domestic product, shows that the overall stock market is significantly overvalued.  The ratio currently stands at about 209.5 percent.  A fairly valued market is a ratio somewhere between 98 and 119 percent.  Anything above 141 percent is considered significantly overvalued.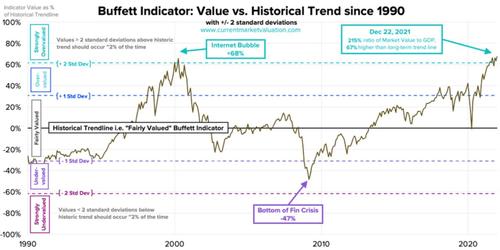 Obviously, the most reliable way to make money in the stock market is to buy low and sell high.  Conversely, buying high and selling low is a guaranteed way to lose money.  Based on current valuations, buying the major U.S. stock market indexes right now would be buying high.
Perhaps you could buy high and sell higher.  But this isn't an advisable way to invest.  Not unless you consider gambling to be investing.  Successful long term index fund investing involves buying when the market index is cheap – when the CAPE ratio is below 15 or the Buffett indicator is below 76 percent.
Based on the CAPE ratio and the Buffett indicator, the U.S. stock market is currently significantly overvalued.  Moreover, it continues to be propelled dangerously upward by central bank credit pumping; real tightening will not be occurring for quite some time.
Thus, as we commence the New Year, the major U.S. stock market indexes are at risk of a manic blow off top followed by a spectacular crash.  This doesn't mean you should sell all your stocks and go to 100 percent cash.  But it does mean that some prudent adjustments to your holdings may be in order.
How to Survive the Mega Collapse of 2022
The fact is, with Bidenflation raging out of control, cash is trash.  Bonds are trash too.
What's more, foolish policies out of Washington are trashing the foundations of economic life and civilized society with unprecedented precision.  Here is a partial listing of some of the unintended consequences that government interventions have directly manifested…
Price inflation.  Supply chain disruptions.  Labor shortages.  Energy shortages.  Food and fertilizer scarcity.  Extreme wealth disparity.  Stock, bond, and real estate bubbles.  Flash mob smash and grab robberies.  And much, Much More…
For these reasons, and many others, 2022 will be the year of the mega collapse.  In fact, it's already happening.
But regardless of how expensive the stock market indexes are, and no matter how delusional investor expectations are for future returns, you must do something with your savings and investment capital.
A stock market crash may or may not be imminent.  But a mega collapse of the economy is most definitely in the cards.
What to do…
Gold, without question, is the tried and true form of wealth protection.  Paper dollars, debt instruments, dollar based interest and dividend payments, and the whole gamut of paper promises may not be here after the mega collapse.  But gold will remain.
To be clear, gold's not an investment; it doesn't pay a dividend or interest.  Still, it's far more than just a pet rock, as Buffett asserts.
Gold, specifically, is an anti-investment.  It's a safe haven for wealth.  And it's especially prudent for times like now…when the end of the world as we've always known it comes to pass.
Yet if gold's an anti-investment, then what's silver?
Silver, for one, is an industrial metal with many different applications.  However, silver's also an anti-investment; it's a hybrid wealth refuge.  And silver, like gold, will still endure after the mega collapse.
Thus herein lies our one critical – yet hated – opportunity to survive the mega collapse of 2022.
You see, at the moment, silver is despised even by holders of precious metals.  We know this by looking at the gold/silver ratio (i.e., the price of gold divided by the price of silver).  By this metric, silver is extremely cheap compared to gold right now.
When the gold/silver ratio is above 80, silver is comparatively inexpensive relative to gold.  According to GoldSilver, the last three times the gold/silver ratio topped 80, silver increased 40 percent, 300 percent, and 400 percent.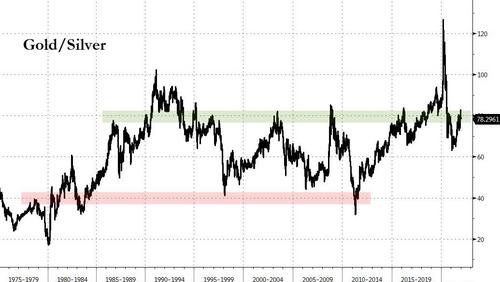 As of market close December 30, the gold/silver ratio is 78.78.  That's pretty doggone close to 80.  Need we say more?
Happy New Year!
[Editor's note: As detailed above, physical silver's an anti-investment.  It's not to be bought for price speculation.  There are, however, remarkably profitable ways to exploit cheap silver prices.  And paid up Wealth Prism Letter subscribers will discover exactly how in the January issue, due to be published in the early hours of January 3.  If you'd like to exploit this opportunity too, take action and subscribe today!  Have a blessed 2022!]
Tyler Durden
Sat, 01/01/2022 – 11:30
dollar
gold
silver
inflation
markets
metals
fed
central bank
bubble
crash
nasdaq
Oklahoma to Consider Holding Gold and Silver, Removing Income Taxes
Legislators in Oklahoma aim to protect state funds with physical gold and silver and remove capital gains taxes from gold and silver transactions  ?…
(Oklahoma City, Oklahoma — January 20, 2022) – An Oklahoma state representative introduced legislation today that would enable the State Treasurer to protect Sooner State funds from inflation and financial risk by holding physical gold and silver.
Introduced by Rep. Sean Roberts, HB 3681 would include physical gold and silver, owned directly, to the list of permissible investments that the State Treasurer can hold. Currently, Oklahoma money managers are largely relegated to investing in low-yield, dollar-denominated debt instruments.
Other than Ohio, no state is currently known to hold any precious metals, even as inflation and financial turmoil accelerate globally. Yes, Oklahoma's own investment guidance prescribes safety of principal as a primary objective for investment of public funds.
"Currency debasement caused by federal monetary and fiscal policies has created an imminent risk of a substantial erosion in the value of Oklahoma's investment holdings," said Jp Cortez, policy director of the Sound Money Defense League.
"With most taxpayer funds currently held in debt paper carrying a negative real return, Oklahoma would be prudent to hedge today's serious inflation risks with an allocation to the monetary metals."
HB 3681 simply adds the authority to hold physical gold and silver bullion directly – and in a manner that does not assume the counterparty and default risks involved with other state holdings. Rep. Roberts' measure does not grant authority to buy mining stocks, futures contracts, or other gold derivatives.
Additionally, HB 3681 prescribes safekeeping and storage requirements. The State Treasurer would hold the state's bullion in a qualifying, insured, and independently audited depository, free of any encumbrances and physically segregated from other holdings.
Oklahoma has become a sound money hotspot, already earning 11th place on the 2021 Sound Money Index.
The Sooner State ended sales taxes on purchases of precious metals long ago. This week, Sen. Nathan Dahm introduced SB 1480, a measure to remove Oklahoma state income taxes from the exchange or sale of gold and silver sales.
The Sound Money Defense League and Money Metals Exchange strongly support these pro-sound money measures in Oklahoma and are actively working to ensure their success. Tennessee, Mississippi, Kentucky, and Alabama are just a few of the other states fighting their own sound money battles in 2022.
dollar
gold
silver
inflation
derivatives
monetary
policy
metals
mining
debasement
precious metals
Gold Uptrend Confirmed
It's been a turbulent start to the year for the major market averages, with many sectors like Retail (XRT) and Staples (XLP) being hit by inflationary…
It's been a turbulent start to the year for the major market averages, with many sectors like Retail (XRT) and Staples (XLP) being hit by inflationary pressures and continued supply chain headwinds while worries about rate hikes leading to a cool-down in valuations in tech. However, one asset class that is holding its ground is gold (GLD), which is up 1% year-to-date, outperforming the Nasdaq by 700 basis points. This outperformance appears more than overdue, with gold typically performing its best when real rates are deep in negative territory, in line with the current backdrop. Let's take a closer look below:
(Source: YCharts.com, Author's Chart)
Looking at the chart above, we can see that real rates continue to trend lower and are now sitting at their lowest levels in decades, spurred by continued high single-digit inflation readings. This backdrop has typically been very favorable for gold, given that investors are not getting interest elsewhere, meaning there is no opportunity cost to holding the metal, and there is an opportunity cost to holding cash. The one impediment to gold's performance, though, has been the fact that the major market averages have been climbing higher with a relentless bid, allowing investors to park their cash safely in the market.
However, since the year began, this does not appear to be the case, and gold is massively outperforming the S&P-500, as well as growth and value ETFs. This has created a perfect storm for the metal, and its outperformance can be highlighted by the above chart, which shows gold recently breaking out to new multi-week highs vs. the S&P-500. A new trend upwards following a period of significant underperformance has typically led to sustained rallies in the gold price, with the most recent example being February 2020 ($1,500/oz to $2,050/oz). Hence, this is a very positive development for the gold bulls.
The key, however, is that gold's outperformance vs. the S&P-500 is not simply due to the S&P-500 being in a bear market and gold trending lower, but just losing less ground. The good news is that this is not the case, with the monthly chart for gold showing that it is building a massive cup and handle, with much of its handle being built above its prior resistance. This is a very bullish long-term pattern, and a successful breakout above $2,000/oz would target a move to at least $2,350/oz. 
(Source: TC2000.com)
Meanwhile, if we look at the yearly chart above, we can see an even better look at the cup and handle pattern and why the discussion that gold is dead or in a deep downtrend is simply incorrect. While one can certainly make the case that gold has gone nowhere over the past 18 months and the daily chart remains volatile, the big picture has rarely looked better in the past several decades, and zero technical damage has been done. So, for investors looking for an asset with a favorable fundamental backdrop that's also sporting a very attractive looking long-term chart, I am hard-pressed to find anything as attractive as gold among the 150+ ETFs and assets I track. 
(Source: TC2000.com)
So, what's the best course of action?
One of my favored ways to play the gold sector is Agnico Eagle Mines (AEM). The reason is that it has one of the best margin profiles sector-wide; the potential to increase production by more than 30% over the next nine years, and it operates out of the most attractive jurisdictions globally. This is evidenced by the fact that AEM should be able to grow annual gold production from ~3.4 million ounces to ~4.5 million ounces between now and 2030 and has 50% margins at a $1,800/oz gold price. 
(Source: TC2000.com)
As the chart above shows, AEM's technical picture continues to improve, with the stock building a 10+ year cup and handle base atop its prior multi-decade breakout level. This is a very bullish pattern, and a breakout above $70.00 would target a move above $95.00 in the next two years. So, with the stock consolidating near the right side of its cup and trading at a very attractive valuation of 1.0x P/NAV, I see this as an attractive entry point. Notably, AEM also pays a ~2.7% dividend yield, double that of the S&P-500. For those preferring to invest in gold, I continue to expect a trend of higher lows, with the $1,750/oz – $1,780/oz area representing a very low-risk buy zone. 
It's no secret that GLD has massively underperformed other ETFs over the past 18 months, and with many focused on the last shiny thing and having recency bias, it's no surprise that gold remains out of favor. However, the best time to buy the metal is when it's been hated and has corrected sharply from its highs, making this an attractive entry point. Given that most other ETFs could use a rest, and the fundamental backdrop remains very favorable for gold, I remain medium-term and long-term bullish, and I would not be surprised to see gold above $2,080/oz this year. 
Disclosure: I am long GLD, AEM
Disclaimer: Taylor Dart is not a Registered Investment Advisor or Financial Planner. This writing is for informational purposes only. It does not constitute an offer to sell, a solicitation to buy, or a recommendation regarding any securities transaction. The information contained in this writing should not be construed as financial or investment advice on any subject matter. Taylor Dart expressly disclaims all liability in respect to actions taken based on any or all of the information on this writing. Given the volatility in the precious metals sector, position sizing is critical, so when buying precious metals stocks, position sizes should be limited to 5% or less of one's portfolio.
The post Gold Uptrend Confirmed appeared first on ETF Daily News.
Buy Sofi Technologies Stock If There's Another Rate Hike Selloff
The Sofi Technologies (NASDAQ:SOFI) pullback, which started in November, has carried on into the new year. Since the start of 2022, SOFI stock has taken…
The Sofi Technologies (NASDAQ:SOFI) pullback, which started in November, has carried on into the new year. Since the start of 2022, SOFI stock has taken another 5% plunge, changing hands now for around $15 per share.
Source: rafapress / Shutterstock.com
What has caused this continued decline for the fintech play? The prospect of higher interest rates in 2022. The U.S. Federal Reserve plans to raise interest rates at least three times this year. Generally, higher rates mean lower valuation multiples for growth stocks.
Worse yet, another selloff caused by rate hikes could occur soon. That is, if the Fed's response to inflation ends up happening at a faster pace, as some analysts are starting to predict. That steeper climb in interest rates will likely cause more multiple compression. But while bad for the near term, this isn't a reason to skip out on SOFI stock entirely.
Like I've discussed before, further volatility caused by interest rate changes could push Sofi to a "can't miss" entry point. Not only that, a larger increase in interest rates will bode well for the company's underlying business. SOFI may not be a buy today, but it's one to keep an eye on in case it takes another dive.
The Latest with SOFI Stock
With recent news suggesting the Fed would raise rates faster and sooner this year, growth plays found themselves under pressure. That resulted in another round of declines.
This factor and, to a lesser extent bearish forecasts for fintech from the sell-side, has caused the additional drop in SOFI stock. Interest rate fears could cool off again in the immediate term. For now, the market may believe it has readjusted valuations to reflect likely rate increases. However, between now and when the Fed officially raises rates in March, we may see another wave of volatility.
Why? Well, there could be more than just three interest rate increases in 2022. Even worse, the size of each increase could be greater than just 25 basis points (0.25%). Of course, that's not to say the Fed is ready to heed outspoken billionaire Bill Ackman, who recently called for an initial 50 basis point (0.5%) jump in interest rates. Still, when it comes to upcoming rate hikes, it may be wise to expect the unexpected.
Given that inflation is at multi-decade highs, the central bank may end up taking drastic action. A big spike in interest rates could mean another round of big declines for the stocks that thrived during the pandemic's near-zero interest rate environment.
Higher Interest Rates Have a Silver Lining
If the scenario described above plays out, SOFI stock could plunge again, even as it continues to have a very high rate of projected annual revenue growth (43.3% this year). Of course, a potential plunge to under $10 per share may appear discouraging on the onset. Many other former special purpose acquisition companies (SPACs) have fallen below their intial $10 per share price and haven't returned to double digits. However, I wouldn't view a move to under $10 as any sort of "game over" moment. In fact, I would view it as an opportunity.
Unlike some other SPAC deals, the underlying business here is strong. Based on Sofi's last reported quarterly results, the fintech firm appears set to continue scaling up. Someday it could become one of the top digital-first financial supermarkets like Block (NYSE:SQ) and PayPal (NASDAQ:PYPL).
After the market absorbs interest rate changes, continued strong results will enable SOFI stock to start bouncing back. Along with this, other positive developments could help fuel it to higher prices —  including a development enhanced by higher interest rates.
The development? When Sofi obtains a bank charter. This is expected to happen sometime in 2022. Getting a bank charter is already seen as a game-changer for Sofi. But investors should also take into account how rising rates are a positive for banking profitability. Sofi's move into more traditional lending operations could enable it to get out of the red much sooner.
Sofi Is a Buy if It Drops Again
All told, my take on Sofi Technologies is largely unchanged from past articles. In a nutshell, waiting for another pullback is the best move here. Sure, there is a risk that its current price is the bottom. Shares could bounce back and see investors missing out on the recovery.
Then again, as it appears more likely that the market will have at least one more negative reaction to rising interest rates? The opportunity to lock down a long-term position in SOFI stock at lower prices looks likely. When it comes to this name, wait for that moment before buying.
On the date of publication, Thomas Niel did not hold (either directly or indirectly) any positions in the securities mentioned in this article. The opinions expressed in this article are those of the writer, subject to the InvestorPlace.com Publishing Guidelines.
Thomas Niel, contributor for InvestorPlace.com, has been writing single-stock analysis for web-based publications since 2016.
More From InvestorPlace
The post Buy Sofi Technologies Stock If There's Another Rate Hike Selloff appeared first on InvestorPlace.