Inflation and deflation: Which one rules the Roost?
Over the short timeline, inflation could be an issue. Still, the long-term outlook does not favour a sustained period of higher prices. In this update,…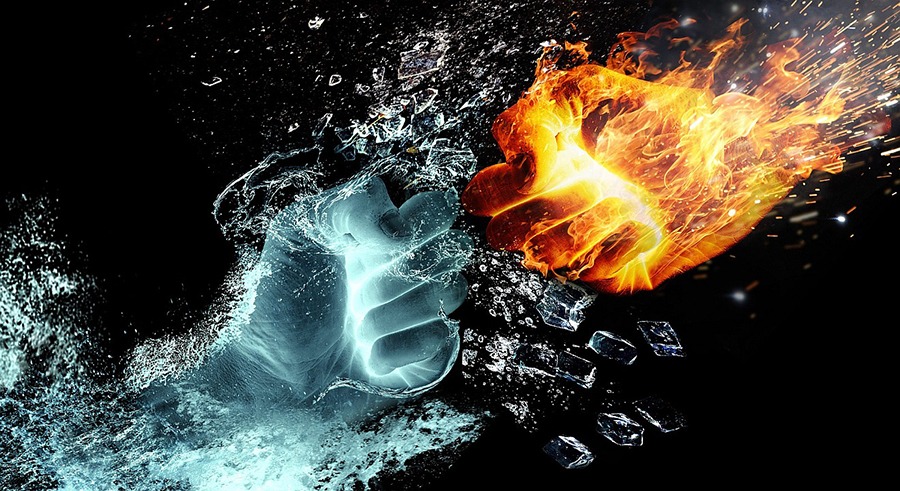 Over the short timeline, inflation could be an issue. Still, the long-term outlook does not favour a sustained period of higher prices. In this update, we will provide evidence to illustrate how experts have used the same rhetoric to stoke the flames of fear over the years. On each occasion, their predictions never came to pass. One would have been better of listening to a jackass. So, has anything going forward? Experts love to use the argument "It's different this time."
Well, let's examine the data and find out if it is indeed different this time.

Let's start off with some headlines that have been posted over the years before we answer this question. These headlines will illustrate how many times experts have cried wolf.
2009: "Inflation Scare: Crazy but Real" – American Enterprise Institute
2010: "My Inflation Nightmare: Am I crazy, or is the commentariat ignoring our biggest economic threat?" – Michael Kinsley, The Atlantic Monthly
2011: "Inflation: A high price to pay: Surge in cost of food and other products fuels fears of a re-run of 2008" – The Financial Times
2016: "Inflation will be the biggest economic story in 2016… Inflation is coming down the pike whether the markets believe it or not." – Business Insider
2017: "Gold Won't Protect You From Hyperinflation" – Barron's
2018: "Investors are bracing for a period of consistently higher inflation" – The Wall Street Journal
2020: "The Coronavirus Economy Will Bring Inflation" – National Review
Now, look at the M3 Money supply chart

The actual definition of inflation is an increase in the money supply. Still, today the term has been bastardised, so everyone associates it with an increase in prices. An increase in the price of goods is the symptom of the disease and does not cover the actual illness itself. So, we will focus on the bastardised term for the masses have embraced that definition. The real meaning is almost worthless for all intents and purposes. Inflation and deflation; at this point the only development that makes sense is that we will see small bouts for inflation but the long-term trend is deflationary. Innovations in technology equate to deflationary forces gathering traction.
Let's attempt to eviscerate the morons the Hyper-Inflation argument
Hint; in part, the markets have been discounting the power of technology decades in advance. Now they are discounting the gut-wrenching deflationary forces AI will unleash upon this world.
25-year chart of CPI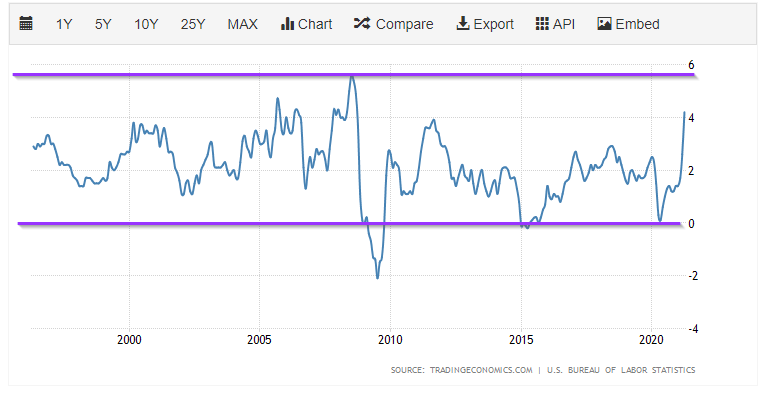 Looks like a non-event, right. For 25 years, the CPI has essentially done nothing after having peaked roughly in 2009.
107-year chart of the CPI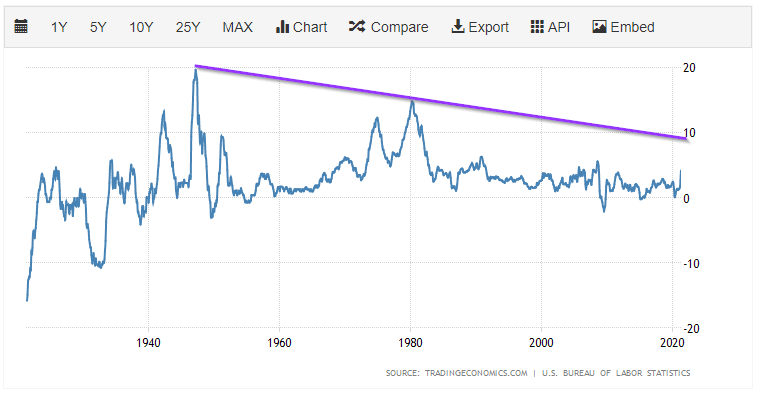 This chart effectively puts an end to the Rubbish theory of inflation. The CPI index would have to hit 10 before we would start to pay close attention to it. Today, we have a generation of spoilt brats that include the old and the young. Everyone has been brainwashed into believing any crap published in a so-called respectable journal qualifies as the "word of God". Less than 10% of the populace attempts to seek the truth. A large portion of what qualifies as science today should be classified as Pseudoscience. Secondly, most of today's experts would have been classified as mental retards a few decades ago.
What about inflation in Europe?
Our response is, yeah, what about it?
The average annual inflation rate in Europe over the last five years equates to 0.9%. In 2020, it was 0.69%. Germany, the most significant player in the EU, experienced negative inflation for the second half of 2020. Spain has been floating in and out of the negative territory for years on end. Almost 70% of European sovereign bonds had negative nominal yields up to roughly Nov 2020.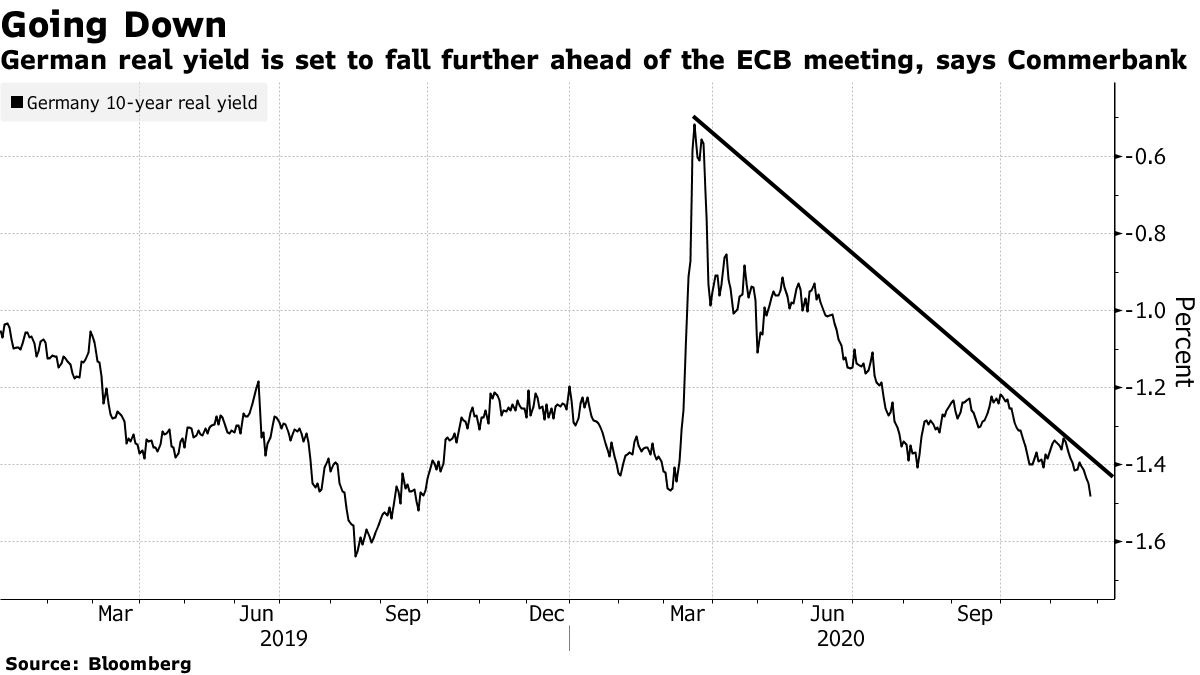 So, all this big noise in Europe is being made because inflation is now trending slightly upward after sinking to multi-year lows. This so-called inflation wave in Germany, for example, started in the 1st quarter of 2021, after five back-to-back months of negative inflation. Energy prices basically dropped. The numbers on the vertical axis are negative. Remember when Oil futures briefly traded in negative territory. Now energy prices are rising because people are starting to move around again. As they move around, they will use more energy and consume more goods, so it's natural to expect a rebound, especially when almost all these sectors were hammered.
There was a VAT holiday in Germany due to COVID, and that holiday has now been reversed. Hence one should expect a slight increase in prices.
Current German Yields

Well, if inflation were an issue, why are the 2, 5- and 10-year yields still negative. The 30-year bond yield is a whopping 0.45%. At that rate, it would take you almost forever to double your money.
You would think that the experts who have access to all this data and more would at least attempt to take a cursory look at it. But then again, why would they, when they know that 90% or more of their audience are brain dead and believe whatever crap they publish. So, keeping up with the style of shoddy journalism, these reporters/experts (AKA digital wenches) do what they are best known, serving crap under the guise of caviar. Here are some of the recent headlines that simply don't fit the narrative when you look at the long-term charts we posted above.
Should a rising 10-year yield scare you out of stocks? Yahoo- March 4, 2021
Inflation Fear Lurks, Even as Officials Say Not to Worry. New York Times, March 10
ECB plans to ramp up bond buying to tackle surging yields CNBC – March 11
Eurozone inflation continued to surge in March. Reuters – March 31
Eurozone Inflation at Highest Rate Since Start of Pandemic. Financial Times Headline – March 31
Should You Be Worried About Inflation? Forbes- April 19
US: Inflation – to the moon! think.ing.com- May 12
Other random factors to consider
Let's look at the 25-year chart of Nickel.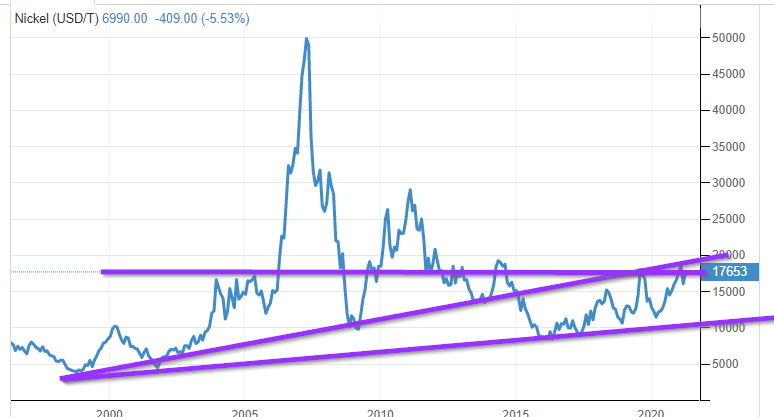 Looking at the 25-year chart of Nickel, if inflation were an issue, then prices should be trading above their highs of 50k set on April 5, 2007. The money supply was considerably smaller back then. The M3 money supply stood at 7.3 trillion; today, it's almost 20 trillion. Using the bastardised definition of inflation, we can see that Nickel prices should be trading at least north of 100K to indicate that inflation is an issue today. Instead, they have been trending downwards, illustrating that deflation is the issue at hand. When the price of (almost) every commodity is adjusted for inflation (adjusted to reflect the increase in the money supply), inflation appears to be a non-event. Prices appear to be trending downwards instead of upwards. So, what is really going on? In general, it seems to be a simple matter of supply and demand.

Finally, don't forget the velocity of money is at a 60-year low. Until the Velocity of money starts to trend upwards, the primary force at play will be deflation. Also let's not forget, Inflation and deflation can coexist. While prices of tech based products keep dropping, the cost of housing and medical insurance keeps rising. However, the Fed's will never admit that Inflation and deflation can coexist, for they need to continuously ramp up the money supply. Hence, they will use whatever means necessary to paint a picture illustrating that inflation is a non-event.
Other Articles of Interest
The post Inflation and deflation: Which one rules the Roost? appeared first on Tactical Investor.
dollar
gold
inflation
deflation
commodity
markets
reserve
money supply
fed
deflationary
nasdaq
nickel
US markets scale fresh highs on upbeat earnings, housing data
S P 500 and Dow Jones closed at record highs for the second consecutive day on Tuesday October 26 while Nasdaq rallied as quarterly results kept the…
S&P 500 and Dow Jones closed at record highs for the second consecutive day on Tuesday, October 26, while Nasdaq rallied as quarterly results kept the markets in high spirits.
The S&P was up 0.18% to 4,574.79. The Dow Jones Industrial Average rose 0.04% to 35,756.88. The NASDAQ Composite Index gained 0.06% to 15,235.71, and the small-cap Russell 2000 was down 0.72% to 2,296.08.
Traders were further encouraged by the Commerce Department's positive economic data, which showed new home sales jumped 14% to 800,000 units in September, the highest level since March. However, higher home prices still remained a major worry.
Energy and utility stocks led gains on the S&P 500 index, while industrials and communication services stocks were the bottom movers. Nine of the 11 sectors of the index stayed in the positive territory.
General Electric Company (GE) stock rose 2.19% in intraday trading after reporting its third-quarter earnings. Its adjusted profits were 57 cents per share, above the analysts' estimates of 43 cents a share. However, its revenue fell by 1% YoY to US$18.4 billion in the quarter.
Shares of United Parcel Service, Inc. (UPS) were up 7.38% after reporting better-than-expected results. Its revenue increased by 9.2% YoY to US$23.2 billion in Q3, FY21.
Lockheed Martin Corporation (LMT) stock tumbled 12.48% after it trimmed its revenue forecast. Its net sales fell to US$16.02 billion in Q3 from US$16.49 billion in the year-ago quarter. In addition, it lowered its revenue forecast for FY2021 due to supply woes.
In the energy sector, Exxon Mobil Corporation (XOM) surged 2.30%, EOG Resources, Inc. (EOG) rose 1.39%, and Occidental Petroleum Corporation (OXY) gained 1.28%. Devon Energy Corporation (DVN) and Baker Hughes Company (BKR) rose 2.37% and 2.88%, respectively.
In utility stocks, NextEra Energy, Inc. (NEE) increased by 1.57%, Southern Company (SO) jumped 1.03%, and Exelon Corporation (EXC) rose 1.10%. DBA Sempra (SRE) and AES Corporation (AES) advanced 1.24% and 1.59%, respectively.
In the communication sector, Alphabet Inc. (GOOGL) rose 1.33%, Facebook, Inc. (FB) fell 4.52%, and Twitter Inc. (TWTR) declined 1.27%. Match Group, Inc. (MTCH) and News Corporation (NWS) plummeted 2.51% and1.17%, respectively.
Also Read: General Electric Co (GE) revises guidance upward after Q3 profits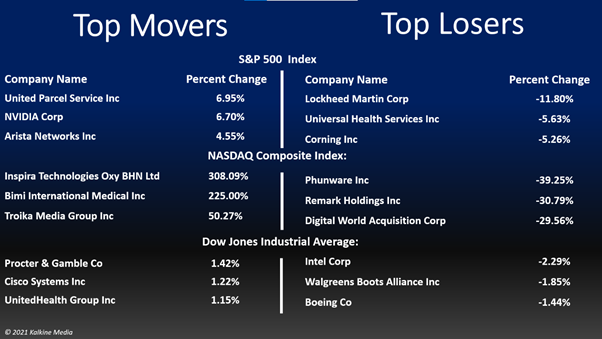 Also Read: Raytheon (RTX) raises sales guidance, 3M (MMM) narrows EPS outlook
Also Read: Eli Lilly (LLY), Novartis (NVS) profits up on robust sales growth
Futures & Commodities
Gold futures were down 0.70% to US$1,794.10 per ounce. Silver decreased by 1.55% to US$24.212 per ounce, while copper fell 0.71% to US$4.4958.
Brent oil futures traded flat at US$85.44 per barrel and WTI crude was up 0.85% to US$84.47.
Bond Market
The 30-year Treasury bond yields were down 2.06% to 2.042, while the 10-year bond yields fell 1.55% to 1.610.
US Dollar Futures Index increased by 0.15% to US$93.953.
Gold – A breakout is coming
Can the recovery continue? Gold has recovered strongly in recent weeks but it's struggled for momentum since breaking above $1,800. The yellow metal…
Can the recovery continue?
Gold has recovered strongly in recent weeks but it's struggled for momentum since breaking above $1,800.
The yellow metal initially broke above here on Friday but failed to hold and gave back most of its gains to end the week below that important resistance level. This is a sign of weakness in the rally and suggested it may struggle when trading resumed this week.
While trading on Monday may have given the impression this was just a blip, as gold ended the day above $1,800, as we've seen today, those vulnerabilities remain as it once again plunged back below.
This leaves gold in a very strange position. It's clearly still got plenty of support as it continues to push above the $1,800 handle but it's having a hard time holding on and continues to be forced back. Something has to give.
At times today, it looked as though that may be a key support level around $1,780, which would have resulted in a bearish engulfing pattern on the daily chart and a break of the rising trendline formed during its recovery in recent weeks. But that support held and the price rebounded back.
Given such a tight range and one that's becoming smaller by the day, one of these must soon fall, at which point we may have a much clearer view on the direction of travel for gold.
Long-Bond, Big-Techs, & Black-Gold Bid As China Stocks Chunder
Long-Bond, Big-Techs, & Black-Gold Bid As China Stocks Chunder
While yesterday was dominated by more macro moves – gold, yield curve,…
Long-Bond, Big-Techs, & Black-Gold Bid As China Stocks Chunder
While yesterday was dominated by more macro moves – gold, yield curve, and equity indices – today's headlines were more focused on idiosyncratic moves in stocks…
TSLA gave up its early gains…
FB tumbled after running stops last night after earnings…
DWAC pumped and dumped…
And BKKT puked back a lot of yesterday's post-close gains…
And finally BITO fell back below its launch price…
Small Caps were the laggards on the day but after a big rotation at the open, Nasdaq fell back, trending lower with the rest of the market. The Dow ended unch, giving up its gains with a weak close…
And while US Tech stocks rallied today, China Tech chundered hard after its recent dead cat bounce (dumping almost 4% today, the biggest loss in a month)…
Source: Bloomberg
The opening saw yet another huge short-squeeze but that appeared to flush out the last remaining bears on this move and "most shorted" stocks tumbled for the rest of the day…
Source: Bloomberg
VIX spiked above 16.5 intraday today before vol-sellers re-appeared…
Credit markets refuse to follow stocks lead to new highs…
Source: Bloomberg
Treasuries were mixed, flip-flopping again to this time seeing the long-end bid (30Y -3bps) while the short-end yields rose 1-2bps, all of which left the curve 1-2bps lower in yield overall…
Source: Bloomberg
The yield curve reversed to flattening once again, back near crucial support once again…
Source: Bloomberg
The dollar ended very marginally higher on the day but remains stuck in its recent narrow range…
Source: Bloomberg
Crypto ended mixed but only marginally changed with Bitcoin finding support lower around $62k…
Source: Bloomberg
And Ethereum holding above $4200…
Source: Bloomberg
Gold was dumped back below $1800…
And WTI rebounded from yesterday afternoon's slide to close just below $85 ahead of tonight's API data…
And finally, remember the taper is coming soon…
Source: Bloomberg
Tyler Durden
Tue, 10/26/2021 – 16:01
nasdaq
gold