Molten Salt Batteries – Hot but not Flammable
When we first wrote for InvestorIntel on Molten Salt battery technology almost half a decade ago, the technology was already […]
The post Molten Salt Batteries – Hot but not Flammable appeared first on InvestorIntel.
When we first wrote for InvestorIntel on Molten Salt battery technology almost half a decade ago, the technology was already five years in the making, but it has now taken a further five years for it to get traction amongst end-users.
However, in this Third Wave of battery metals, Antimony (the prime component in Molten Salt batteries) has joined the ranks of battery metals and the hunt is on for that scarce commodity, the non-Chinese Antimony miner.
Antimony – Lighting a Fire under the Price
The price of this metal has taken off in recent times on a combination of global shortages caused by the Pandemic and the coup in Burma, long-term underinvestment, declining Chinese production, and the arrival of Molten Salt batteries in the commercial marketplace.
The effect was stunning, with Antimony breaking out of a multi-year malaise and becoming the hottest metal in the last six months (though tussling with Tin for that title).
Mass Storage Devices
The important consideration is that mass storage devices do not even need to be connected to the grid and thus can be in the middle of nowhere bridging the infrastructure gap (and cost) that weighs on emerging economies (and isolated mine sites).
And then there are liquid metal batteries using molten salts. The origin of using these salts for storing energy goes back to the Second World War.
Molten salt is a solid at standard temperature/pressure but enters the liquid phase under elevated temperatures. Liquid metal batteries can be stored indefinitely (over 50 years) yet provide full power in an instant when required. Once activated, they provide a burst of high power for a short period (a few tens of seconds to 60 minutes or more), with output ranging from watts to kilowatts. The high power is due to the high ionic conductivity of the molten salt, which is three orders of magnitude (or more) greater than that of the sulphuric acid in a Lead-acid car battery.
A team of researchers at MIT led by Professor Donald Sadoway worked on a liquid battery system that could enable renewable energy sources to compete with conventional power plants.
The research was put into a commercial venture, called Ambri, which was funded to the tune of $15M by Bill Gates, energy giant Total, the US Department of Energy's Advanced Research Projects Agency and Khosla Ventures (run by Sun Microsystems co-founder Vinod Khosla).
What this means for antimony Demand
Each GWh of Ambri batteries requires less than 1% of current annual production of these (calcium and antimony) anode and cathode materials. This is the closest we have to divining how much Antimony that the Ambri product line might consume if it gains traction. Current antimony production is around 170,000 tonnes per annum, implying that a Gigawatt of Ambri cell utilizes 1.7 tonnes of Antimony.
Higher prices are rather a "chicken-and-egg" issue for the likes of Ambri. To be sure of adequate supplies of metal higher prices are needed (probably over $8,000 at least) and yet if they go too high then the viability of the economic equation is cast into doubt.
United States Antimony Corporation (NYSE American: UAMY) – Collateral Beneficiary?
As the main Antimony producer in North America (and we use the word "producer" very generously) this company was finding it hard to get two dimes to rub together in 2020. To add to the woes its long-term CEO (who was in his 80s) died.
The price of the stock started to rise slightly on the Antimony price rally but then…. in February of 2021 it announced an offtake deal with Ambri… then followed a massive financing ($14.3M) with Roth Capital Partners… the stock then soared and the rest is history. The fact that it doesn't have a proper mine is a mere detail.
Despite all that such is the uplift that Antimony stocks can achieve in a market starved for options in this metal. The only other plays are the gold/silver miner, Mandalay Resources Corporation (TSX: MND | OTCQB: MNDJF) that has Antimony as a byproduct from its Costerfield mine, and Perpetua Resources Corp. (NASDAQ: PPTA | TSX: PPTA) (formerly called Midas Gold – that is controlled by the famed Paulson hedge fund group) but is not in production at its Stibnite Mine.
Conclusion
If Liquid Metal Batteries become the killer application in grid-linked storage (or non-grid linked) then it potentially lights a fire under Antimony demand and pricing.
To mix some metaphors, molten salt batteries have flown under the radar thus far but definitely have a place in the evolving battery universe and hopefully will take the Antimony market along for the ride.
The post Molten Salt Batteries – Hot but not Flammable appeared first on InvestorIntel.
Equinox Gold Breaks Ground For Greenstone Mine, Targets First Gold Pour In H1 2024
Equinox Gold Corp. (TSX: EQX) announced today the groundbreaking for the construction of the Greenstone gold mine in Ontario. The
The post Equinox Gold…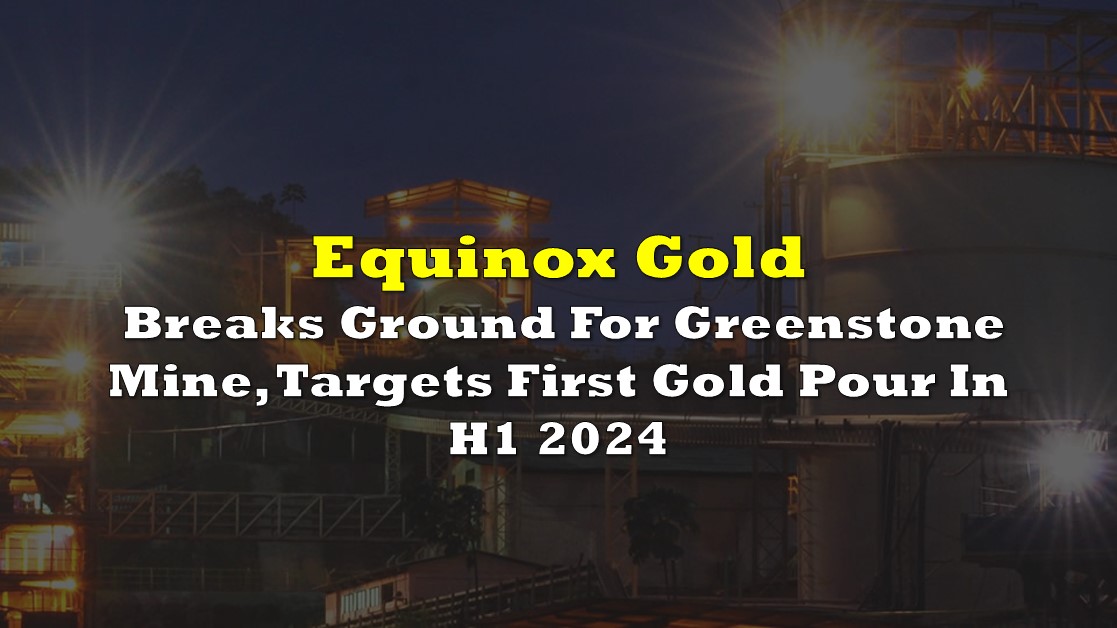 Equinox Gold Corp. (TSX: EQX) announced today the groundbreaking for the construction of the Greenstone gold mine in Ontario. The mine is being developed in a 60-40 partnership with Orion Mine Finance Group.
The initial capital cost is expected to be $1.23 billion, including $50 million spent to date and a $177 million contingency budget. It is estimated that 10% of the construction will happen for the rest of 2021, 40% in 2022, 35% in 2023, and the remaining 15% in 2024. The mining firm plans to finance its attributable portion of the capital expenditure through its existing treasury worth $330 million as of June 2021, cash flow from its producing mines, and a $400 million revolving credit facility.
Greenstone mine is reported to have an initial mine life of 14 years and total gold production of 5.05 million ounces. For the first five years, the average annual production is estimated to be 400,000 gold ounces, then it becomes 360,000 gold ounces annually for the rest of the mine's life.
The mining is expected to start in Q4 2022 and the first gold pour is targeted in H1 2024.
Equinox Gold last traded at $9.86 on the TSX.
---
Information for this briefing was found via Sedar and the companies mentioned. The author has no securities or affiliations related to this organization. Not a recommendation to buy or sell. Always do additional research and consult a professional before purchasing a security. The author holds no licenses.
The post Equinox Gold Breaks Ground For Greenstone Mine, Targets First Gold Pour In H1 2024 appeared first on the deep dive.
The Bond Market "Paradox"
The Bond Market "Paradox"
Authored by Peter Tchir via Academy Securities,
I don't remember a lot from the 90's, but one memory has come…
The Bond Market "Paradox"
Authored by Peter Tchir via Academy Securities,
I don't remember a lot from the 90's, but one memory has come back with vivid clarity.
Working with friends and colleagues, who were taking start-up projections and being "conservative" yet completely impossible.
Yes, in their models, users slowed from 200% growth to 50% growth a few years down the road, but their projections still gave them more users than humans within a few years.
That reminds me of legend about grains of rice and a chessboard. According to legend, a ruler asked a servant what they wanted as a reward for some incredible deed. The person asked for one grain of rice to be placed on the first spot on the checkerboard. Two on the second. Four on the third and so on. Doubling the number of grains for each new space on the checkerboard. While that seemed like an absurdly low reward to the ruler, who was probably expecting to be asked to pay his weight in gold (too bad we didn't have bitcoin back then), but it turns out to be an impossibly large number.
Which brings me to Tesla's recent price action. Up 12% on Monday, up 7% on Tuesday morning before falling by almost 9% from that level. While at a glance, the percentage moves are on the high side, it is the market cap moves that are simply astounding. 100's of billions of market cap are being created and sometimes lost, in hours. Even as someone who doesn't believe in efficient markets, that seems bizarre, at best. According to the WSJ, $16.1 billion of option premium was traded on Monday on Tesla. Which was more than the next 99 most actively traded option tickers combined! What is amazing about that is it includes contracts on S&P and Nasdaq futures and ETFs like SPY and QQQ. I assume they only publish the top 100, so if the value of Tesla option contracts wasn't more than the value of every other option contract traded on Monday, I'd be surprised.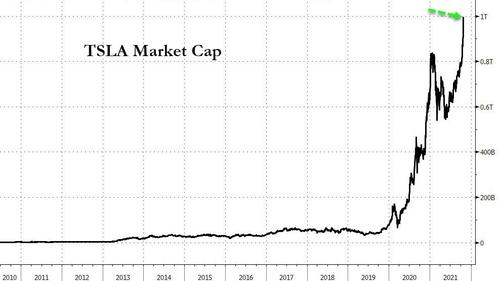 Whether we are at a blow-off top or not, remains to be seen, but
Those sorts of market cap swings seem inexplicable

Those sorts of option trading volumes seem inexplicable
But since they happened, the inexplicable must be explicable, I just wish I had a good explanation other than it is a gambler's market and true liquidity, low at the best of times, is being severely tested by gamma squeezes and portfolios need to be hardened against that (or positioned to take advantage).
The Bond Market "Paradox"
We went into more detail on this in Sunday's "Clear as Mud" but the following seems to be happening:
The market is pricing in the Fed hiking sooner. This is causing yields at the front end to rise. I think it is the wrong thing for the market to do, but I think the headlines will help that trade move along (so I'm betting on something happening that I don't think should happen, but it is also too early to get in the way of the theme). I continue to believe that the next act in the play of not hiking will be to switch from talking "transitory" to talking "long term averages" but that isn't the narrative the market is fixated on, at least not yet.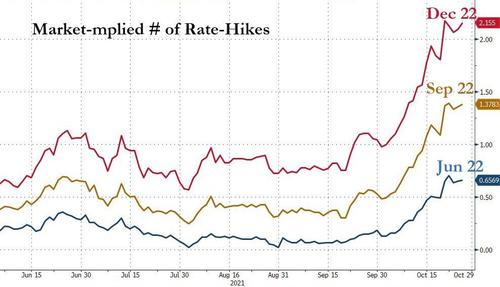 The long end rallies on Fed hikes. The simple narrative would be that the Fed is going to raise rates, which causes bond yields to rise. That is currently not the reaction, as bond investors are sniffing out the potential for the Fed to slow growth too early, or at exactly the wrong time. So fears of a more hawkish fed are driving curves flatter in a "pivot" sort of format (this morning, the pivot point is around 5 years, with bonds less than 5 years to maturity are seeing yields rise, while those longer than 6 years, are seeing yields fall).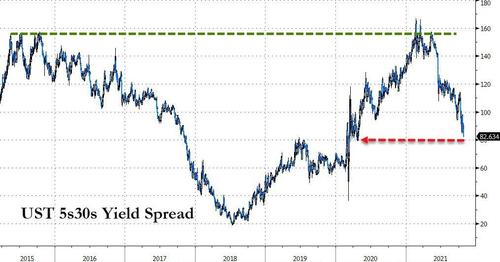 Stocks No Longer "Love" Lower Long-Bond Yields. Parts of the stock market that had been positively correlated to bond prices are now "normalizing" and trading as though they are negatively correlated. That makes sense, because if longer dated bond yields are going lower because of fear of the Fed snuffing growth out, it just isn't good for the market (unlike when yields are going lower because the Fed is buying so much and there is no material threat of sustained inflation).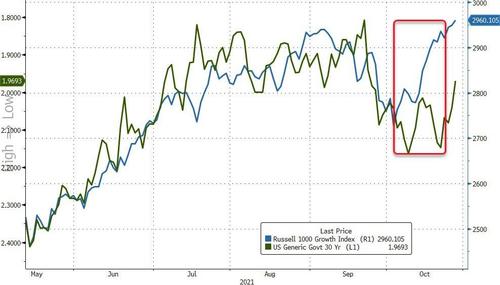 Longer dated bond yields could benefit from a "risk-off" type of move, which the market seems far less positioned for today, than they were a few weeks ago.
I do miss the 90's, but those are stories for another day.
Tyler Durden
Wed, 10/27/2021 – 10:46

gold
inflation
markets
fed
Phoenix Gold Begins Phase 2 Drilling at York Harbour Cu-Zn-Ag-Co Project in Newfoundland
Vancouver, British Columbia – TheNewswire – October 27, 2021 – Phoenix Gold Resources Corp. (TSXV:PXA) (OTC:PGRCF) (Frankfurt:5DE) ("Phoenix…
Vancouver, British Columbia – TheNewswire – October 27, 2021 – Phoenix Gold Resources Corp. (TSXV:PXA) (OTC:PGRCF) (Frankfurt:5DE) ("Phoenix Gold" or the "Company") is pleased to report that Phase 2 diamond drilling has begun on its York Harbour Mine Property ("York Harbour" or the "Property") in western Newfoundland, Canada. Three drill holes have been completed during the past 10 days of a planned 27-hole diamond drilling program totalling an estimated 4,225 metres.
The on-site project geologist has reported that the latest drill hole YH21-14 intersected semi-massive and massive volcanogenic sulphide ('VMS') mineralization from a drilling length of 105 to 120 m.  After geological and geotechnical logging the drill core from holes YH21-13 and -14 will be transported to the Planet X Exploration facilities in Gander for sampling and later shipping to Actlabs in Ancaster, Ontario for rush ICP analyses and over-limit assaying.
Photographs of the drill core with the reported massive sulphide mineralization intersected by drill holes YH21-13 and 14 are shown as follows.

Click Image To View Full Size
       Massive sulphide in DDH YH21-13              Massive sulphide in DDH YH21-14
The Phase 1 drilling program was carried out from July 28th to August 14th.  This program, the first on the property since Wolfden Resources' drilling in 2004, successfully validated historical drilling results with 6 of the 9 drill holes intersecting drill-indicated Cyprus-type VMS mineralization in the historical 'A', 'G' and 'H' zones and encountering similar mineralization both along strike and downdip of these zones.  Two diamond drill holes had to be abandoned when they encountered a wide fault zone, and a third hole intersected a section of the 400 Level adit where it lost circulation and was not completed to its intended depth.
At the present time the Company is awaiting the analytical results for 200 of 300 drill core samples from the Phase 1 diamond drilling program.  Selected mineralized intercepts from 4 of the 9 Phase 1 drill holes were reported in the Company's news release dated October 12th.  A few of those mineralized intercepts that were previously reported for drill holes YH21-04, -06, -08 and –09 are as follows.
| | | | | | | | |
| --- | --- | --- | --- | --- | --- | --- | --- |
| DDH | From | To | Interval | Copper | Zinc | Silver | Target Zone |
| No. | (m) | (m) | (m) | (%) | (%) | (gpt) |   |
| YH21-04 | 180.03 | 189.54 | 9.51 | 1.69 | 0.13 | 1.43 | H Zone |
| YH21-06 | 146.26 | 194.05 | 47.79 | 0.85 | 0.57 | 1.49 | H Zone |
| YH21-08 | 122.30 | 128.90 | 6.60 | 0.62 | 0.65 | 3.37 | G Zone |
| YH21-09 | 5.00 | 14.54 | 9.54 | 1.69 | 0.11 | 2.83 | A Zone |
The Phase 2 diamond drilling program has been designed to firstly better delineate the known drill-indicated VMS mineralization for future resource estimations and to explore for additional similar mineralization both along strike and downdip.  Historical underground drill holes report a number of massive and semi-massive mineralized intercepts between and along strike of the known zones but without reported assays.  At two of these historical intercepts the latest drill holes YH21-13 and 14 have confirmed significant VMS mineralization.  Thus, the Phase 2 program will include both delineation and exploration drilling.
In addition to the Phase 2 drilling program exploration work on the property has also included re-locating the No. 4 Brook adit and massive sulphide showing situated approximately 1 km from the current drilling on the eastern limb of the folded volcanic sequence which hosts known VMS mineralization.  On October 16th several field personnel visited the site and reported approximately 15 m of massive and semi-massive sulphide mineralization, including pyrite, chalcopyrite and sphalerite, in a sheared zone near the sloughed-in adit.  This showing is currently accessible via a cut trail but will require upgrading for ATV and drill rig access.  A field crew is currently cutting channel samples across the visible mineralization with shipping and analysis to follow.  This showing is scheduled to be drill tested in early 2022.
Consulting mining engineers of Gemtec, based in St Johns, have been commissioned to apply for permitting approval to enter the 400 Level adit, and in the meantime the Company is investigating the use of a lidar drone to survey the adit this year.
The following figures show the proposed locations of the Phase 2 diamond drilling on the York Harbour property.  The red coloured and hatched bodies in Figures 2 and 3 are the two-dimensional, surface-projected images of the drill-indicated VMS mineralization.  The purple hatched body is the surface projection of the 400 Level adit.

Click Image To View Full Size
Figure 1: Plan View of Proposed Phase 2 Diamond Drilling Program, York Harbour Property

Click Image To View Full Size
Figure 2: Plan View of North Section of Proposed Phase 2 Diamond Drilling Program

Click Image To View Full Size
Figure 3: Plan View of South Section of Proposed Phase 2 Diamond Drilling Program
About the York Harbour Mine Property
The York Harbour Mine Property is located approximately 27 kilometres west of Corner Brook, NL and known to be prospective for its copper-zinc-silver-gold-cobalt massive sulphide deposits. The known mineralization exhibits characteristics consistent with classic mafic-type flow dominated (Cyprus-type) VMS deposits. Similar geological environments and styles of mineralization have formed relatively large copper-zinc deposits elsewhere in Newfoundland at Tilt Cove (9 Mt of between 1% and 12% copper) and in Cyprus at the Mavrovouni mine (15 Mt of 4% copper with zinc and gold); as noted in Messina Minerals Inc. 9th Year Assessment Report (2009).
Copper and zinc massive sulphides were first discovered at York Harbour in 1893. Since then a total of 2,134 metres of documented underground drifting and development have been completed for which documentation is available.  Drill core logs and sampling data is available for a total of 19,323 metres of historical drilling that tested eleven lenses or zones of copper-zinc-silver-gold-cobalt massive sulphide mineralization. These zones occur over a 600-metre strike length and many remain open for expansion both along strike and downdip.
Most historical exploration and underground development have been concentrated within a 350- metre long segment of a stratigraphic contact between lower and upper basaltic units, and within 150 metres of surface. An overturned synclinal fold is interpreted to extend and repeat the favourable mineralized horizon along the western portion of the property where surface prospects at the No. 4 Brook showing of copper- and zinc-bearing massive sulphides have been discovered and documented in outcrop but have received very little modern exploration attention.
J.D. Blanchflower, P. Geo. is a qualified person in accordance with National Instrument 43-101 who has reviewed and accepted the technical material contained in this news release.
For further information:
Andrew Lee CEO, President and Director
Telephone: 778-302-2257 | Email: [email protected]
Website: www.phoenixgoldresources.ca
Cautionary Statement Regarding Forward-Looking Information
This news release may contain "forward-looking information" and "forward-looking statements" within the meaning of applicable Canadian securities legislation. All information contained herein that is not historical in nature may constitute forward-looking information. Forward-looking statements herein include but are not limited to statements relating to satisfactory completion of due diligence and any acquisition under the Option and are necessarily based upon a number of assumptions that, while considered reasonable by management, are inherently subject to business, market and economic risks, uncertainties and contingencies that may cause actual results, performance or achievements to be materially different from those expressed or implied by forward-looking statements. Except as required by law, the Company disclaims any obligation to update or revise any forward-looking statements. Readers are cautioned not to put undue reliance on these forward-looking statements.
Neither the TSX Venture Exchange nor its Regulation Services Provider (as that term is defined in the policies of the TSX Venture Exchange) accepts responsibility for the adequacy or accuracy of this press release.
Copyright (c) 2021 TheNewswire – All rights reserved.
drilling intercepts drill hole tsxv-pxa phoenix-gold-resources-corp acquisition press-release