My 5 Tips to Set Your Portfolio Up for the Long Haul
Thanksgiving is just two days away, and I don't know about you, but I'm looking forward to spending the extra time with family and friends, eating…
Thanksgiving is just two days away, and I don't know about you, but I'm looking forward to spending the extra time with family and friends, eating turkey and watching a little football.
Source: Bro Crock / Shutterstock.com
In the spirit of Thanksgiving, I'd like to share my most important investing tips to prime your portfolio to flourish in the coming months. Let's get right to it.
Invest in high margin companies that dominate their business. A company that's able to expand its operating margins is usually a company that has a dominant position — such as a monopoly — in its industry. This company can raise prices without seeing a drop-off in sales, and that's a nice place to be, especially in the current inflationary environment.
Case in point: NVIDIA Corporation (NASDAQ:NVDA). For its third quarter in fiscal year 2022, revenue jumped 50% year-over-year to $7.1 billion, topping analysts' estimates for $6.83 billion. Data center revenue increased 55% year-over-year to $2.94 billion, while gaming revenue rose 42% year-over-year to $3.22 billion. Both were new records for the company.
Third-quarter earnings soared 60% year-over-year to $1.17 per share, compared to $0.73 per share in the third quarter of fiscal year 2021. Analysts were expecting earnings of $1.11 per share, so NVIDIA posted a 5.4% earnings surprise.
Company management commented, "The third quarter was outstanding, with record revenue. Demand for NVIDIA AI is surging, driven by hyperscale and cloud scale-out, and broadening adoption by more than 25,000 companies."
NVIDIA now expects fourth-quarter revenue of $7.4 billion, up from $5 billion in the fourth quarter of fiscal year 2021.
Along these lines, companies that have margin expansion tend to post bigger earnings surprises. Helios Technologies, Inc. (NYSE:HLIO), a leading provider of solutions and technology for hydraulics and electronics markets around the world, surged more than 18% in the wake of its third-quarter results in early November.
Third-quarter sales soared 82% year-over-year to $223.2 million, up from $122.6 million in the same quarter a year ago. Earnings surged 105% year-over-year to $34.8 million, or $1.07 per share, compared to $17 million, or $0.53 per share, in the third quarter of 2020.
The consensus estimate called for third-quarter earnings of $0.80 per share on $195.93 million in sales, so Helios Technologies posted a 33.8% earnings surprise and a 14% sales surprise.
Thanks to the better-than-expected third-quarter results, Helios Technologies upped its outlook for fiscal year 2021. Full-year revenue is now forecast to be between $840 million and $860 million, up from previous estimates for $800 million to $830 million. Full-year earnings per share are now expected to be between $3.75 and $4.10, compared to previous forecasts for $3.60 to $3.80.
Invest in companies with strong forecasted sales and earnings. Do you really want to buy stock in a company that's expecting its growth to slow? As sales and earnings dwindle, so will Wall Street's interest in the stock. You want to invest in companies that are expecting to be even bigger and better quarter after quarter. Ultimately, these are the ones that will see an increase in institutional buying pressure. As that buying pressure increases, so will the stock price.
I am a stickler about this in all my newsletters. In Growth Investor, my stocks are characterized by 45.7% annual sales growth and 55.1% annual earnings growth. In Breakthrough Stocks, my Buy List stocks are characterized by 52.5% average annual sales growth and 401% average annual earnings growth. And, in Accelerated Profits, my stocks have superior forecasted sales of 27.2% and earnings growth of 43.8% and a strong earnings surprise history of 39.5%.
Look for companies that see positive analyst revisions in the past three months, as these typically post earnings surprises. Kohl's Corporation (NYSE:KSS), which I recommend in Accelerated Profits and Breakthrough Stocks and is one of my Platinum Growth Club Model Portfolio stocks, had seen its earnings estimates revised by a whopping 88% ahead of its third-quarter earnings report last week. And its results did not disappointment. For the third quarter, Kohls reported total revenue of $4.6 billion, up 15.6% from $3.98 billion in the same quarter a year ago. Earnings surged 16,400% year-over-year to $1.65 per share, compared to $0.01 per share in the third quarter of 2020.
The analyst community was looking for earnings of $0.64 per share on $4.27 billion in revenue, so Kohl's crushed earnings estimates by a whopping 157.8% and posted a 7.7% revenue surprise
Thanks to the better-than-expected results, Kohl's upped its outlook for fiscal year 2021. Full-year sales are anticipated to rise in the mid-20% range year-over-year, up from previous expectations for low 20% growth. Full-year adjusted earnings per share are forecast to be between $7.10 and $7.30, compared to previous estimates for $5.80 to $6.10.
If you're a dividend investor, focus on companies that are consistently raising their dividends. You want to be sure you're investing in dividend stocks that have the ability to increase their dividend payments. I check this by looking at the company's last four dividend payments. Are they increasing? Are they decreasing? Are they staying the same? Decreasing dividend payments are a bad sign (it often means the company isn't doing well), and you want to avoid those stocks.
Dividend stocks tend to zig when the market zags, which can help smooth your overall portfolio returns. Investors are particularly interested in high-quality dividend-growth stocks right now. The Dow Jones Industrial Average and S&P 500 currently yield more than the 10-year Treasury, so investors searching for yield are turning to dividend-paying stocks.
Where to Invest First
For all investors, old and new, my Portfolio Grader and Dividend Grader are great tools to keep in your back pocket. You simply plug in a stock you like and it will automatically grade that stock for you. An A-rating is a "Strong Buy," a B-rating a "Buy," a C-rating a "Hold," a D-rating a "Sell," and an F-rating is a "Strong Sell." You'll know right away whether the stock you're interested in is one worth buying or one you shouldn't touch with a ten-foot pole.
If you're not sure of where to invest, I encourage you to check out my Platinum Growth Club. I recommend over 100 stocks across all my services — Growth Investor, Breakthrough Stocks and Accelerated Profits — which vary from dividend stocks to large-cap stocks to small-cap stocks. You also have exclusive access to my Model Portfolio. These are the crème de la crème of stocks from my services, all handpicked by me. I also offer an Allocation Tool, which will help you allocate your stock portfolio based on your risk tolerance.
But the truth of the matter is that now is the time to get your portfolio ready. Fundamentally superior stocks should benefit from new pension funding in the upcoming weeks and the overall seasonally strong time of year.
My subscribers have the odds in their favor with stocks with phenomenal sales and earnings growth. Join my Platinum Growth Club today so you do, too.
Sincerely,
Louis Navellier
P.S. The stock market will be closed on Thursday, Nov. 25, for the Thanksgiving holiday, and then open for a half day on Friday. InvestorPlace and the customer service department will be closed on Thursday and Friday, so I will be back in touch with your next Market360 article on Saturday. I hope you have a wonderful Thanksgiving!
The Editor hereby discloses that as of the date of this email, the Editor, directly or indirectly, owns the following securities that are the subject of the commentary, analysis, opinions, advice, or recommendations in, or which are otherwise mentioned in, the essay set forth below:
Helios Technologies Inc. (HLIO), Kohl's Corporation (KSS), NVIDIA Corporation (NVDA)
Louis Navellier, who has been called "one of the most important money managers of our time," has broken the silence in this shocking "tell all" video… exposing one of the most shocking events in our country's history… and the one move every American needs to make today.
More From InvestorPlace
The post My 5 Tips to Set Your Portfolio Up for the Long Haul appeared first on InvestorPlace.
Luongo: Have We Finally Reached Peak Davos?
Luongo: Have We Finally Reached Peak Davos?
Authored by Tom Luongo via Gold, Goats, 'n Guns blog,
If you look around the headlines from the…
Luongo: Have We Finally Reached Peak Davos?
Authored by Tom Luongo via Gold, Goats, 'n Guns blog,
If you look around the headlines from the past week or so, you will see a startling similarity among them.  Coming in from all over the world are mandates from one country's government after another instituting medical apartheid over the COVID-9/11 jab.
Where these restrictions are the most draconian are within the walls of the European Union, that region where The Davos Crowd's influence is undoubtedly the strongest.
Latvia will bar unjabbed legislators from voting.  Slovenia made the jab mandatory to go to the gas station. Austria's new Chancellor, who's been on the job for around a month, is now fining and arresting the unjabbed for even leaving their homes.
A month ago this guy was a minor political hack in a mostly irrelevant central European country, now he's issuing orders like he owns the place. Unfortunately, for most of Europe, that is actually the case, if not in name but in practice.
The list goes on and on and on — Greece, Italy, the Netherlands, just to name a few.
To describe this behavior as Orwellian is a kindness.  We're closer to Terry Gilliam's nightmarish bureaucracy of Brazil than we are Orwell's 1984.  
At the same time, you have to squint really hard to find any mention of the massive protests in these same countries against these mandates. But, the videos flow freely around the internet if you are willing to look for them.
The protests in Rotterdam turned violent on Friday when two people were shot dead by police during the mayhem. Rome was literally overflowing with people on the streets saying no to this arbitrary and indefensible stratification of society.
Vienna saw police stand down and join the protestors.
In short, I'm seeing a whole lotta #Ungovernables out there and they are growing in number not falling.
I'm pretty much incompetent when it comes to Twitter but this may be the most trafficked of any tweet of mine ever:
When you lose the police you've lost your authority to rule.

The days of the unitary executive governments in Europe are finally, after centuries of tyranny, coming to an end.

Why?#Ungovernable https://t.co/BKxyxOohD0

— Tom Luongo (@TFL1728) November 20, 2021
To even contemplate turning an entire country into a patchwork of leper colonies over a nasty cold is indicative of the sickest mind, to agree with doing so makes you a party to crimes against humanity, and to pull a paycheck to enforce it the very definition of evil itself.
These mandates are coming because of the massive uptick in COVID-9/11 cases in all of these places where the experimental mRNA gene therapies were deployed en masse. Where the jab is job one, the infection rates are growing exponentially.
The worry over COVID-9/11 and its destabilizing effects on society have infected even the most sober and thoughtful world leaders on the subject, like Russian President Vladimir Putin. Putin, in recent appearances, looks openly angry and puzzled that the virus was not defeated and the rate of mutation making public policy a difficult maze to navigate.
He just publicly offered himself up as a guinea pig for the latest booster for the country's successful adenovirus therapy, Sputnik V, to help enhance Russia's ability to fight off the disease. Unlike the mRNA therapies, the rate of complications with it are very low and if anything seem to, at worst, offer no added benefit.
Putin would be better served promoting prophylactics rather than the jab, but there it is.
The problem here is the authoritarian mindset. It cannot let go of the idea that some things are truly beyond their control and that some events like these are 'in god's hands.' I hope Putin and others like him remember that in the coming days and restrain themselves leaving the jab, any jab, a choice out of respect for life itself.
But the title of this piece asks a question that seems incongruous given the full spectrum blitz for power that Davos and their minions are putting on.
Have we reached Peak Davos?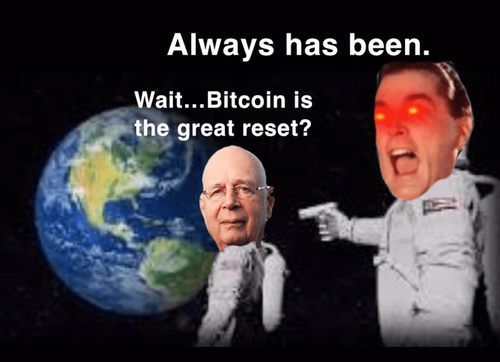 I think we have but that doesn't mean things get better from here, only that this is as much pressure as they can bring to bear and it will either work or it will be clear that it will fail, albeit very messily.
So, let's start with the obvious. Places like Austria, Australia, and even Italy will not go along with this. The sizes of the protests grow daily and as the desperation on both sides grows any further attempts at control will be met with violence, regrettably. Hopefully, we see more scenes like I linked above rather than what I fear is more likely.
But, let's back out a bit further and discuss the failure of COP26.  This article by Rupert Darwall of RealClearEnergy.com focuses too much on the failure of Boris Johnson's government to land the necessary body blows to gather the international cats to come together on Climate Change, but the results from Glasgow were pretty obvious.
No amount of schmoozing and glad-handing will overcome the enlightened self-interest of nations (or people) to destroy their energy production (society).  This time it was China and India watering down the language of the COP26 statement to the point of irrelevancy.
Because energy production is the basis for civilization itself. The entire Climate Change scam is nothing more than an attack on civilization.
The dissenters at COP26 showed their power within the global community and without their firm commitment to ending burning coal to produce a flow of electrons there was no way everyone else would fall into place.
That said, however, these same two countries are happy to go along with population control measures we're seeing in Europe. Because both governments understand that the amount of economic damage done because of COVID-9/11 will bring inevitable social unrest. So they may not be implementing these controls in service of Davos per se, only to save their own miserable hides.
China is far more advanced on this front than even Europe is.  But to see India, as Martin Armstrong talked about recently, using Climate Change as an excuse to lock people down is outrageous.
It goes to show that while Prime Minister Narendra Modi may be Davos-affiliated, he's also smart enough to know that he can pick and choose from their mandates to serve his interests best.
This is what I've meant in the past about seeing the fraying of Davos' various factions (covered in this podcast from June).  When members of the cartel think for themselves eventually the cartel collapses.  India would only issue an order like this because, as Armstrong rightly points out, they are worried about civil unrest from economic collapse.
But that doesn't mean that Modi will get rid of the coal plants because he knows that stable electricity and heat are the surest ways to minimize the civil unrest.   Catch meet 22 for Davos.
A lot of world leaders will begin seeing this same light as we move into 2022.  Their power still rests on the consent of the governed.  It's a race against time now for Davos.  From the death of COVID-9/11 as a thing to justify our compliance to the various factions seeing their opportunities to take advantage for their own gain(Wall St. for example), the balance of power globally could shift quickly.
China's Evergrande policies are a major source of market instability right now — See this interview with Mittdolcino.com I just published explaining how all these parts fit together. China forcing property developers into default, like Evergrande, is enhancing the demand for dollars and yuan and the best place to pull them from is Europe, whose leadership is on a collision course with hyperinflation and debt default.
The crashing euro alongside a strengthening dollar and yuan means that Europe is getting torn apart at the seams.  It means inflation there is going to skyrocket with the next round of CPI numbers and Christine Lagarde will look even sillier than the last time she tried to sell her bullshit to the world at the recent ECB policy presser.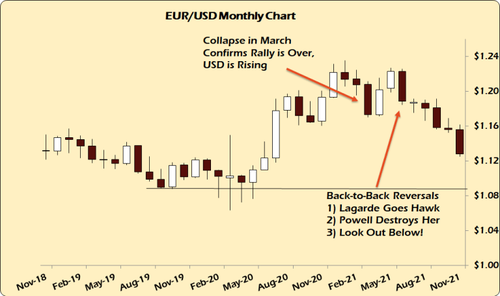 Davos couldn't pull the world together in Glasgow.  So, they are now going full court press for control where they can over COVID-9/11 jabs.  The two issues are inextricably linked.
Let's take this one step further. They haven't gotten rid of Powell at the Fed, yet.  They may not get the "Build Back Better" bill through this Congress. The rising dollar is torpedoing their plans for hyperinflation of energy prices.
Even the major oil companies see the writing on the wall.  
Royal Dutch Shell (NYSE:RDS.A) just announced a complete corporate restructuring to move the company's domicile out of the European Union and fully into the U.K. to avoid the insanity of the EU's ESG requirements.
Shell lost a recent court ruling from the Hague and it responded by taking its company out of its homeland and removing any traces of Dutch from its name.  The new company will be called Shell Energy.  Shell is playing a waiting game against Davos now. 
And when a company as politically connected as Shell makes a move like this you know the pressure is lifting.  I've covered them for years and they've always been ahead of the political curve, knowing where things were headed and where to pull out of.
So, while Shell may make noise publicly about phasing out 'fossil fuels' and all that rot to satisfy the ESG jackals, their actions were to extend the life of its primary business by avoiding the "pass a law, make reality" chaos of the unelected EUSSR Commissars.
This is why I'm now considering "Peak Davos" as potentially real.  If I'm right, this means their power is at its maximum, yet they still have tremendous inertia on their side.  Both China and Russia are taking full advantage of the chaos they are creating.
But, what's clear to me now is this is what the worst case scenario looks like; chaos around the globe with a patchwork of mandates being implemented amidst massive resistance and enforced economic ruin driving world leaders to the brink of war.
Don't think for a second both Xi and Putin don't understand this dynamic.
At the same time, however, Davos has failed to overcome the enlightened self-interest of the developing powers they thought they could co-opt politically through the application of funny money. Remember George Soros recently calling Xi 'the devil' himself? Do you think he's got money and agents in China he can't extract from there?
That's why I think the key here in the U.S. will be the next few weeks leading up to the December 3rd drop dead date for the debt ceiling.  Pelosi will try one last time to use it to blackmail Cocaine Mitch to cave and pass the Build Back Better bill, designed to destroy the U.S.'s economic future.
There seems to be just enough internal resistance within the U.S. political scene to keep this from happening. And McConnell has to know his days are numbered regardless.
The bond markets are beginning to smell a rat.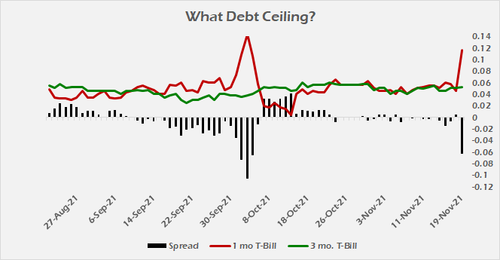 If Pelosi fails and has to raise it on her own without the BBB bill signed, then the Democratic party collapses completely in 2022 as all of their leverage over the Republicans and the Fed vanishes as we enter the primary season for the mid-term elections.
We will see defections within Congress as Pelosi's speakership fails. If she succeeds then we push towards a future with a compromised U.S. facing a two-front war with Russia and China whom both feel the EUSSR is a party to and will punish accordingly.
If that isn't a signal of Peak Davos, I don't know what would be.
*  *  *
Join my Patreon if you are peaking
BTC: 3GSkAe8PhENyMWQb7orjtnJK9VX8mMf7Zf
BCH: qq9pvwq26d8fjfk0f6k5mmnn09vzkmeh3sffxd6ryt
DCR: DsV2x4kJ4gWCPSpHmS4czbLz2fJNqms78oE
LTC: MWWdCHbMmn1yuyMSZX55ENJnQo8DXCFg5k
DASH: XjWQKXJuxYzaNV6WMC4zhuQ43uBw8mN4Va
WAVES: 3PF58yzAghxPJad5rM44ZpH5fUZJug4kBSa
ETH: 0x1dd2e6cddb02e3839700b33e9dd45859344c9edc
DGB: SXygreEdaAWESbgW6mG15dgfH6qVUE5FSE
Tyler Durden
Wed, 11/24/2021 – 05:00
dollar
gold
inflation
markets
policy
fed
Pride Goeth Before The Bitcoin Fall
Pride Goeth Before The Bitcoin Fall
Submitted by QTR's Fringe Finance
Pride goeth before destruction, and an haughty spirit before a fall.
-…
Pride Goeth Before The Bitcoin Fall
Submitted by QTR's Fringe Finance
Pride goeth before destruction, and an haughty spirit before a fall.

– Proverbs 16:18
Many people already know some of my controversial takes on bitcoin, not the least of which is the idea that I believe a crypto cataclysm could be coming, and that China could be side-stepping a global economic crisis by bowing out of the crypto world.
You can read those thoughts here: Is China Sidestepping A Crypto Cataclysm No One Else Sees Coming?
So I was very interested when, last week, Kitco posted a debate between Peter Schiff and Alex Mashinsky on the merits of bitcoin versus gold.
Schiff is CEO and chief global strategist of Euro Pacific Capital and a large proponent for buying gold as a safe heaven to preserve wealth.
Mashinsky is the CEO of Celsius, a CeFi lending platform operated by use of blockchain technologies, and a proponent for bitcoin and cryptos as assets.
I want to start this piece off by saying two things.
First, just know I'm going to get a lot of shit from bitcoin bulls about it. If you're one of those bulls already thinking about giving me shit, I encourage you to read some of the points I'm going to make here and not immediately try and throw a wet blanket over this entire article.
Second, I want to make the points that (i) there are some things about bitcoin that I like and (ii) that I have exposure to some crypto related names. I like the idea of bitcoin, I just don't know if it is going to stand up, long-term, in practice. Like many people, for a preservation of wealth and store of value, I am much more comfortable holding gold.
Furthermore, I agree with the problem that a lot of bitcoiners are trying to solve: that the central banks are completely out of control and are doing more harm than good. So hopefully, if you are a crypto advocate, you don't see this article as me widening the gap between us, but rather trying to identify some nonsense in the space that I think can help inform both bitcoin skeptics and those who are bullish.
When I first saw that Peter Schiff was debating Alex Mashinsky on Kitco news, I knew it was a debate that I wanted to watch. Before I even started watching the interview, I saw a disclaimer on Twitter written by Peter himself, where he apologized for losing his temper.
I couldn't help but wonder what, exactly, took place during the interview, as I have watched hundreds of Schiff interviews and have never seen him lose his temper. In fact, sometimes, I lose my temper watching the videos and get mad at Peter for not losing his temper because of how stupid some of the guests are that he is routinely pinned against when discussing things like the merits of capitalism versus socialism.
But it wasn't more than a couple of minutes into Kitco's debate that I started to understand exactly why Peter was getting frustrated. The guy that he was "debating" against was throwing a slew of logical fallacies against the wall and just seeing what stuck.
Mashinsky led the debate by suggesting a classic fallacy: that bitcoin's past performance was going to always be indicative of its future results. This is akin to betting "black" at the roulette table after "red" comes out fifty times in a row because it is "due" to come out when, in fact, "black" still has the same 50% chance of coming out as it did on all of the prior spins.
I give kudos to the Kitco moderator for trying to put a stop to this argument before it started, but this is always the first arrow in the quiver for bitcoin bulls. I have pointed out over and over, there is a reason that the first disclaimer you always see when buying a financial product is: "past performance is not indicative of future results."
Because it isn't.
Mashinsky then continues hopping from one logical fallacy and inaccuracy to the next. During a discussion about whether or not all bitcoin margin debt (key word: all) was liquidated during the last bitcoin crash, Peter Schiff points out that the amount of leverage people are using to buy bitcoin is likely still significant and dangerous. Mashinsky argues that he believes all margin debt had been liquidated during the last bitcoin plunge, a ridiculous assertion that had Peter fuming.
The absolute worst and most irresponsible of all of the arguments from Mashinsky came when he suggested to viewers of the debate – many of whom likely lack financial sophistication – that both bitcoin and gold pay a yield.
Of course, what he meant was that they pay a yield on his Celsius platform, but he failed to qualify his statements to make that clear. Neither asset pays a yield in general and Mashinsky knows that.
As Peter noted, the capital to pay a yield has to come from somewhere. In dividend paying companies, it comes from their retained earnings. Bitcoin and gold don't earn anything on their own, so there's nowhere to draw from to pay a yield, let alone an astronomical 5% yield that Mashinsky claims during this debate.
When Mashinsky claims bitcoin pays 5%, Peter hones in on the fallacy and immediately asks him repeatedly where the yield comes from. Mashinsky has no answer. Peter then takes a guess and asks if Celsius trades the crypto in order to come up with the proceeds to be able to pay the yield, but Mashinsky never gives him a clear answer. This is an extremely dangerous thing to suggest by Mashinsky without explaining in full – and I think even bitcoin bulls can understand why this is dangerous. You can't get a 5% yield anywhere, let alone from a speculative new asset class. And if you are getting 5% somewhere, chances are you may not be getting it consistently or for a long period of time.
Understanding how a yield is paid is one of the most important concepts in value investing, which is of course why Peter honed right in on the Achilles' Heel and why Mashinsky refused to answer questions about it.
Hilariously, there are also several times during the debate where Mashinsky refers to bitcoin as "gold" or the "gold standard". Perhaps Mashinsky should take a step back and understand why things are labeled the gold standard to begin with.
In the words of Peter Schiff: "Gold mines are literally gold mines!"
Mashinsky spends parts of the debate trying to juxtapose bitcoin and gold, like many others have done while advocating for bitcoin. But at some point, it's going to become very apparent that the two are not the same and bitcoin bulls will one day wonder why they hadn't made the distinction clearer to begin with.
Mashinsky then contradicts himself several times when speaking about where the price of bitcoin is going to go. When questioned about where the price of both gold and bitcoin are going, he predicts that gold will go to between $2300 and $2500 over the next year. He then predicts that bitcoin will reach $150,000 next year. That prediction comes just moments after Mashinsky himself says that we have no idea where the price of either asset is going to go. The fact that he is replete with double talk like this should alarm prospective investors in bitcoin.
There's also a point in the middle of the debate where Mashinsky admits that psychological buy-in is the one thing that's driving the price of bitcoin. Schiff then tries to ask several times what happens if people stop believing in it. Mashinsky admits that if people stop believing in it, it means that they have started believing in something else. This point should be fleshed out as a major risk factor and not just dashed over quickly after being avoided, as it was done in this interview.
Showing off pure ignorance of where value comes from, Mashinsky even claims gold "has no value" during the interview, telling Peter:
"Gold has zero value. Yes you can use it in jewelry and you can use it to build high fidelity electronic equipment, but that doesn't mean it has any value."
Mashinsky also advocates for "borrowing against your fiat" to buy bitcoin. Make no doubt about it, this is asking people to borrow against their houses, credit cards and everything they own to pour money into bitcoin. It's an idea that's as irresponsible to suggest as it inverse to the idea of "protecting" your wealth.
Mashinsky's debate tactics also included ad hominem attacks, like when attempts to make fun of Peter for being a dinosaur, suggesting he is using a dial-up modem after his connection drops during the debate. These jokes, especially about Peter, often come up in the bitcoin community and while they are relatively harmless, it is important to understand that they are creating a climate of cognitive dissonance and confirmation bias that reaffirms the notion that bitcoin bulls have some super tech-savvy understanding of bitcoin that guys like Schiff and myself do not.
Bitcoiners better hope they're right.
As I've argued several times before, sometimes it isn't the fact that people don't understand bitcoin that makes them skeptical, it's the fact that they do.
Finally, later in the debate, Mashinsky is also challenged on bitcoin's need for a power source and the threat of quantum computing, both of which he doesn't really seem to have a great answer for.
People laugh at me when I bring up the idea of solar flares and coronal mass ejections rendering their bitcoin temporarily useless, but it is a real world scenario that could happen. In fact, we had solar storms just over the last week. When asked about the need for power, Mashinsky is forced to reply that all bitcoiners will be able to do in that instance is "wait for the power to come back on".
Since I have been paying attention to bitcoin over the last couple years, no one has been able to give a good answer for what to do when the power goes out. It looks like your bitcoin is simply rendered useless in that case. Yes, you could say the same thing about the banking system because a lot of it is digital, but people that own gold own it as a hedge against those systems.
Wouldn't it be safe to say that gold could be a hedge against bitcoin, too?
When talking about quantum computing, Mashinsky admits that bitcoin is going to have to be modified over the next decade as quantum computing advances. No one knows what those advancements or changes will look like and who is to say whether the bitcoin you buy today will adhere to the same rules and same mathematical certainties it will after such a modification is made.
Gold, on the other hand, has had the exact same properties and has been the exact same metal for thousands of years, which is specifically why people like it and why it works as a store of value.
What are the two key points I'm trying to make in this article?
First, bitcoin bulls can do better than Alex Mashinsky. The guy obviously spent a majority of the debate pitching his own service and not trying to legitimately deconstruct counter-arguments against bitcoin. I've met too many people who are too smart in the bitcoin community to let this guy be the person that represents you as a whole. Personally, I wouldn't wanna do business with the guy either, but that's just me.
The second key point is to always remember that hubris comes before the fall. This is an old saying, but Mashinsky's tone of arrogance and bragging about his business while not being able to answer key questions about how it functions, to me, looks like a great deal of hubris.
The more interviews I watch like this, the more the hubris ramps up towards a fever pitch. Over time, nature and karma have a way of correcting these things. Admittedly, I've been saying the same thing about Tesla for years and its reckoning hasn't happened yet, but that doesn't mean that it won't.
Past performance is not indicative of future results.
You can watch the entire hour long debate here.
—
Read more from QTR:
1. Covid Is Over (If You Want It)
2. Two Reasons The Market Could Collapse Heading Into The Holidays
3. When The Global Monetary Reset Happens, Don't Forget Who To Blame
—
Zerohedge readers always get 10% off a subscription to my blog for life by using this link.
Tyler Durden
Tue, 11/23/2021 – 23:00
gold
monetary
store of value
crash
Here's One Simple Example Of How Absurd Build Back Better' Is
Here's One Simple Example Of How Absurd Build Back Better' Is
Authored by Simon Black via SovereignMan.com,
In early January 1964, barely…
Here's One Simple Example Of How Absurd Build Back Better' Is
Authored by Simon Black via SovereignMan.com,
In early January 1964, barely six weeks after the assassination of John F. Kennedy, US President Lyndon Johnson delivered a speech to the American people in which he declared an "unconditional war."
But he didn't declare war on Vietnam. Or Cuba. Or the Soviet Union.
Johnson declared war on poverty.
And in his State of the Union address he told his fellow Americans that it would take more than "a single piece of legislation" to eradicate poverty.
So they got to work preparing a series of expensive programs to create jobs, build affordable housing, establish new entitlement programs, and invest in vocational training.
It goes without saying that this spending bonanza kicked off a steep increase in inflation. But more importantly it turns out that most of these programs were utter failures.
One of the best examples is the Job Corps, an initiative established in 1964 to provide free vocational training to young people.
The Job Corps was something of a pet project for Lyndon Johnson; he believed that "one thousand dollars invested in salvaging an unemployable youth today can return $40,000 or more in his lifetime."
This is a long-standing argument for increased public investment in education.
And yet according to a long-term study of the Job Corps published in 2018 by the agency's own Inspector General, the program has been a terrible investment for the American taxpayer.
The Job Corps spends $1.7 billion of taxpayers' money each year to train around 66,000 people; this works out to be $25,000 per student per year, which is already more expensive than many public universities.
Yet Job Corps' own Inspector General found that "more than half" of the participants in his study "did not have a beneficial outcome."
A later report by the US Department of Labor determined that a small group of Job Corps graduates could earn, on average, $275 more per year than non-graduates who work in similar jobs.
Wonderful. But given that these jobs are at the lowest possible tax bracket, the additional tax revenue per Job Corps graduate is less than $30 per person.
That makes the Job Corps' annual Return on Investment about 0.1%, at best. More likely it loses money and provides no real benefit to graduates.
So why would any sane individual continue investing in this program? Even the New York Times called it a complete failure and "a little bit like prison".
And yet the Job Corps is set to be the proud beneficiary of $1.5 billion, courtesy of the Build Back Better Act that passed the US House of Representatives on Friday.
This new funding will roughly double the program's budget.
Now, if you're spending money and you're getting a fantastic return on investment, then cost shouldn't be an issue.
The problem is spending money and failing to achieve any meaningful outcome. And that tends to be the government's track record.
LBJ believed in 1964 that investing in job training would generate a huge return on investment. But six decades of Job Corps data show that they completely failed to achieve this vision.
Instead they created a job training program that is more expensive than most public universities, yet generates no real benefit for its graduates or for taxpayers.
But politicians only think about money. If they increase an agency's budget and throw money at an issue, they feel like they've done their job. They never look at performance or execution.
And this is the real problem with Build Back Better. Much has been said about the cost of the legislation, including those who say it will "cost nothing".
(The initial cost is actually $1.7 trillion, and the long term costs look like they'll probably top $4 trillion.)
But focusing on cost really misses the point. The real question is– will there be any return on investment?
The failure of Job Corps provides a pretty clear answer.
Build Back Better is a whopping 2,468 pages. Buried in that text, they're creating thousands of new programs, just like Job Corps.
The politicians keep insisting that these are all "investments". But they never conduct a honest assessment of investment performance.
They just keep writing checks and spending other people's money with a dangerous fanaticism, and absolutely no consideration of execution and performance.
And just like LBJ's War on Poverty, Build Back Better will likely lead to much higher inflation.
After all, it's not difficult to predict what might happen when they spend money endlessly and generate zero return on investment.
LBJ at least got one thing right.
In his original State of the Union address in 1964, he acknowledged that the private sector (NOT the government) had the real power to create jobs, enhance prosperity, and alleviate poverty.
He argued that cutting taxes, for example, would "create new jobs and new markets in every area of this land", and he told Congress, "We need a tax cut now to keep this country moving. . . Our taxpayers surely deserve it."

Further, he stated, "the most damaging and devastating thing you can do to any businessman in America is to keep him in doubt and to keep him guessing on what our tax policy is."
Today, however, politicians hold the opposite view. They believe that tax increases are the path to prosperity. They believe jobs are created through more rules, more laws, and more money in the hands of the government.
And they're delighted to keep people guessing about tax policy, including threatening retroactive tax changes.
This entire ethos is completely destructive… not to mention highly inflationary. But we'll tackle that issue another time.
*  *  *
We think gold could DOUBLE and silver could increase by up to 5 TIMES in the next few years. That's why we published a new, 50-page long Ultimate Guide on Gold & Silver that you can download here.
Tyler Durden
Tue, 11/23/2021 – 21:00
gold
silver
inflation
markets
policy
inflationary
ax