Now That's Hyperinflation
Over the next week, you're going to hear a lot about how high prices are, how much more a turkey dinner cost than a year ago. But when you hear somebody,…
Over the next week, you're going to hear a lot about how high prices are, how much more a turkey dinner cost than a year ago. But when you hear somebody, say the word "hyperinflation", remember this picture:
Figure 1: Month on month headline CPI inflation for US (blue), Brazil (light green), Russia (red), all in percent per month. Cagan's definition of hyperinflation (red dashed line at 50%). Source: BLS via FRED, Ha, Kose, Ohnsorge, and author's calculations.
What about the oft-cited example of 1920's Germany. We don't have inflation rates measured against a bundle of consumption goods, but we do have a depreciation rate of the Reichsmark against the "gold" mark: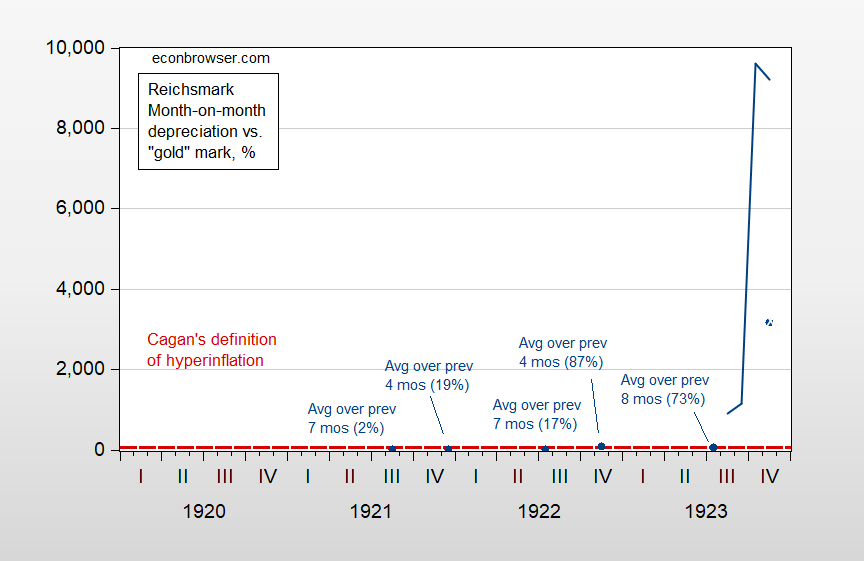 Figure 2: Month-on-month depreciation of Reichsmark against "gold" mark (blue dots and line). All 1923 observations approximate since data pertain to varying days in each month. Cagan's definition of hyperinflation (red dashed line at 50%). Source: W.C. Fisher/Wikipedia,  and author's calculations.
Palantir Is Forming a Pattern That Bullish Investors Should Love
Since going public as a direct listing in 2020, Palantir (NYSE:PLTR) has been a polarizing stock. The company is an unquestioned leader in the field…
Since going public as a direct listing in 2020, Palantir (NYSE:PLTR) has been a polarizing stock. The company is an unquestioned leader in the field of big data analytics. Bears say its close association with the United States government, along with an executive compensation structure that has caused share dilution, make PLTR stock overvalued. Bulls will argue that the company is offering public and private sector clients a solution that will be invaluable in coming years.  
Source: rblfmr / Shutterstock.com
The truth probably lies somewhere in between. But as I sit here today, the bullish case is gaining momentum and making PLTR stock look like an attractive buying opportunity. 
Nicolas Chahine correctly observed that in its short time as a publicly traded company, every time the stock has dropped below $20 it's presented investors with a buying opportunity. If history repeats itself, then PLTR stock could set up as a profitable trade.  
What About Commercial Growth? 
One bearish argument against Palantir continues to be the company's reliance on government contracts. These contracts accounted for approximately 56% of the company's revenue in the third quarter. But this is a statistic that requires context.  
First, the company is growing its commercial revenue. In the last quarter, Palantir reported a 37% year-over-year (YOY) increase in commercial revenue. And the company's overall revenue was up 36% YOY at $392 million. For the first three quarters of 2021, the company has revenue that exceeds $1.1 billion. 
Commercial revenue accounted for 44% of the total in Q3. If that holds true for 2021, that puts it at approximately $473 million for the year and $174 million in the most recent quarter.  
If Palantir was growing its government side of the business at the exclusion of its commercial side, it would be concerning. But it's hard to find fault when the company is growing both sides of the business.  
Investing in Gold and Bitcoin 
In an effort to guard against black swan events, Palantir recently made a large purchase of gold bars. It also announced it would accept payment in Bitcoin (CCC:BTC-USD), although according to a company spokeswoman, Palantir has not received any payments in the cryptocurrency. 
Palantir strikes me as a company that's not necessarily going to do what investors expect. And I can certainly understand if investors might wonder why the company chose to deploy capital in this way as opposed to buying back shares.  
Perhaps it would be easier for investors to accept Palantir's dabbling in gold and bitcoin if it wasn't for the continuing dilution of shares that is happening as management exercises warrants. It's a perfectly legal practice, it's just not something investors like to see. 
Of particular concern was the approximately 17.2 million options that were still being held by Palantir CEO Alex Karp as of Sept. 30. These options were set to expire on Dec. 3, 2021.
Not surprisingly, Karp has sold a lot of these options recently. But the good news is that Karp was by far the biggest holder of options. So while there will likely continue to be some selling in the next few years, investors may have to find something else to object to.  
What to Do With PLTR Stock 
With macroeconomic issues hanging over all growth stocks, investors should wait for a confirmed signal before buying this dip. As for me, I have to admit that PLTR stock is starting to look a lot more attractive at this price. An adjusted free cash flow (FCF) of $119 million in the last quarter and a margin of 30% is hard to ignore.  
In fact, based on the company's FCF projections, InvestorPlace contributor Mark Hake has a price target of $38.81 for Palantir. And as Hake notes, even if investors have to wait two years for the stock to hit that target, they would still get an average annual return of 29.54%.  
On the date of publication, Chris Markoch did not have (either directly or indirectly) any positions in the securities mentioned in this article. The opinions expressed in this article are those of the writer, subject to the InvestorPlace.com Publishing Guidelines.  
Chris Markoch is a freelance financial copywriter who has been covering the market for over five years. He has been writing for InvestorPlace since 2019. 
More From InvestorPlace
The post Palantir Is Forming a Pattern That Bullish Investors Should Love appeared first on InvestorPlace.
Big River Gold's Brazil plans buoyed as interest in sector runs hot
Special Report: Big River Gold's Borborema project is on track according to a recently completed water study which de-risked the … Read More
The post…
Special Report: Big River Gold's Borborema project is on track according to a recently completed water study which de-risked the supply of process water to the operation, and also identified a way to double production up to 4Mtpa. All at a time of heightened interest in the Brazilian gold sector.
Big River Gold (ASX:BRV) has received a shot in the arm with encouraging results from a water study derisking the highly prospective Borborema Gold Project in Brazil for what was initially considered to be a 2-million-tonne-per-annum (Mtpa) production operation. The study identified a water source that could support production expansion up to double the previously forecast production to 4Mtpa.
The positive results from studies completed by SRK Consulting come at a time of hot mergers and acquisitions (M&A) action in the gold sector in both Brazil and Australia. There's also renewed interest in the safe haven metal due to uncertainty over the Omicron COVID variant following a slide in prices from its all-time high of around $US2,070 per ounce in August last year.
Confirming that Big River Gold's optimism on the 29sqkm project's water security is well founded, the water study established that minimal additional external water will be required to support a 2Mtpa operation.
"Borborema has always suffered from the perception that there is a lack of water," executive chairman Andrew Richards told Stockhead. "The completion of the water studies has been a big step forward in de-risking the project in that regard, but also provides us opportunities to look at different size production scenarios."
Richards said that as the project in northeast Brazil progressed towards production the water study results were an important part of the larger engineering study update.
"Any upscaling we were looking at had to be considered in conjunction with the water issue. Water has always been an integral part of the development of Borborema," Richards said.
"The study results mean we can either stay at 2 million tonnes per annum without any additional water for most of the time but, if we're looking to expand up to say 4 million tonnes per annum, we can base that more on the underlying economics given that process water supply is no longer the bottleneck it was."
A hot mining jurisdiction
As Brazil emerges from the pandemic with a more optimistic economic outlook, the latest data shows M&A activity in the South American powerhouse grew eightfold to $56.8 billion in the first half of 2021, compared to the same period last year.
Banks expect activity to remain buoyant into 2022 as economic activity recovers and interest rates remain low, while increasing COVID vaccination rates boost Brazil's profile as an investment destination.
And there are some glittering pickings for investors in the gold-rich nation.
Thanks mainly to its Tucano gold mine in Brazil, Great Panther Mining's revenue soared a whopping 2,947.1% in 2020. Like Borborema, Tucano is in Brazil's northeast and it contributed $US234m, or 85% of total revenue, to the Canadian listed miner.
While Great Panther's world-leading leap in revenue was a definite standout, gold miners in general have been buoyed by the renewed, COVID-induced interest in the safe haven metal. This has led to some major deals in the sector in both Australia and Brazil.
Last month, Amarillo Gold, owner of the Posse gold project in Brazil, agreed to a $US128.36m takeover offer from UK's Hochschild Mining, a $US1.5bn cashed up South American mining house looking to invest more outside of Peru.
The deal values Amarillo Gold at A$/165 per reserve ounce, and A$65/resource ounce.
As part of the deal, Amarillo shareholders will also receive shares in a newly formed company, Lavras Gold Corp, which will hold a stake in the 22,278-hectare Lavras do Sul gold project in Brazil's south.
FTSE 250 miner Hochschild affirmed Brazil's reputation as a solid location for resources projects, saying the deal "enhanced its portfolio by adding a long-life asset located in a mining-friendly jurisdiction".
The heightened interest in the South American nation and the yellow metal, alongside the highly encouraging results just out from the all-important water study, bode extremely well for Big River Gold.
"These results really just derisk the project and give us the ability to go to a bigger scale operation to achieve economies of scale," Richards said.

This article was developed in collaboration with Big River Gold, a Stockhead advertiser at the time of publishing.
This article does not constitute financial product advice. You should consider obtaining independent advice before making any financial decisions.
The post Big River Gold's Brazil plans buoyed as interest in sector runs hot appeared first on Stockhead.
Silver Sands Resources Updates Phase III Drilling Progress at the Virginia Silver Project
Silver Sands Resources (CSE: SAND) (OTCQB: SSRSF) is pleased to provide an update on its Phase III drill program at the Virginia Project in Santa Cruz Province, Argentina.
Vancouver, British Columbia–(Newsfile Corp. – December 7, 2021) – Silver Sands Resources Corp. (CSE: SAND) (OTCQB: SSRSF)  ("Silver Sands" or the "Company") is pleased to provide an update on its Phase III drill program at the Virginia Project in Santa Cruz Province, Argentina. Drill crews report the completion of drilling at the Virginia silver vein field and the commencement of drilling at the Santa Rita gold silver targets 15 km north.
"We are happy to report the Phase III silver drill program at Virginia was completed on time and under budget, with fifteen batches of core samples already at the Alex Stewart Laboratory for analysis," commented Silver Sands CEO Keith Anderson. "Drill crews are now at the Santa Rita silver-gold target and have commenced drilling. We're also very pleased that we were able to increase the planned number of metres drilled through tight budgetary controls and the skill of our drill crew. Following up on our successful Phase II program we were able to complete another 15 holes at Virginia as the Company continues its focus on significantly expanding the current silver mineral resources," he continued.
"Based on a new discoveries at the west side of the Naty vein, and at the Patricia- Daniela trend, and at the Margarita vein trend, we will also complete further trenching and geophysics prior to Christmas shutdown, in preparation for Phase IV drilling in Q1 2022," he concluded.
Expanding the current silver resource is the Company's primary goal and the fifteen holes totaling 2,520 metres were directed at the gaps between Ely Central and Ely North, the gap to the north of Ely North, and the Martina Vein, where earlier Silver Sand drill programs intersected significant silver mineralization. Exploration holes also tested the Margarita, Maos and Roxanne veins, probing the down dip extensions of surface outcrops/subcrops and floats targeting for suspected mineralized shoots at depth in those veins.
Figure 1. Virginia Vein Field Phase III Drilling
To view an enhanced version of Figure 1, please visit:
https://orders.newsfilecorp.com/files/6972/106889_7fdfdbb6b443cb57_001full.jpg
The drill has now been mobilized 15km to the north to Santa Rita, where exploration, trenching and previous drilling in 2005-2007 delivered highlight grades of 340 g/t silver and 5 g/t gold. Re-interpretation of historic data in combination with new 2021 trenching and PDP-IP has highlighted several compelling virgin gold silver targets within 2.7kms of intermittently outcropping epithermal quartz veins within an 8km NW trending fault zone as shown in Figure 2. Sampling details from Santa Rita Central and Santa Rita East are shown in Table 1, while highlights of the sampling can be seen in Figures 2, 3 and 4. A total of 500 metres of drilling is planned for the various Santa Rita targets.
Figure 2. Santa Rita Phase III Drill Targets
To view an enhanced version of Figure 2, please visit:
https://orders.newsfilecorp.com/files/6972/106889_7fdfdbb6b443cb57_002full.jpg
Table 1. Santa Rita Surface Sampling
Santa Rita Central
 
 
 
 
 
Metal
#-Samples
#->20 g/t Ag
% >20g/t Ag
Range g/t
Average g/t
Max-Value
Ag
90
9
10%
20-321
88 g/t Ag
321 g/t Ag
 
 
 
 
 
 
 
>0.5 g/t Au
% >0.5g/t Ag
 
 
 
Au
90
5
5%
0.83-1.77
1.35 g/t Au
1.77 g/t Au
 
 
 
 
 
 
Santa Rita East
 
 
 
 
 
Metal
#-Samples
#->20 g/t Ag
% >20g/t Ag
Range g/t
Average g/t
Max-Value
Ag
97
12
12%
20-93
46 g/t Ag
93 g/t Ag
 
 
 
 
 
 
 
>0.5 g/t Au
% >0.5g/t Ag
 
 
 
Au
97
31
32%
0.51-5.86
1.54 g/t Au
5.86 g/t Au
Figure 3. Santa Rita East
To view an enhanced version of Figure 3, please visit:
https://orders.newsfilecorp.com/files/6972/106889_7fdfdbb6b443cb57_003full.jpg
Figure 4. Santa Rita Central
To view an enhanced version of Figure 4, please visit:
https://orders.newsfilecorp.com/files/6972/106889_7fdfdbb6b443cb57_004full.jpg
About Virginia
Virginia is a low to intermediate sulphidation epithermal silver deposit located in the mineral-rich Deseado massif, lying within the mining-friendly province of Santa Cruz in the Patagonia region of Argentina. Through initial discovery in 2009 to four drill programs between 2010 and 2012, Mirasol Resources was able to define an initial indicated mineral resource of 11.9 million ounces of silver at 310 g/t Ag and a further inferred 3.1 million ounces of silver at 207 g/t Ag within seven outcropping bodies. This resource is documented in a Mirasol Resources technical report entitled: "Amended Technical Report, Virginia Project, Santa Cruz Province, Argentina — Initial Silver Mineral Resource Estimate" with an effective date of Oct. 24, 2014, and a report date of Feb. 29, 2016.
Several additional vein structures within the property package remain highly prospective, as Mirasol concentrated the bulk of its exploration effort on the resource area at the expense of continuing exploration on the underexplored additional veins. Several of these structures have highlight values in excess of 1,000 g/t silver and have a high probability of hosting additional silver resources. These veins structures continue to be the primary focus of the Silver Sands 2021/2022 exploration efforts.
Silver Sands is earning a 100-per-cent interest in Virginia by issuing sufficient shares for Mirasol to end up with 19.9 per cent of the issued and outstanding of Silver Sands and completing $6-million (U.S.) in exploration over three years. Mirasol will retain a 3-per-cent net smelter return royalty with Silver Sands having the option of purchasing one-third of the royalty for $2-million (U.S.).
About Silver Sands Resources Corp.
Silver Sands is a well-financed, Canada-based company engaged in the business of mineral exploration and the acquisition of mineral property assets in mining-friendly jurisdictions. Its objective is to locate and develop economic precious and base metal properties of merit. Its key asset is the Virginia silver project, located in the mining-friendly Santa Cruz state of Argentina.
On Behalf of the Board of Directors
Keith Anderson
Chief Executive Officer, Director
For further information, please contact:
Keith Anderson
Chief Executive Officer, Director (604) 786-7774
Qualified Person Statement: Silver Sand's disclosure of technical and scientific information in this press release has been reviewed and approved by R. Tim Henneberry, P.Eng., a director of the Company, who serves as a Qualified Person under the definition of National Instrument 43-101.
QAQC: Silver Sands applies industry standard exploration sampling methodologies and techniques. All geochemical rock and drill samples are collected under the supervision of the company's geologists in accordance with industry practice. Geochemical assays are obtained and reported under a quality assurance and quality control (QA/QC) program. Samples are dispatched to an ISO 9001:2008 accredited laboratory in Argentina for analysis. Assay results from channel, trench, and drill core samples may be higher, lower or similar to results obtained from surface samples due to surficial oxidation and enrichment processes or due to natural geological grade variations in the primary mineralization.
Forward Looking Statements: The information in this news release contains forward-looking statements that are subject to a number of known and unknown risks, uncertainties and other factors that may cause actual results to differ materially from those anticipated in our forward-looking statements. Factors that could cause such differences include: changes in world commodity markets, equity markets, costs and supply of materials relevant to the mining industry, change in government and changes to regulations affecting the mining industry and to policies linked to pandemics, social and environmental related matters. Forward-looking statements in this release include statements regarding future exploration programs, operation plans, geological interpretations, mineral tenure issues and mineral recovery processes. Although we believe the expectations reflected in our forward-looking statements are reasonable, results may vary, and we cannot guarantee future results, levels of activity, performance or achievements. Silver Sands disclaims any obligations to update or revise any forward-looking statements whether as a result of new information, future events or otherwise, except as may be required by applicable law.
Neither the Canadian Securities Exchange ("CSE") nor its Regulation Services Provider (as that term is defined in the policies of the CSE) accepts responsibility for the adequacy or accuracy of this release.