The Best iPads for Your Money
Apple now has several different iPad models. Which one is best for you?
Apple's iPads are some of the best tablets on the market. They're fast, user-friendly and, when used with a keyboard, can even double as very capable laptops.
An iPad can be a great work tool for students and creative professionals, or just a portable device for anyone who wants to stream Netflix, play games and web browse.
There are currently four iPad models, with different sizes and capabilities. There's the 10.2" standard iPad, the 8.3" iPad mini, the 10.9" iPad Air and the iPad Pro. Of the four models, the iPad Pro is the only one that's available in two sizes — 11" and 12.9".
So, which is the right Apple iPad for you? Here are some things to consider.
What's the best iPad for you?
Each iPad has a target audience, so to speak. Apple's top-of-the-line model, the iPad Pro, is a great option for artists, creators and power users who want cutting-edge technology and a reliable workstation. This is also the most expensive iPad, starting at around $800 for the 11" and $1,099 for the 12.9".
The iPad Air is a mid-range model for users who want a premium experience and similar specs to the iPad Pro at a more affordable price (under $600). The Air models are more portable too, with smaller screens that are easier to hold and carry.
The iPad mini (about $379), on the other hand, is the most portable; it weighs less than a pound and is the most comfortable to hold in one hand. While it's the smallest iPad, it doesn't skimp on performance — in fact, has a much better camera and display than the entry-level standard iPad.
Speaking of which, for roughly $300, the standard iPad is perfect for users who want a basic, but still powerful tablet to perform everyday tasks such as playing games, watching Netflix and editing documents (although in reality you can do so much more).
In some cases, it's possible to find refurbished models of discontinued iPads (older generations). These tend to be cheaper, but we don't recommend buying these unless it's from Apple's certified store where they sell "like new" refurbished devices with a one-year warranty. If you buy these from third-party sellers, you risk getting a device that may not work properly, that's not covered by a warranty or is too old to be compatible with the latest software updates.
Apple iPad buying guide
Take a look at the following specs as you shop for the best iPad for you:
• Processor. iPads are powered by an Apple-designed system on a chip (SoC), a technology that integrates several different components, such as the CPU, RAM and GPU, in one chip.
Most iPads feature an A-series chip. These are labeled by an A followed by a number, such as A12 or A14. Typically, the higher the number, the newer and more powerful the chip is.
The newest iPad Pro (2021), however, features the M1 chip, Apple's fastest and most powerful. This is the same chip that debuted in late 2020 as the first truly Mac chip, which marked Apple's transition away from the Intel chips. It's also likely to be the chip series that Apple will continue to use for upcoming models.
• Storage. While some Android tablets let you upgrade storage by adding SD cards, an iPad's storage capacity can't really be upgraded.
Each iPad model has multiple storage options. All three non-Pro models — iPad, iPad mini and iPad Air — come with either 64GB or 256GB. Upgrading to the larger storage option can cost an additional $100 to $150.
Then there's the iPad Pro, which offers the most storage options. It starts at 128GB for the base model and can be upgraded to 256GB, 512GB, 1TB and up to 2TB for the newest 2021 iPad Pro. The latter costs a hefty $2,199, mind you.
For most users, the base storage option is sufficient, especially if the iPad will be used mainly just to play games, store some music, stream videos and do some light work tasks such as editing documents.
But if you plan to use your iPad as a professional tool, work with large files, or play graphic-intensive games, then spending an additional $200 or $300 on more storage is a wise choice.
You could also consider getting an iCloud subscription, instead of adding more storage. This Apple service lets you free up storage space by uploading files to a cloud. The subscription starts at monthly costs of $0.99 for 50GB up to $9.99 for 2TB.
• Display. Most iPads come with Retina display, a technology that allows the screen to deliver a higher pixel density — that is, really sharp, non-pixelated, detailed images. This significantly improves the viewing experience by reducing glare and heightening colors.
That being said, each iPad features different display resolutions, which may slightly affect image quality. However, choosing an iPad with a lower display resolution won't necessarily affect your experience, unless you're working with video, photo editing or graphic design, in which case you should opt for one of the higher-end models.
• Size. The largest tablet that Apple makes is 12.9" (iPad Pro), which is almost as large as a laptop, and the smallest is 8.3" (iPad mini) which is slightly larger than a cell phone. In between those sizes, there are the 11" iPad Pro, the 10.9" iPad Air and the 10.2" standard iPad.
If you're looking for a tablet that's ultra-portable, the iPad mini is the best option. It's slightly bigger than the iPhone 13 Pro Max, which measures 6.7", so it can be easily held with one hand and fits into a small bag.
If portability is not your main concern and you prefer a more immersive experience, consider any of the other models. Keep in mind that the bigger the screen, the less comfortable it may feel to hold it with one hand, as is typically the case with the 12.9" iPad Pro.
• Camera. All iPad models come with rear- and front-facing cameras, but each model has different resolution, which is measured in megapixels (MP).
On most models, the rear camera resolution ranges from 8MP up to 12MP; the front-facing one ranges from 7MP to 12MP.
Basically, the higher the megapixels, the crisper the image. If you care about picture and video quality, consider the iPad Pro or the iPad Air, which have the highest-resolution rear cameras.
• Cellular connectivity. If you want to ensure that your iPad is connected to a wireless network whenever you're away from Wi-Fi, you can opt for a Wi-Fi + Cellular iPad model.
This option is available with all iPad models, however it's not a cheap upgrade. It adds between $130 and $200 to your total upfront costs, depending on the iPad model and the storage capacity. Additionally, it requires a data plan contract (which will add a monthly bill) with a supported carrier, such as AT&T, T-Mobile or Verizon.
• Accessories. Apple offers a wide variety of accessories for iPads, among them the popular Apple Pencil stylus and the iPad keyboards.
The Apple Pencil is a great choice for artists and designers who want to use their iPad as a drawing tablet. There are currently two Apple Pencils. The first generation Apple Pencil is compatible with the 10.2" iPad (7th & 8th Gen.), the iPad mini (5th Gen.) and the iPad Air (3rd Gen.); the second generation Apple Pencil works with the iPad Air (4th Gen.), the iPad Pro 12.9" (3rd to 5th Gen.) and the iPad Pro 11" (1st to 3rd Gen.).
The keyboards, on the other hand, attach to the iPad magnetically and let you use the iPad as if it were a laptop. There are three different options from Apple: the Magic Keyboard, the Smart Keyboard Folio and the Smart Keyboard.
Out of the three Apple keyboards, the Magic Keyboard (Apple's latest addition) is the only one that features a built-in trackpad and a stand that lets you adjust the tablet to multiple viewing angles. However, it's only compatible with iPad Pro and the latest iPad Air (4th Gen.). Do note that the iPad mini isn't compatible with any of Apple's keyboards.
These are not the only options, though. You can also find many compatible keyboards from renowned brands like Logitech, such as the Logitech Combo Touch Keyboard and the Logitech Slim Folio Pro, or keyboards from generic brands. Just remember to check their compatibility, since most of them only work with specific generations of tablets.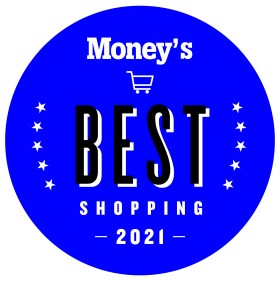 Best iPads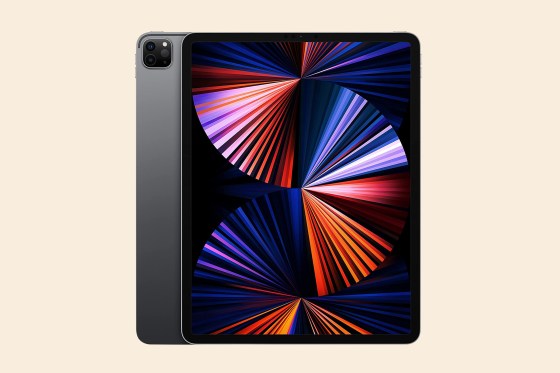 CPU: Apple M1 Chip | Resolution: 2732 x 2048 | Storage: 128GB – 2TB | Rear Camera: 12MP, 10MP | Front Camera: 12MP | Battery life: up to 10hrs. | Size: 12.9" | Colors: Silver, Space Gray
The iPad Pro 12.9" (2021) is the largest Apple tablet and a high-powered multitasker for video editing and graphic design.
There's been a lot of buzz about the M1, Apple's newest system on a chip. And, as it turns out, it does live up to the hype. The M1 features an 8-core CPU and an 8-core GPU, delivering faster performance and graphics than the A12Z found on the 2020 iPad Pro. With this type of power you can do anything from building augmented reality models to playing games with high frame rates.
The 2,732 by 2,048-pixel resolution is identical to the 2020 iPad Pro, but this time the 12.9" model has a Liquid Retina XDR (extreme dynamic range) display panel with a 1,000-nit full-screen brightness rating. This technology takes brightness and contrast to the next level, meaning that any professional can edit HDR pictures and videos with the entire frame at 1,000 nits of brightness.
Apple also replaced the previous 12.9" LED-backlit display with mini-LEDs, which are 120 times smaller than those in the previous iPad Pro. This helps diffuse light more efficiently and provide more accurate colors. This makes it the brightest iPad there is, letting you enjoy every detail in your pictures and videos and your favorite TV series and movies.
Other upgrades include 5G capability for iPads with Wi-Fi + Cellular, and an improved front camera with 12MP and a 122° field of view. Additionally, the front camera features Center Stage, a function that automatically adjusts the ultra-wide camera to keep you centered in the frame, even as you move around.
Like the previous generation, the new iPad Pro only comes in two of Apple's distinctive colors — space gray and silver — but with multiple storage options that start at 128GB for the base model and go up to a whopping 2TB.
The 12.9" base model costs $1,099, which is almost as much as Apple's mid-range laptop, the 13" MacBook Pro. The price can go even higher if you add Apple's variety of accessories or go for extra storage. So, while this is a true workstation, if you're not going to take full advantage of its cutting-edge features, the highly efficient and more affordable iPad Air would be a better choice.
Opting for the 11" iPad Pro (2021), with a base 128GB model starting at about $800, can also save you some money. It does have a slightly less impressive display of 2,388 by 1,668-pixels with no XDR and mini-LEDs, but features most other specs and the powerful M1 chip.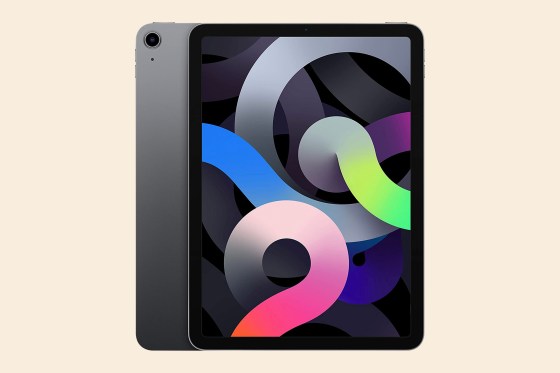 CPU: A14 Bionic | Resolution: 2360 x 1640 | Storage: 64GB, 256GB | Rear Camera: 12MP | Front Camera: 7MP | Battery life: up to 10hrs. | Size: 10.9" | Colors: Silver, Space Gray, Rose Gold, Green, Sky Blue
We like the fourth-generation iPad Air because it offers similar specs to the iPad Pro at a more affordable price (under $600). Its slightly smaller and lighter design and outstanding speed also make it the best iPad for users who want a premium performance without breaking the bank.
This 10.9" iPad Air is powered by the A14 Bionic chip, which includes a 6-core CPU and a 4-core GPU. This is enough power for anything from gaming to editing 4K videos. It's faster than the A13 Bionic chip found on the standard iPad, and a decent rival to the 2020 iPad Pro's A12Z chip.
Unlike its predecessor and the standard iPad, the new iPad Air has no Home button in the middle of the screen bezel. Instead, it features a power button on top of the tablet that works as a fingerprint authenticator, enabling you to unlock your screen with just your fingertip. Additionally, two speakers (one on top and another on the bottom of the tablet) provide clear landscape audio when listening to music or watching videos.
The iPad Air features a 12 megapixels (MP) main wide camera, like the iPad Pro, and a 7MP front camera. The rear camera can be used for recording 4K and HD videos, whereas the front camera is great for virtual meetings. Like the iPad Pro, it supports the Magic Keyboard and the Apple Pencil 2.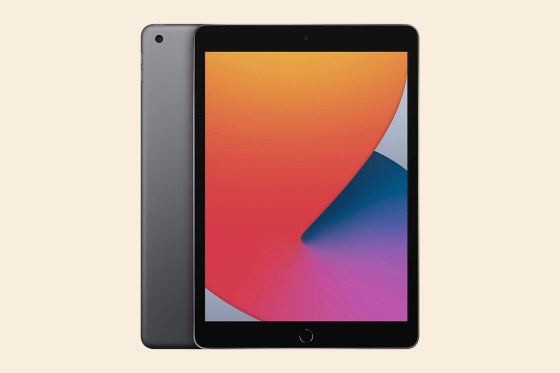 CPU: A13 Bionic | Resolution: 2160 x 1620 | Storage: 64GB, 256GB | Rear Camera: 8MP | Front Camera: 12MP | Battery life: up to 10 hrs. | Size: 10.2" | Colors: Silver, Space Gray
At around $330, the eighth-generation iPad is the cheapest Apple tablet and the perfect option if you're on a budget.
Although similar in design to the previous generation, the 10.2" iPad ditched the A12 chip and replaced it with the more advanced and responsive A13 Bionic chip. It's also compatible with the first generation Apple Pencil and the Smart Keyboard.
The new 10.2" iPad now starts off with a base storage of 64GB (32GB more than its predecessor) and, like the iPad Air and iPad mini, can be upgraded to 256GB. Apple also added a new ultra-wide camera and gave it a huge boost in resolution — from 1.2MP to 12MP. The camera comes with a "center stage" feature, as well, which helps keep you right in the center of your video calls at all times.
All this makes the entry-level iPad a hugely versatile tablet, whether it's for watching Netflix and web browsing, working with documents and emails, or playing a wide range of games. You can even pair it with a PS4 or Xbox controller to create a portable game console.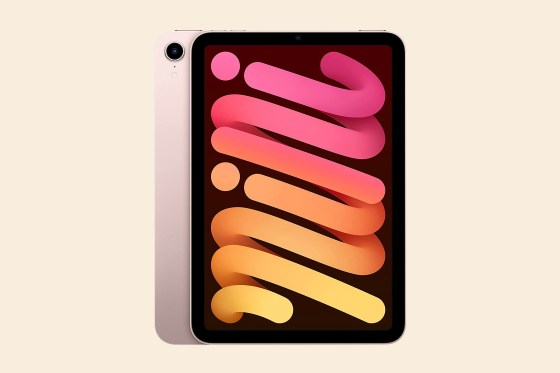 CPU: A15 Bionic | Resolution: 2266 x 1488 | Storage: 64GB, 256GB | Rear Camera: 12MP | Front Camera: 12MP | Battery life: up to 10hrs. | Size: 8.3" | Colors: Space Gray, Pink, Purple, Starlight
Although it has a larger screen than its predecessor, the new iPad mini is still Apple's smallest iPad. It's super portable and perfect for those who want something that's easy to carry around in a small bag.
The redesigned screen features a 8.3" Liquid Retina display, narrow screen borders and no home button (at last!), matching the style and feel of the iPad Air and iPad Pros. It includes a more powerful processor, the A15 Bionic, which delivers fast performance and graphics.
This means that despite its size, you'll be able to run apps like Adobe Photoshop CC, edit videos, photos and play games with console-level graphics. In addition, the iPad mini uses real-time machine learning (Neural Engine), which enables it to recognize patterns, learn from experience and analyze data more quickly.
The new iPad mini is available in four colors — Space Gray, Pink, Purple and Starlight — and with two storage capacity options, 64GB and 256GB. Best of all, it offers an improved display and a much better rear camera than the 10.2" standard iPad.
The rear camera has a 12MP resolution (compared to the 8MP camera in the standard iPad) and can record 4K videos. It also features True Tone flash, which helps improve photo quality in low light or when scanning documents.
Although the iPad mini is smaller than the 10.2" iPad, it does cost more — it retails for about $499, while the standard iPad is around $330. This may be a deal breaker for some. After all, why pay more for a smaller screen? However, if you want more power, an enhanced display, better camera resolution and portability, then the mini is certainly worth the higher price.
One important drawback to note is that the iPad mini is not compatible with any of Apple's Smart Keyboards. You can, however, pair it with other brands, such as the Brydge 7.9 Wireless Keyboard.
More from Money:
Amazon's Best Black Friday Deals for 2021
The Best Tablets for Your Money
The Best Apple Deals for Black Friday 2021
Poland Plans To Add Another 100 Tons Of Gold To Its Reserves
Poland Plans To Add Another 100 Tons Of Gold To Its Reserves
During a recent interview, Bank of Poland President Adam Glapiński said the…
Poland Plans To Add Another 100 Tons Of Gold To Its Reserves
During a recent interview, Bank of Poland President Adam Glapiński said the central bank plans to add 100 tons of gold to its reserves in 2022.
As SchiffGold.com details below, the National Bank of Poland began aggressively adding gold to its reserves in 2018. Through the first half of 2019, the Polish central bank added more than 100 tons of gold, nearly doubling its reserves.
The Bank of Poland currently holds around 230 tons of gold. The country's gold holding rank as the 23rd largest in the world. Gold makes up about 6.5% of the Bank of Poland's total assets. That is similar to the percentage of gold held by the US and Germany.
Why does the Bank of Poland hold gold?
In a nutshell, Glapiński said it is a matter of financial security and stability.
Gold will retain its value even when someone cuts off the power to the global financial system, destroying traditional assets based on electronic accounting records. Of course, we do not assume that this will happen. But as the saying goes – forewarned is always insured. And the central bank is required to be prepared for even the most unfavorable circumstances. That is why we see a special place for gold in our foreign exchange management process."
He went on to discuss some of the benefits of gold as a monetary asset.
After all, gold is free from credit risk and cannot be devalued by any country's economic policy. Besides, it is extremely durable, virtually indestructible."
A World Gold Council survey found that there is deteriorating faith in the US dollar and a continuing trend toward de-dollarization.
Respondents continue to foresee long-term structural changes in the international monetary system, continuing a trend indicated in last year's survey. Views toward the US dollar trended downward, with half of respondents saying the greenback will fall below its current proportion. Central banks continue to think that the Chinese renminbi's proportion will increase, with 88% saying that it will grow beyond current levels."
Glapiński hinted this was one of the reasons Poland continues to add gold to its reserves.
Gold is characterized by a relatively low correlation with the main asset classes – especially the US dollar dominating the NBP reserve portfolio – which means that including gold in the reserves reduces the financial risk in the process of investing them."
Glapiński said the scale and pace of future gold purchases "will depend, inter alia, on the dynamics of changes in official reserve assets and current market conditions."
Net gold buying by central banks globally reached 393 tons at the end of Q3. Central banks have already bought more gold this year than they did in the entirety of 2020 (255 tons) with one quarter left to go. The World Gold Council says net gold purchases are "poised to reach a significant total in 2021.
Tyler Durden
Tue, 11/23/2021 – 04:15
dollar
gold
monetary
reserve
policy
central bank
correlation
us dollar
BofA Is Bearish On Markets Ahead Of The 2022 "Rates Shock"
BofA Is Bearish On Markets Ahead Of The 2022 "Rates Shock"
For those who have been following BofA CIO Michael Hartnett's sometimes disjointed…
BofA Is Bearish On Markets Ahead Of The 2022 "Rates Shock"
For those who have been following BofA CIO Michael Hartnett's sometimes disjointed thoughts and observations, dutifully jotted down in his weekly Flow Show report (and summarized here), it will come as no surprise that the Bank of America strategist has been turning decisively bearish in recent months (see BofA Chief Strategist: Markets Are About To Be Hit With Three Shocks; This Is How One Bank Will Trade The Bursting Of The Biggest Ever Asset Bubble In 2022; and ""2022: The Year Of The Rate Shock": The Fed's Policy Mistake Already Happened And Next Year Everyone Pays").
Even so, it was certainly helpful for Hartnett's clients (and our readers) to be presented with a more structured and organized version of the CIO's views for the year ahead, which is what he did overnight in his latest periodical The Thundering Word, titled appropriately "Fin de Siecle" in which he finally makes it clear that "we are market bearish" for many of the same reasons we have discussed previously namely that the "growth show" of 2020, which was followed by the "inflation shock" of 2021 will be followed by the "rates shock" in '22 (as described here). The sharply higher rates, a taste of which we got today when real rates spiked following news that Powell will be renominated for another 4 years…
… will tighten financial conditions via Wall St and/or policy action; and since asset prices are driven by rates & profits, with short rates rising in 2022 (as QE ends, threatening to invert the yield curve) and as EPS sharply slow…
… Hartnett expects low/negative and  volatile asset returns in '22 after 18 months of fat returns in crypto, credit & US equities.
Hartnett's bearish views aside, the strategist admits that BofA economists and strategists predict robust GDP growth with weak China the outlier; and while inflation is predicted to be above consensus like GDP it too should decelerate next 12 months; All this leads to the bank's house view of 3 Fed rate hikes forecast in '22 (unlike Morgan Stanley which stubbornly expects no rate hikes in 2022 and with more covid lockdowns on the way, may well be right) with 10-year Treasuries ending the year at 2%; BofA also expects the US dollar & oil to remain well-bid (oil peaks around $117/barrel in Q2), and gold will appreciate.
So with that macro background in mind, here is Hartnett summarizing 2021, or "The Year Behind"…
The Year Behind: '21 started with an insurrection, ended with inflation, narratives flipped from political "blue waves", China credit/regulatory crackdowns, institutionalization of cryptocurrencies, US infrastructure, supply-chain disruptions and so on, but 3 dominant investment themes were…
The Vaccine: number of global vaccinations against COVID-19 surged from 10 million jabs to over 7 billion; this in turn led to a "reopening" of the US & European economies and a surge in corporate profits (e.g. US EPS flipped from -20% in '20 to 49% in '21); at the same time the world was unable to say "end of COVID" and summer delta fear and "growth shock" in Aug/Sept engorged the bull via prolonging…
The Stimulus: policy makers added almost $9tn in policy stimulus this year ($4tn fiscal, $5tn QE) to the $23tn announced in '20 ($15tn fiscal, $8tn QE); central banks remained exceptionally dovish & behind-the-curve, led by the Fed (see real rates); the vaccine & the stimulus led to…
The Inflation: excess stimulus/demand clashed with insufficient supply across a wide range of sectors and markets including transportation, energy, goods, services, housing and labor.
2021 in Returns:
Inflation explains commodities (up 46% for best year since '73) & government bonds (down 8% for worst year since '49)…
… as well as outperformance of energy & banks (Table 2).
Excess liquidity helps explain the ascent of cryptocurrencies (a transformative technology).
Dovish central banks & V-shape in EPS explain splendid performance of stocks ($1.0tn of institutional flows to stocks in '21), particularly US stocks which have outperformed the RoW by most since '97 (19.8pps); note 10-year rolling outperformance of US stocks vs government bonds widest since 1964 (12.2pps).
China & monetary tightening meant miserable performance of Emerging Markets (LatAm stocks relative to US just hit lowest level since LTCM crisis of 1998).
* * *
Which brings us to 2022: The Year Ahead, and the bank's three scenarios
Base case…
2021-22 investment backdrop similar to early stagflation of late-60s, early-70s…period of inflation & interest rates breaking higher from secular low/stable trading ranges on back of high budget deficits, Vietnam, "Great Society" policies, civil unrest, political & acquiescent Fed; late-60s/70s "stagflation" winners were real assets, real estate, commodities, volatility, cash, EM, all of which held their own vs inflation; losers were bonds, credit, equities, tech, all of which ultimately struggled (see Stagflation Quilt chart below); we think we're in the '69-'71 period.
Hartnett is convinced 2020 was the secular low point on inflation and interest rates; last 2 great inflection points for bond markets were 1966, 1980…2020 watershed driven by social/economic shifts from Wall St to Main St, Deregulation to Intervention, Globalization to Isolationism, Wealth to Health, Capital to Labor…COVID simply the accelerator.
The CIO also believes that the 2020s will see secular bull markets in volatility & commodities beginning, while the bull market in stocks & credit ending (as shown in secular return charts 5-10); He also expects the US dollar to peak in 2022; note the "permanent portfolio" of 25/25/25/25 of cash, commodities, stocks, bonds appreciated 15.4% annualized in 2021 highlighting an era where greater diversification rewarded also beginning.
For 2022, Hartnett sees consensus bullishly positioned for another year of "stocks go up, bonds go nowhere, and Fed does nothing." And indeed, BofA's Bull & Bear Indicator does not suggest an immediate "short" opportunity but as in 2018 that can change quickly. Here Hartnett is quick to note that asset price sensitivity to central bank liquidity has been extremely high in past decade, and a global tapering has begun (G5 liquidity add was $8.5tn in 2020, $2.1tn in 2021, will be just $0.1 in 2022); meanwhile BofA's global EPS growth model peaked at 40% in June, it is currently running around 30% and predicts further EPS deceleration to "We are therefore bearish and believe capital preservation will grow as a theme in the year ahead."
Bull case…
This one should be self-explanatory: Lowest rates in 5000 years, 1000 rate cuts since Lehman, $32 trillion policy stimulus since COVID ($840 million per hour central bank asset purchases), global stock market cap up $60 trillion in 18 months, GDP >10%, CPI>5%, house prices >20%, largest worker shortages in 50 years…this most unconventional of cycles highly unlikely to follow a conventional path…the-mother-of-all bubbles in crypto & tech remains a "fat tail".
More prosaically stock market upside could continue if it becomes clear in H1 that Fed determined to keep real rates deeply negative (expect a market narrative that the Fed can't "bankrupt" US Treasury), and US monetary policy dictated by a credo of Wall St "too big to fail" (this goes without saying but a "big fall in credit & stocks prices quickest route to recession, civil unrest, institutional crisis and so on").
Bear case…
By far the biggest downside risk is Fed stays hawkish even if Wall Street corrects because fears of wage-price spiral grow; in addition a return of bond vigilantes across developed world (they returned in EM in 2021) causes bond & currency volatility.
Even more extreme downside risks include a crypto-derivatives crash, geopolitical events related to China & Taiwan, and that a receding liquidity wave exposes credit-events to the detriment of private & public equity.
Not even the bearish Hartnett expects these to materialize (just yet).
Finally, this is how BofA will trade based on these views:
Macro trades: long US$, MOVE, VIX (tighter financial conditions); long quality, defensives e.g. staples, telco, big pharma (EPS deceleration); long oil, energy (inflation); long real asset (best inflation hedge), short copper/semis (IP lower); short PE/XBD (wider credit spreads).
Contrarian trades: long GT30 & gold (yield curve inversion/recession); long EM (spring peak in US dollar); long CRE/CMBS (global reopening); long China credit; long small cap value (hedge for US tech bubble); long income streams in commodity markets (dollar debasement); short Nasdaq (rates & regulation).
Tyler Durden
Mon, 11/22/2021 – 19:20
dollar
gold
inflation
stagflation
derivatives
commodities
commodity
monetary
markets
policy
interest rates
fed
central bank
bubble
us dollar
monetary policy
debasement
crash
Gold – Can it remain above $1,800?
Or is there too much momentum? It's been a wild ride for gold this past few weeks and the latest moves highlight just how much uncertainty there is in…
Or is there too much momentum?
It's been a wild ride for gold this past few weeks and the latest moves highlight just how much uncertainty there is in the markets right now.
The yellow metal saw incredible support earlier this month as inflation indicators flashed and central banks pushed back against accelerating their policy response.
The transitory claim was starting to fall on deaf ears and that worked out well for gold, a traditional inflation hedge. Low real yields continued to be supportive for gold prices as long as policymakers remained dovish and the data remained good but not great.
With the data improving, gold started to run out of steam and the retail sales data showed the consumer is thriving. Brainard missing out on being the next Chair today appears to have been the straw that broke the camels back and the dollar soared, dragging gold lower.
So what next? As I've mentioned, these markets are a bit crazy at the moment and I'm not expecting that to change. But as far as the near-term is concerned, the key test for gold now is $1,800.
Aside from being the next big round number – which often has a psychological impact – it's also the 61.8 retracement of the November lows to highs and falls around the 200/233-period SMA band on the 4-hour chart.
Needless to say, a break below here could be painful with $1,760 the big test below. A rotation higher could suggest there's more to come for the gold rally. The challenge is momentum which hasn't eased on approach to $1,800. Gold's resolve may soon be tested.