The Price of Bitcoin
Over seven and a half years ago, Jim remarked about Bitcoin: Hard to know where this is all going to lead. But one thing is clear– we have added a very…
Over seven and a half years ago, Jim remarked about Bitcoin:
Hard to know where this is all going to lead. But one thing is clear– we have added a very interesting new chapter in the history of money.
In my course on the financial system, I've had to update the material to include cryptocurrencies and central bank digital currencies (CBDC). Here's some pictures of cryptocurrencies.
Figure 1: Price of bitcoin (blue), ethereum (brown), litecoin (green), in USD, in logs, 2017M01=0. NBER defined recession dates shaded gray. Source: FRED, NBER.
These three particular cryptocurrencies have experienced proportionately enormous appreciations. Taking bitcoin as an example, it's clear cryptocurrency returns have been enormous compared to even the S&P 500.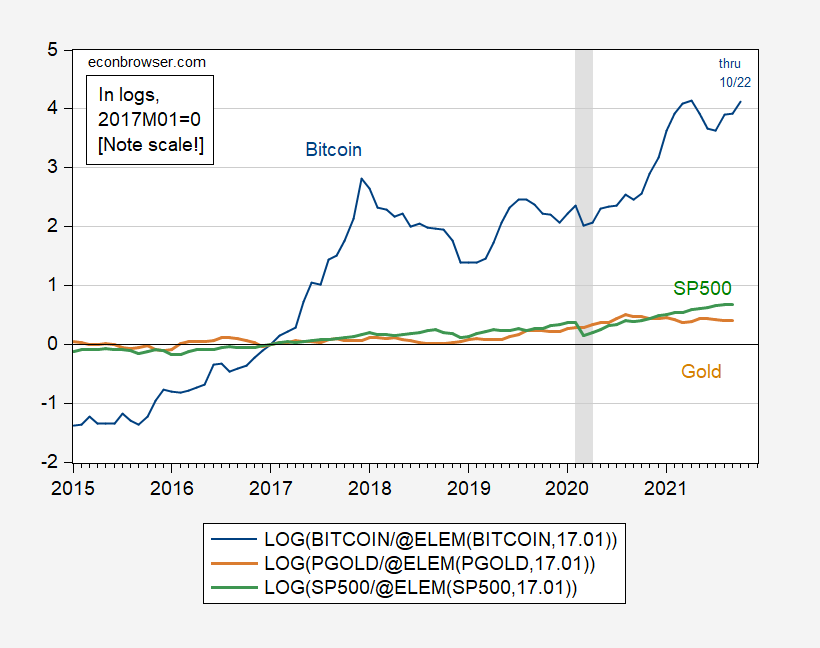 Figure 2: Price of bitcoin in USD (blue), London 3pm price of gold in USD/oz. (brown), S&P 500 index (green), in logs, 2017M01=0. NBER defined recession dates shaded gray. Source: FRED, NBER.
However, the month-on-month volatility of bitcoin is enormous, even dwarfing that of gold, as shown in Figure 3.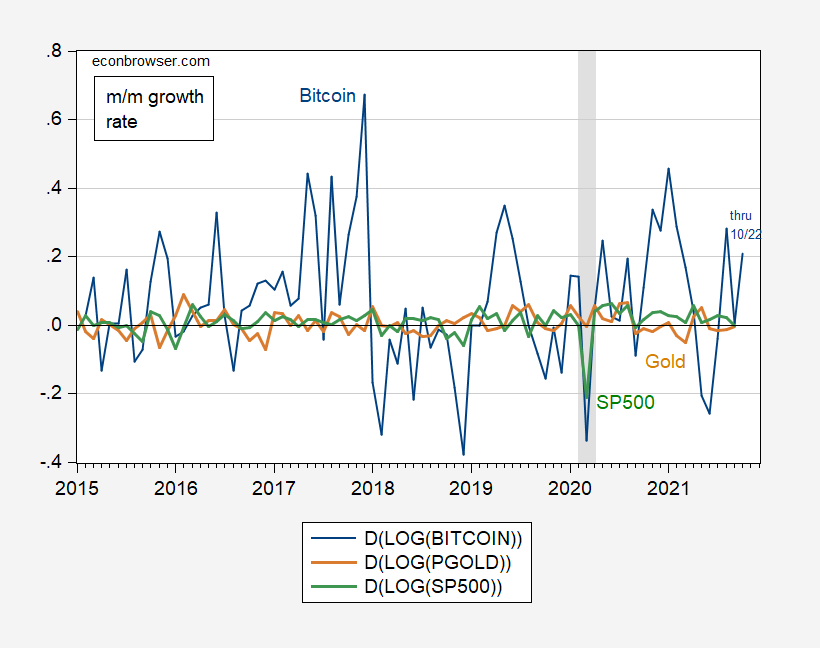 Figure 3: Month-on-month growth rate of the price of bitcoin in USD (blue), of London 3pm price of gold in USD/oz. (brown), of S&P 500 index (green), all calculated as log-differences. NBER defined recession dates shaded gray. Source: FRED, NBER.
The standard deviation of month-on-month (not annualized) changes was 2.8% and 3.9% for gold and S&P 500 respectively. For bitcoin, it's 21.6% monthly. That means that bitcoin does not fulfill the third function of money, namely a store of value, very well.
Given this volatility, one has to wonder why one would want to hold bitcoin. In his post, Jim asks:
Why does the stuff have value in the first place? The answer is that it would be very helpful to many buyers and sellers of real goods and services if they were able to pay for transactions in this way. We can think of any form of money as an asset that provides liquidity services, which refers to the tangible benefit to its holder coming from the ability of the asset to facilitate certain transactions. The value of money, that is, the value of real stuff you'd be willing to give up to hold money, can be thought of as the present value of the stream of these future liquidity services.

Bitcoin has two potential advantages over credit cards for providing such liquidity services. First, the supporting network only needs to verify that the private code is valid, which is less costly than verifying that you are indeed the rightful owner of a credit card and are ultimately going to deliver good funds. …

Second, Bitcoins are relatively more anonymous than credit cards. In this respect, they enjoy some of the same advantages as cash….
One can formalize this argument by referring to the equation for pricing assets:
D stands for dividends when P refers to a stock price. In our context, D is the liquidity services provided by bitcoin (which can be small for those who don't need to evade restrictions), P the price of bitcoin. If one can rule out bubbles, then a bitcoin price is equal to the present discounted value of liquidity services. However, there's no reason to impose this assumption.
Then the price of bitcoin is moved primarily by new information that changes the information set used for forecasting the future price — in other words, the speculative motive is central.
The expected future price is in this interpretation driven by new information about the liquidity services provided by bitcoin. New regulatory measures — either tightening or loosening — should be associated with bitcoin price movements. Figure 4 highlights the role of such regulatory events, as well as the discount rate.
Figure 4: Price of bitcoin in USD (blue, left log scale), TIPS 5 year yield, in % (brown, right scale). NBER defined recession dates shaded gray. Source: FRED, NBER.
Chinese measures to rein in the use of bitcoin negatively impacted prices. On the other hand increasing acceptance of the use of bitcoin — as in the establishment of a bitcoin futures ETF — enhanced the liquidity services provided by bitcoin.
What does the future herald for the price of bitcoin? It depends on the balance between increasing regulations that limit the desirability of bitcoin as a pseudonymous means of transactions and the increasing usefulness of bitcoin as an asset class. The establishment of central bank digital currencies (CBDCs) will also certainly alter the relative desirability of cryptocurrencies.
For more, see Charles Engel's paper on the subject. Eswar Prasad devotes considerable discussion of cryptocurrencies in his new, comprehensive assessment of the digital revolution in finance, The Future of Money.
Business As Usual Despite Omicron
Investors hoping that Friday's release of the November…
"Business As Usual" Despite Omicron?
By Jane Foley, head of FX strategy at Rabobank
Investors hoping that Friday's release of the November US labor market would be a simple tick-box exercise for the Fed's move towards policy normalisation were likely disappointed.  The headline non-farm payrolls report at 210K was only about half what the market had expected it to be, though the shock of this number was lessened by talk of a potentially unreliable seasonal adjustment in addition to a strong set of data from the household survey.  The latter showed a sharp drop in the unemployment rate to just 4.2% in November.  For many this will have been sufficient for the Fed to continue preparing to announce a hastening in the pace of tapering of its bond buying program at the December 14/15 FOMC meeting.  After a volatile fortnight on the back of fears of a more hawkish Fed, the Nasdaq closed down 1.92% on Friday.  While Asian stocks this morning mostly followed US stocks lower, futures are showing signs of resilience. 
Despite the confusion surrounding the economic implications from the Omicron variant, Fed Chair Powell and other FOMC members had suggested a 'business as usual' approach to policy last week by suggesting that a hastening in the pace of QE tapering very much remained on the cards.  The fact that the market consensus for this week's US November CPI inflation release stands at a eye-watering 6.7% y/y will be seen by some as an endorsement of the Fed's hawkish tone. 
That said, the IMF has warned of growth risks stemming from Omicron and other central banks seem prepared to take a more cautious approach.  The BoE's Chief hawk Saunders, who voted for a rate hike in November, suggested on Friday that he would like more information on Omicron before deciding how to vote on policy next week.  The UK money market has backed away from fully pricing in a BoE rate hike for December, though a February move is still on the cards.  Both the BoC and the RBA are due to meet this week and steady policy is expected from both.  Omicron is likely to provide the RBA with further reason to extend its already dovish position.  That said, the strong rise in Canadian employment in November is feeding speculation that the BoC could bring forward rate hikes, with April being touted by commentators as a possible start date for policy tightening. 
There have been various headlines in recent days in a slew of countries about additional restrictions being put in place in an effort to slow the transmission of Covid.  Over the weekend police in Belgian used water cannon and tear-gas to disperse violent protests against fresh restrictions.  Germany last week announced social curbs on the unvaccinated while Greece introduced fines on the over-60s who refuse to be jabbed.
As evidenced by the protests, none of this sits comfortably in liberal democracies with some premiers, such as UK PM Johnson, likely very nervous of a backlash from any further fresh restriction.  Omicron has now been detected in seventeen EU countries and US data suggest that Omicron has spread to around one–third of US states, though Delta remains the dominant variant.  Encouraging there have been several press reports indicating that while Omicron may increase the risk of transmission, the symptoms may be milder.  This view was endorsed by US infectious disease official Fauci over the weekend who commented that "thus far it does not look like there's a great degree of severity to it."  That said, S. Africa is preparing its hospitals for more admission, though its low vaccine rollout rate will be a factor.
Bitcoin took a tumble over the weekend as profit-taking picked up momentum.  Gold found support on the fall back in longer term bond yields and oil prices picked up some support after Saudi Arabia raised prices for crude sold to Asia and the US.  No real progress appears to have been made on reviving the nuclear deal between the US and Iran.
Week ahead
President's Biden and Putin will speak via video call on Tuesday amid mounting tensions over Ukraine.  This follows reports from US Secretary of State that there was evidence that Russia had made plans for a 'large scale' attack on Ukraine.  It is expected the Biden will reaffirm US support for the sovereignty and territorial integrity of Ukraine. Bloomberg news have reported that over the weekend there was a 'testy exchange' between US Secretary of State Blinken and Russian Foreign Minister Lavrov over Ukraine with the former recapping events in 2014 when more than 100 people participating in a peaceful protests were killed.
Evergrande is back in the headlines this morning following a statement from the Chinese property developers on Friday saying that creditors had demanded USD260 million and that it could not guarantee enough funds.  Chinese government officials summoned Evergrande's Chair and the PBoC has stepped up its criticism of the company accusing it of 'poor management' and pursing 'blind expansion'.  Reports in Chinese state media that Beijing will cut banks' reserve requirement ratio 'in a timely way' lent a little support to mainland Chinese blue chips overnight
A decidedly weak -6.9% m/m print for October Germany factory orders this morning is a sharp reminder of the headwinds facing the Eurozone's largest economy.  Tomorrow, German ZEW survey data is also expected to soften.  Key UK data this week includes monthly GDP data and production numbers for October.  In addition to the November CPI inflation data, the US calendar also includes the December Michigan confidence survey.  Ahead of next weeks Fed, ECB, BoE and BoJ policy meetings little additional direction can be expected from central bankers leaving more room for investors to seek clues from this week's BoC and RBA policy meetings. 
Tyler Durden Mon, 12/06/2021 – 09:30 gold inflation reserve policy fed
Karora Resources Strengthens Board with Appointment of New Australian-based Director Shirley In't Veld
TORONTO, Dec. 6, 2021 – Karora Resources Inc. (TSX: KRR) (OTCQX: KRRGF) ("Karora" or the "Corporation") is pleased to announce the appointment…
TORONTO, Dec. 6, 2021 – Karora Resources Inc. (TSX: KRR) (OTCQX: KRRGF) ("Karora" or the "Corporation") is pleased to announce the appointment of Shirley In't Veld to its Board of Directors effective immediately.
Paul Andre Huet, Chairman and CEO of Karora said, ""I am pleased to welcome Shirley In't Veld to Karora's Board of Directors. The addition of Shirley's extensive experience as a senior executive and director in the Australian mining, renewables and energy sectors to our team further strengthens our Board and is a strong endorsement of Karora's position as a premier gold producer. In particular, her experience as a former Director of Northern Star Resources (an Australian gold producer with World class projects located in Australia and North America), her in depth knowledge of Western Australia, and expertise in ESG matters will be a tremendous addition to our Board. We look forward to benefitting from Shirley's input as we continue to unlock the full potential of our Australian operations."
Shirley In't Veld has over 30 years of career experience in mining, renewables and energy sectors. She is currently a Director of Alumina Limited, NBN Co Limited (National Broadband Network Co.) and APA Group. She was formerly Deputy Chair of CSIRO (Commonwealth Science and Industrial Research Organisation), Director of Northern Star Resources Limited, Perth Airport, DUET Group, Asciano Limited and Alcoa of Australia Limited and a Council Member of the Chamber of Commerce and Industry of Western Australia. She was also the Managing Director of Verve Energy (2007 – 2012) and, previously, served 10 years in senior roles at Alcoa of Australia Limited, WMC Resources Ltd, Bond Corporation and BankWest Perth.
In 2014, Shirley was Chair of the Queensland Government Expert Electricity Panel and a member of the Renewable Energy Target Review Panel for the Australian Department of Prime Minister and Cabinet. She also served as a member of the COAG Energy Council Selection Panel, a Council member of the Australian Institute of Company Directors (Western Australia) and the SMART Infrastructure Facility (University of Wollongong).
About Karora Resources 
Karora is focused on doubling gold production to 200,000 ounces by 2024 compared to 2020 and reducing costs at its integrated Beta Hunt Gold Mine and Higginsville Gold Operations ("HGO") in Western Australia. The Higginsville treatment facility is a low-cost 1.6 Mtpa processing plant, expanding to a planned 2.5 Mtpa by 2024, which is fed at capacity from Karora's underground Beta Hunt mine and Higginsville mines. At Beta Hunt, a robust gold Mineral Resource and Reserve is hosted in multiple gold shears, with gold intersections along a 4 km strike length remaining open in multiple directions. HGO has a substantial Mineral gold Resource and Reserve and prospective land package totaling approximately 1,900 square kilometers. The Company also owns the high grade Spargos Reward project which is anticipated to begin mining in 2021. Karora has a strong Board and management team focused on delivering shareholder value and responsible mining, as demonstrated by Karora's commitment to reducing emissions across its operations. Karora's common shares trade on the TSX under the symbol KRR and also trade on the OTCQX market under the symbol KRRGF.
Cautionary Statement Concerning Forward-Looking Statements
This news release contains "forward-looking information" including without limitation statements relating to the growth potential of the Beta Hunt Mine, the results of exploration and development work, liquidity and capital resources of Karora, production guidance and the potential of the Beta Hunt Mine, Higginsville Gold Operation, the Aquarius Project and the Spargos Gold Project.
Forward-looking statements involve known and unknown risks, uncertainties and other factors which may cause the actual results, performance or achievements of Karora to be materially different from any future results, performance or achievements expressed or implied by the forward-looking statements. Factors that could affect the outcome include, among others: future prices and the supply of metals; the results of drilling; inability to raise the money necessary to incur the expenditures required to retain and advance the properties; environmental liabilities (known and unknown); general business, economic, competitive, political and social uncertainties; results of exploration programs; accidents, labour disputes and other risks of the mining industry; political instability, terrorism, insurrection or war; or delays in obtaining governmental approvals, projected cash operating costs, failure to obtain regulatory or shareholder approvals. For a more detailed discussion of such risks and other factors that could cause actual results to differ materially from those expressed or implied by such forward-looking statements, refer to Karora 's filings with Canadian securities regulators, including the most recent Annual Information Form, available on SEDAR at www.sedar.com.
Although Karora has attempted to identify important factors that could cause actual actions, events or results to differ materially from those described in forward-looking statements, there may be other factors that cause actions, events or results to differ from those anticipated, estimated or intended. Forward-looking statements contained herein are made as of the date of this news release and Karora disclaims any obligation to update any forward-looking statements, whether as a result of new information, future events or results or otherwise, except as required by applicable securities laws.
Cautionary Statement Regarding the Higginsville Mining Operations
A production decision at the Higginsville gold operations was made by previous operators of the mine, prior to the completion of the acquisition of the Higginsville gold operations by Karora and Karora made a decision to continue production subsequent to the acquisition. This decision by Karora to continue production and, to the knowledge of Karora, the prior production decision were not based on a feasibility study of mineral reserves, demonstrating economic and technical viability, and, as a result, there may be an increased uncertainty of achieving any particular level of recovery of minerals or the cost of such recovery, which include increased risks associated with developing a commercially mineable deposit. Historically, such projects have a much higher risk of economic and technical failure. There is no guarantee that anticipated production costs will be achieved. Failure to achieve the anticipated production costs would have a material adverse impact on the Corporation's cash flow and future profitability. Readers are cautioned that there is increased uncertainty and higher risk of economic and technical failure associated with such production decisions.
SOURCE Karora Resources Inc.
Changes to Price Discovery If the Futures Market Fails
The U.S. dollar and precious metals futures have one thing in common. The value of the greenback and a contract for future delivery of metal are completely…
The U.S. dollar and precious metals futures have one thing in common. The value of the greenback and a contract for future delivery of metal are completely dependent on confidence. When, or if, that disappears, neither will be worth the paper they aren't printed on.
The futures market is where gold and silver prices are set. "Managed" might be a better word. People who recognize price discovery is broken and corrupted often wonder what it will look like should the current system fail.
It is important to acknowledge upfront there is no telling if the futures markets will end in shambles, or end at all. It is possible for regulators and bankers to find religion and implement reforms.
And it is possible for these markets to persist without reforms. There is, after all, ample evidence of price rigging and other crooked behavior in the public record. Yet plenty of participants remain willing to trade there.
Bullish speculators are still buying contracts based on two key assumptions. They believe they have a fair chance at success versus those who are short the market, and they trust there is metal available if they should stand for delivery.
If buyers lose trust and start leaving in droves, the paper derivative price-setting mechanism will lose its relevance.
What happens to the prices of physical precious metals may be altogether different. If a collapse in futures (paper metal) is accompanied by a surge in demand for actual coins, rounds, and bars, bullion prices could skyrocket.
The premium investors pay to buy a 1,000-oz bar of silver, for example, may determine the spot price of silver. In other words, if the futures market price used as the basis for valuing bullion products becomes irrelevant, the remaining component – the premium – could become 100% of an item's price.
Perhaps the price of actual exchange-sized bars will replace the futures price as the new basis.
The main lesson for bullion investors today is to remember that electronic futures prices are not a reliable signal for what is happening in the physical markets. A decline in gold or silver prices, as reported by CNBC, might just be very good news for your investment in physical bullion.