Wall Street Reaches Record Highs As Main Street Sentiment Hits 11-Year-Lows
Wall Street Reaches Record Highs As Main Street Sentiment Hits 11-Year-Lows
Since around the year 2000, Wall Street and Main Street have been…
Wall Street Reaches Record Highs As Main Street Sentiment Hits 11-Year-Lows
Since around the year 2000, Wall Street and Main Street have been decoupling. The Lehman crisis events and government response accelerated that divergence, and, most recently, policymakers' response to the COVID crisis has driven the divided between Wall Street's success and Main Street's distress has never been wider…
Source: Bloomberg
Does make one wonder what exactly the world's central bank liquidity-suppliers are really doing, because it's not helping 'employment' or 'inflation'.
This divergence was highlighted even more so today, when Americans' sentiment crashed to its lowest in 11 years (UMich) as stocks rebounded back towards record highs. Perhaps most notably is President Biden's approval rating is tracking Main Street sentiment and not Wall Street euphoria…
Source: Bloomberg
But once again 'soft' survey data is leading overall economic surprise data higher and giving asset-gatherers and commission-rakers just enough ammo to urge clients to BTFD…
Source: Bloomberg
Thanks to the now ubiquitous buying-panic today, stocks almost made it back to green on the week. The S&P was the least worst horse in this week's glue factory while Small Caps and Nasdaq were the laggards (but thanks to the late-day mania, markets ended barely lower)…
After four straight weeks of short-squeezing, "Most Shorted" stocks ended the week lower…
Source: Bloomberg
As it appears the squeezers have run out of short-ammo faces to rip-off…
Source: Bloomberg
TSLA had its worst week since March 2020 (-16%) as Musk dumped billions of dollars of stock…
Before we leave equity-land, there's this. Since Mark Zuckerberg renamed Facebook to Meta, FB shares have made very modest gains as the market took off, but META (a metaverse ETF) has exploded higher as perhaps once again, those ever-so-smart algos just bid without thinking…
Source: Bloomberg
Though some of the fund's initial gains may have come from ticker confusion, the switch triggered a "catalyst moment" for the metaverse market with the attention that Mark Zuckerberg brought to the theme, according to Bloomberg Intelligence senior ETF analyst Eric Balchunas.
STIRs shifted notably more hawkish this week with the market now pricing in a full rate-hike by July and over 2.5 hikes by Dec 2022…
Source: Bloomberg
Treasury yields were higher on the week, but the short-end significantly underperformed amid all the inflation chatter (5Y +18bps, 30Y +6bps). This was the biggest spike in 5Y yields since Nov 2019…
Source: Bloomberg
That flattened the yield curve dramatically, prompting many to discuss the rising potential for a Fed policy error. This is the 4th weekly flattening in the last 5 weeks, and the flattest curve (5s30s) since March 2020…
Source: Bloomberg
US inflation Breakevens soared to record highs (jumping notably more this week than the rest of the world's breakevens) …
Source: Bloomberg
And as breakevens surge, real yields crash to new record (negative) lows, providing support for gold…
Source: Bloomberg
The Turkish Lira crashed above 10/USD, a record low…
Source: Bloomberg
Cryptos ended the week higher, but off their record highs reached mid-week…
Source: Bloomberg
Bitcoin topped $68,000 (a new record high) this week, and Ethereum topped $4850 (a new record high) before both fell back. ETH then rebounded more aggressively but fell back ended the week back where they started relative to each other…
Source: Bloomberg
Gold surged to its best week since May but silver had an even bigger gain on the week, while oil ended lower again…
Gold topped $1870 this week, its highest level since mid-June…
"We see risks of further strength in CPI in early 2022, which could stoke even stronger demand for gold," analysts at UBS Group AG including Wayne Gordon wrote in a note.

"A moderation in inflation expectations alongside higher nominal rates should see U.S. real rates push higher eventually (and weigh on gold), but this likely takes longer."
Silver 5% gain this week (also best week since May) lifted it above $25 for the first time since August to test its 200DMA
Source: Bloomberg
Oil posted its longest stretch of weekly losses since March with U.S. President Joe Biden keeping investors guessing about whether he'll act to tame higher energy prices that are driving a surge in inflation.
"Oil is in correction mode and the first key support is the psychologically important $80 per barrel area," said Phil Flynn, senior market analyst at Price Futures Group Inc.

"The fear is greater than the reality of what the Biden administration can do to bring down oil and gas prices."
We do note that someone was buying $250/$300 Brent call spreads (in modest size) this week…
Source: Bloomberg
It seems 3.5 ounces of silver is just too much to pay for a barrel of oil…
Source: Bloomberg
Finally, Gas prices – at the pump – are at their highest since 2012 for this time of year…
Source: Bloomberg
But don't worry because Jen Psaki said The White House has "engaged OPEC on increasing oil supply" and they are "looking at options on gasoline prices." Because price-controls have always worked so well…
Tyler Durden
Fri, 11/12/2021 – 16:00
gold
silver
inflation
markets
policy
fed
central bank
crash
nasdaq
The status of gold's "true fundamentals"
According to my Gold True Fundamentals Model (GTFM), the gold market's fundamentals were bullish or trending positively from early-November of 2019 through…
According to my Gold True Fundamentals Model (GTFM), the gold market's fundamentals were bullish or trending positively from early-November of 2019 through to late-September of 2020 and were bearish or trending negatively from early-October of 2020 through to late-October of this year. As illustrated by the blue line on the following weekly chart, they turned upward in early-November and are now in bullish territory, albeit only slightly. Does the recent upturn constitute a major shift or a countertrend move within an overall environment that remains bearish for gold?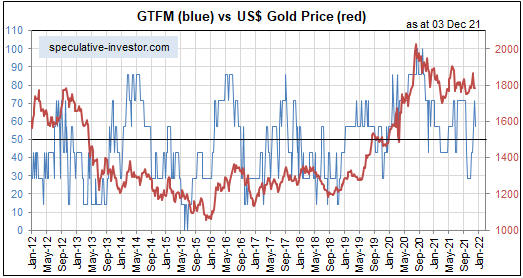 Before attempting to answer the above question, it is worth reiterating that I use the term "true fundamentals" to distinguish the fundamentals that actually matter from the largely irrelevant issues that many gold-market analysts and commentators focus on.
According to many pontificators on the gold market, gold's fundamentals include the volume of metal flowing into the inventories of gold ETFs, China's gold imports, the amount of "registered" gold at the Comex, India's monsoon and wedding seasons, jewellery demand, the amount of gold being bought/sold by various central banks, changes in mine production and scrap supply, changes in the money supply and the CPI, and wild guesses regarding the activities of bullion banks. These things are distractions at best. For example, a gold investor/trader could have ignored everything that has been written over the past 20 years about the amount of gold in Comex warehouses and been none the worse for it.
On an intermediate-term (3-18 month) basis, there is a strong tendency for the US$ gold price to trend in the opposite direction to confidence in the US financial system and economy. That's why most of the seven inputs to my GTFM are measures of confidence. Two examples are credit spreads and the relative strength of the banking sector. The model is useful, in that over the past two decades all intermediate-term upward trends in the gold price occurred while the GTFM was bullish most of the time and all intermediate-term downward trends in the gold price occurred while the GTFM was bearish most of the time.
However, upward corrections can occur in the face of bearish fundamentals and downward corrections can occur in the face of bullish fundamentals. For example, there was a substantial downward correction in the gold market in March of 2020 in the face of bullish fundamentals. Such corrections often are signalled by sentiment indicators.
Getting back to the question posed in this post's opening paragraph, I suspect that we are dealing with a countertrend bullish move within an overall environment that remains bearish for gold. The reason is that although a couple of small cracks have appeared in the superficially-positive economic picture over the past few weeks, the preponderance of evidence still indicates that the US economic boom (monetary-inflation-fuelled increase in economic activity) is intact.
Major gold rallies occur during the economic bust and boom-to-bust transition phases of the long-term cycle. By the same token, gold tends to fare poorly, especially relative to the broad stock market and industrial commodities, during the boom phases of the long-term cycle. While the boom remains intact, the best that can be reasonably expected from gold is a multi-month rebound within a trading range or a long-term downward trend.
Mamba Exploration straps in for RC drilling at Black Hills and Calerup Creek Projects in WA
Special report: The Black Hills Project is 30km northeast of the Julimar PGE-nickel-copper-cobalt-gold deposit discovered by Chalice Mining (ASX:CHN)….
The Black Hills Project is 30km northeast of the Julimar PGE-nickel-copper-cobalt-gold deposit discovered by Chalice Mining (ASX:CHN).
Mamba Exploration is ready to move into reverse circulation (RC) drilling at the Black Hills and Calyerup Creek Projects in Western Australia after receiving final approval from the Department of Mines, Industry Regulation and Safety (DMIRS).
Two RC drill rigs have already been mobilised with drilling set to begin tomorrow, the company said.
Three deep RC holes are planned to provide the initial test of the high priority EM and magnetic anomaly, interpreted to extend for around 750m northeast to southwest and extend to a depth of around 400m.
Mamba (ASX:M24) says this anomaly is associated with a mapped mafic / ultramafic intrusive feature at the northern end of a +6km long PGE trend.
At the same time, approvals are in for the drilling of 50 holes on the Calyerup Creek Gold Project, located in the Great Southern of Western Australia.
These approvals have taken almost 10 weeks for DMIRS to process, which has slightly delayed the commencement of the drilling.
However, onsite preparations are well advanced and drilling is scheduled to begin on Friday, December 10th testing two 1,400m long soil anomalies which have not undergone any previous work since 1989.
M24 managing director Mike Dunbar said the initial drilling at both the Black Hills and the southern prospect within the Calyerup Creek Gold Project will be completed before the end of the year.

This article was developed in collaboration with Mamba Exploration, a Stockhead advertiser at the time of publishing.
This article does not constitute financial product advice. You should consider obtaining independent advice before making any financial decisions.
The post Mamba Exploration straps in for RC drilling at Black Hills and Calerup Creek Projects in WA appeared first on Stockhead.
Trending Penny Stocks to Watch As the Market Regains Confidence
Check these three penny stocks out for your watchlist
The post Trending Penny Stocks to Watch As the Market Regains Confidence appeared first on Penny…
Are These Penny Stocks on Your Watchlist Right Now?
After a bullish and relatively stable day of trading penny stocks and blue chips, investors are eager about what the future could hold. Now, in the past few months, penny stocks and the entirety of the stock market have been highly volatile. While this is traditionally characteristic of penny stocks, it is not usually the extreme that we've witnessed recently. With the Omicron variant and high inflation rates, investors are showing high levels of uncertainty about the short-term future. 
[Read More] Hot Metaverse Penny Stocks To Add To Your List In December 2021
And while this may seem scary to some, to others, it presents a way to make money with penny stocks. Because most traders tend to swing trade small caps, large price movements present a way to benefit in small increments of time. If a stock shoots up or down a few hours or a few days, investors can take advantage. But, this involves having a well-thought-out and consistent trading strategy. 
When it comes to trading any type of stocks, knowing your tolerance for risk and threshold for volatility, will go on a long way. And this is especially true when it comes to small caps. Lastly, understanding what the market is doing and what events are on the horizon, will benefit you greatly. Considering all of this, let's take a look at three penny stocks to watch as the market regains confidence. 
3 Top Penny Stocks to Watch in December 2021
DatChat Inc. (NASDAQ: DATS) 
Ideanomics Inc. (NASDAQ: IDEX) 
DatChat Inc. (NASDAQ: DATS) 
One of the bigger gainers of the day is DATS stock, pushing up by almost 5% at EOD. While no news came out on December 6th showing why DATS stock would push up, we can look at some older announcements to try and deduce a reason. At the end of November, the company announced the launch of a new rewards program known as Nirad Points Rewards Program or NRD. This will offer the first 1 million users 10,000 NRD. 
"We see this as a unique opportunity to vastly accelerate the growth of the DatChat platform by attracting new users that understand and appreciate the importance of blockchain and privacy technology. The Nirad will underpin our blockchain network and power our platform through the engagement of our community." 

Darin Myman, the CEO of DatChat
If you're not familiar with DatChat, it is a tech company working in the fields of blockchain, cybersecurity, and social media. It offers tech that enables its users to message privately, send encrypted photos, and so on. Right now, there is a large amount of bullishness surrounding the tech industry. And because of this, DATS is seeing heightened attention. Whether this makes DATS stock worth adding to your list of penny stocks to watch or not is up to you. 
New Gold Inc. is a mining penny stock that climbed by a solid 8%, which is quite substantial for a mining stock. While NGD's main focus is on mining gold, it also searches for silver and gold at its deposits. Its primary properties are the New Afton and Rainy River Mines in Canada. In addition, the corporation owns and runs the Cerro San Pedro mine in Mexico. This penny stock frequently fluctuates in response to current gold prices. However, because New Gold also mines for silver and copper, the prices of those metals have an impact on the company as well.
[Read More] 5 Penny Stocks To Buy In December According To Insiders
On November 19th, the company provided an update on the impact of heavy rains in British Columbia at the New Afton Mine. These heavy rains have created flooding and mudslides in the region. As a result, transportation routes to the New Afton mine have been disrupted. This flooding has had no impact on the infrastructure or operations of the New Afton mine.
The company stated that the negative impact on the mine will depend on the duration of the transportation disruption. Despite this small upset, New Gold is performing well at the moment. On December 6th, New Gold Inc. is up over 8% in total. It's hard to deduce exactly why this occurred, however, it could be the result of the bullishness on gold right now. Considering this, will you add NGD stock to your penny stocks watchlist in December?
Ideanomics Inc. (NASDAQ: IDEX)
Ideanomics Inc. is another decent gaining penny stock that increased by 3.68% on December 6th. If you're not familiar, Ideanomics operates in two sectors: mobility and fintech. On one hand, the company promotes fleet operators to replace their current vehicles with electric vehicles. Ideanomics aids these firms at every stage of the process, including procurement, financing, charging, and energy management requirements for the adoption of these commercial electric vehicles. On the other hand, Ideanomics invests in budding fintech solutions, which has become a major focus in the past few months.
On November 23rd, the company released its third-quarter financial results for 2021. Ideanomics' total revenue was $27 million during the quarter. Its revenue from its Mobility Unit was $11.5 million, up from $8.7 million the previous quarter. This is the third quarter in a row that the Mobility Unit has received growth. The company's gross profit was $4.5 million compared to $0.7 million year over year.
"This quarter was highlighted by two very important strategic planned acquisitions of VIA Motors and Energica both scheduled to close in the first quarter. The integration of these two companies provides Ideanomics with full OEM capabilities across vehicle types, and positions Ideanomics as one of the only full-service, turnkey, offerings in the market today."

Alf Poor, the CEO of Ideanomics
Noting this recent stock price increase and its financial results, will IDEX make your penny stock watchlist?
Which Penny Stocks Are on Your Buy List?
If you're looking for the best penny stocks to buy, there are hundreds to choose from. But, because there is so much price movement in the stock market right now, knowing exactly where to look and which ones fit your investing style, will be a large asset to your trading.
[Read More]  3 Penny Stocks to Watch As Omicron Variant Fears Wane
Right now, investors need to consider factors such as the Omicron variant and inflation as a part of their trading strategies. With all of that understood, which penny stocks are on your buy list right now?
The post Trending Penny Stocks to Watch As the Market Regains Confidence appeared first on Penny Stocks to Buy, Picks, News and Information | PennyStocks.com.