Advance Gold Corp Announces a Patent Application Has Been Filed for a Unique Environmentally Friendly Method to Extract Lithium and Potassium from Its Salars in Mexico
Kamloops, British Columbia–(Newsfile Corp. – October 25, 2021) – Advance Gold Corp. (TSXV: AAX) ("Advance Gold" or "the Company") is pleased to announce…
Kamloops, British Columbia–(Newsfile Corp. – October 25, 2021) – Advance Gold Corp. (TSXV: AAX) ("Advance Gold" or "the Company") is pleased to announce that a patent application has been filed for a unique environmentally friendly method to extract lithium and potassium from its clay and fine sand salars in central Mexico. To date, the existing methods of extraction of lithium from clay deposits require the use of significant amounts of water and toxic chemicals. This new method is able to use recycled water and electricity from solar power to extract lithium with an electrical process.
This new method uses water and an electrical process to obtain a solution of lithium and potassium. This process can be repeated several times to produce a high-grade concentrate. Finally, the lithium and potassium are extracted using organic compounds. According to our new studies, this process might also be useful to extract boron.
Allan Barry Laboucan, President and CEO of Advance Gold Corp. commented:
"On behalf of the board of directors and our shareholders I would like to thank a number of people and especially, Dr. Roberto Pérez Garibay and his team for their outstanding work to invent a unique method to recover lithium from clay deposits. Our key geological advisor Jose de Jesus Parga who ran the Geological Survey of Mexico for over 30 years and recognized the lithium mining potential of the salt lakes/salars in central Mexico also deserves our thanks. Our partner Hot Spring Mining, led by Gilberto Zapata Castañeda who has a PhD in Law, has been instrumental in acquiring the salars, working with local communities, and through this patent we have been able to get an opportunity to move into the lithium mining space, his advice is greatly appreciated.
"I first met Dr. Roberto Pérez Garibay several years ago when he described to me the work he had been doing on a low cost method to extract lithium from the clay and fine sand deposits in central Mexico. He currently runs a state-of-the-art laboratory close to our salars, he has worked with many of the Mexican major mining companies and is a key advisor to one of them. Dr. Roberto Pérez Garibay is a professor-researcher at the prestigious Center of Research and Advanced Studies of the National Polytechnic Institute (Cinvestav-IPN). It is very exciting to have a method to extract lithium from clay deposits that was developed in Mexico.
"Until now, methods to extract lithium from clay deposits required the use of large amounts of water and toxic chemicals. This new method developed by Dr. Pérez Garibay for lithium and potassium extraction, that has now been filed as a new patent application, uses recyclable water, electrical separation of lithium and potassium using solar power, and finally uses organic compounds to extract the lithium and potassium from the water.
"Central Mexico is a key mining jurisdiction and is also the breadbasket of Mexico. Currently, there are no Mexican sources of potassium, it is all imported, and this method now gives Advance Gold the potential to become a major producer of potassium in close proximity to the farming centre of Mexico. In addition, we also have promising grades of boron which is crucial to plant health and enhances the strength of plants and increases the nutritional value of agriculture and increases the shelf life of fruits and vegetables. We are excited to have an environmentally conscious method to extract agricultural minerals and be a first mover in having Mexican sourced minerals to provide farmers with a domestic source.
"We are now well positioned to become a producer of lithium, crucial in battery technology and key agricultural commodities. Dr. Pérez Garibay is based in Saltillo, Mexico, which is near our salars. He is designing a test plant and will start construction shortly, to prepare for the bulk sampling of our salars to show the benefits and low costs of extracting lithium and potassium from these salars.
"The world is in the midst of a revolution to electrify everything, to move away from fossil fuels. Battery metals are crucial to electrical vehicles and other green solutions for alternative energy sources. Lithium will help power the future, we are gratified to have the potential to move into the forefront with this new extraction process.
"Being based in Mexico gives us tremendous advantages, logistically, geo-politically and economically. It has the raw materials needed for electrical vehicles and a long history of mining. Additionally, it has the labour force needed to build electrical vehicles and batteries. We look forward to the opportunity to provide a green solution to mine lithium for green energy."
Additional News
Advance Gold has filed the final agreement, previously discussed in the news release dated March 2, 2021, for regulatory approval. In addition to the purchase agreement, Advance has also secured the rights to use this new extraction method on its 13 salars in central Mexico on the terms outlined in the March 2, 2021 news release.
Dr. Julio Pinto Linares is a qualified person, doctor in geological sciences with an academic specialty in economic geology and a qualified professional, No. 01365 by MMSA. He is the qualified person as defined by National Instrument 43-101 for Advance Gold and is responsible for the accuracy of technical information contained in this news release.
About Advance Gold Corp.
Advance Gold is a junior exploration company focused on acquiring and exploring mineral properties containing precious metals, agricultural minerals and battery metals. The company acquired a 100-per-cent interest in the Tabasquena silver mine in Zacatecas, Mexico, in 2017, and the Venaditas project, also in Zacatecas state, in April, 2018. In addition, Advance Gold holds an 10.85% interest in strategic claims in the Liranda Corridor in Kenya, East Africa. The remaining 89.15% of the Kakamega project is held by Shanta Gold Limited (project previously owned by Barrick Gold Corporation, for details see Advance Gold News Release dated 08, 26, 2020). In March, 2021 Advance Gold acquired 13 salars in central Mexico containing potassium, boron and lithium, enabling it to move into agricultural minerals and the exciting lithium space.
For further information, please contact:
Allan Barry Laboucan
President and CEO
Phone 492-238-5282 (Direct-Mexico Cell)
Email: [email protected]
This news release contains certain statements that may be deemed "forward-looking statements. Forward-looking statements are statements that are not historical facts and are generally, but not always, identified by the words "expects", "plans", "anticipates", "believes", "intends", "estimates", "projects", "potential" and similar expressions, or that events or conditions "will", "would", "may", "could" or "should" occur. Although the Company believes the expectations expressed in such forward-looking statements are based on reasonable assumptions, such statements are not guarantees of future performance and actual results may differ materially from those in forward based on the beliefs, estimates and opinions of the Company's management on the date the statements are made. The Company undertakes no obligation to update these forward-looking statements in the event that management's beliefs, estimates or opinions, or other factors should change, except as required by law.
Neither TSX Venture Exchange nor its Regulation Services Provider (as that term is defined in policies of the TSX Venture Exchange) accepts responsibility for the adequacy or accuracy of this news release.
To view the source version of this press release, please visit https://www.newsfilecorp.com/release/100756
tsx-abx
barrick-gold-corporation
barrick gold corporation
press-release
Hemlo Identifies Targets Within 3 km of the Proposed Open Pit Pd-Cu Operation of Generation Mining
TORONTO, Dec. 09, 2021 (GLOBE NEWSWIRE) — Hemlo Explorers Inc. (the "Company") (TSXV: HMLO) is pleased to announce that it has identified sulphide…
TORONTO, Dec. 09, 2021 (GLOBE NEWSWIRE) — Hemlo Explorers Inc. (the "Company") (TSXV: HMLO) is pleased to announce that it has identified sulphide targets on the Company's Pic Project approximately 3 kms east of Generation Mining's Marathon Palladium-Copper ("Pd-Cu") proposed open pit operation ("Marathon Deposit") near Marathon, Ontario (Figure 1).
"We are very excited to have begun work on this prospective area near Generation's project. The sulphide mineralization identified in a previous drill hole is encouraging as we move this project forward", said Brian Howlett, President and CEO of the Company.
The Marathon Deposit is hosted in a late intrusive phase gabbro along the northern and eastern margin of the Coldwell Complex which intrudes the older Archean Schreiber-Hemlo greenstone belt. The Company's recent prospecting and property evaluation at Pic has identified surface gabbro intrusions that are similar to the intrusions on Generation Mining's property and that are enriched with Pd-Cu at the Marathon Deposit. The Company's target development is guided by the magma conduit deposit model which is favoured to explain sulphide mineralization and other economic mineral enrichment at Marathon. Some of the key highlights for target development are as follows:
Highlights:
Radial, concentric and intersecting fault development, as a consequence of Coldwell Complex magma uplift and caldera collapse, served as conduits for the Pd-Cu bearing gabbroic magmas at the Marathon Deposit (Figure 2). These structures extend into the Archean country rocks on Hemlo Explorer's claims, where north-south trending gabbro dykes have been observed from historic mapping.
1983 ground magnetic and IP surveys show a linear north-south trend extending due south of a 2008 VTEM survey chargeability anomaly (Figure 3). The VTEM anomaly sits on an interpreted radial fault and is possibly an indication of sulphide mineralization.
Field mapping in 1983 and 1984 identify silicified and sericitized rhyolite breccia zones with a corresponding 1983 IP anomaly.
Sulphide mineralization returned from a 1985 historic drillhole BMN-03 approximately one kilometre east of the same 2008 VTEM anomaly as above and could be indicative of magma-country rock mixing and sulphide stripping with 10 intervals of variable pyrite, minor pyrrhotite and sphalerite mineralization in silica-sericite altered felspar porphyry breccia, plus multiple biotite lamprophyre dykes. Significant sulphide mineralization ranged from 15-100% and up to core interval lengths of 24 metres.
As noted on vertical section 5404700 N of the Generation Mining press release dated August 17, 2021 (www.sedar.com), sulphide stripping and deposition of the Coldwell Complex Eastern gabbro at the Marathon project occurred with mixing of the Archean basement rock with mineralization extending well into the footwall Archean basement rocks.
The target area's structural, geophysical and aspects of the geological setting resembles that of the Generation Mining's Marathon deposit located W-NW of Hemlo Explorer's claims. Brian Howlett, CEO of Hemlo Explorers, commented "We are pleased to have identified some significant targets for active exploration. We are currently considering airborne VTEM and high-resolution magnetic surveys, the acquisition of high-definition LIDAR, drilling of the VTEM and magnetic high anomalies and trends. The compilation of historical data is well advanced and integral to the evolving geological interpretation."
Figure #1 – Project Location Map
https://www.globenewswire.com/NewsRoom/AttachmentNg/7bf0c6cf-2e86-4598-9175-f955f49bc492
Figure #2: Regional Geology with Interpreted Concentric and Radial Faulting
https://www.globenewswire.com/NewsRoom/AttachmentNg/b21ff814-b005-4529-93a2-7d77cf676e49
Figure #3: Regional Magnetics and Historic Exploration
https://www.globenewswire.com/NewsRoom/AttachmentNg/6d1ea900-fef3-47b4-a5a8-9c22b46490fa
Technical Information
Mr. Adrian Bray, P.Geo., Exploration Manager for the Company, is the "Qualified Person" as defined by National Instrument 43-101 Standards of Disclosure for Mineral Projects, responsible for the accuracy of technical information contained in this news release.
About Hemlo Explorers Inc.
Hemlo Explorers is a Canadian-based mineral exploration company with a portfolio of properties in Ontario and Nunavut. We are focused on generating shareholder value through the advancement of our main Hemlo area projects, including the Pic Project, North Limb, and Hemlo West.
For more information please contact:
Brian Howlett, President & CEO
Hemlo Explorers Inc.
[email protected]
(647) 227-3035
Forward-Looking Statements
Certain information set forth in this news release may contain forward-looking statements that involve substantial known and unknown risks and uncertainties, including, but not limited to, exploration results, potential mineralization, statements relating to mineral resources, and the Company's plans with respect to the exploration and development of its properties. These forward-looking statements are subject to numerous risks and uncertainties, certain of which are beyond the control of Hemlo Explorers Inc., including, but not limited to, the impact of general economic conditions, industry conditions, volatility of commodity prices, risks associated with the uncertainty of exploration results and estimates, currency fluctuations, dependency upon regulatory approvals, the uncertainty of obtaining additional financing, exploration risk and Covid-19 pandemic related orders. Readers are cautioned that the assumptions used in the preparation of such information, although considered reasonable at the time of preparation, may prove to be imprecise and, as such, undue reliance should not be placed on forward-looking statements.


drilling
drill hole
tsxv-hmlo
hemlo-explorers-inc
hemlo explorers inc
financing
acquisition
press-release
UEX Announces Fall Drill Program Results from Christie Lake
Saskatoon, Saskatchewan – TheNewswire – December 9, 2021 – UEX Corporation (TSX:UEX) ("UEX" or the "Company") is pleased to announce the…

Saskatoon, Saskatchewan – TheNewswire – December 9, 2021 – UEX Corporation (TSX:UEX) ("UEX" or the "Company") is pleased to announce the results of its fall 2021 exploration drilling program at the Christie Lake Project, located in the Athabasca Basin of northern Saskatchewan (see Figure 1).
The fall program totaled 1,573 m of drilling in three completed holes, including two new drill holes and an off-cut from an existing drill hole (Figure 1).  Less drilling was completed than originally anticipated due to a later than expected program start due to contractor availability.  Poor ground conditions resulted in two holes being abandoned.
The drilling program tested targets in two areas, both located north-east of the Ōrora Deposit along the main Yalowega Trend.  The first target area evaluated the unconformity near drill hole CB-124 for a possible northeast extension of the Ōrora Deposit.  The second target area tested the unconformity adjacent to encouraging anomalous geochemistry and strong hydrothermal clay alteration encountered during the 2020 drill program, approximately 1,000 m along strike of the Ōrora Deposit.
Drill hole CB-124-1 was an off-cut drill hole from pilot hole CB-124 and tested the unconformity approximately 20 m southeast of CB-124 for a possible extension of the Ōrora Deposit. The pilot hole showed substantial geochemical enrichment of uranium, averaging more than 10 ppm U in the lower 132.5 m of the sandstone column.  Intense hydrothermal alteration of the basement rocks was observed just below the unconformity in the pilot hole.
The off-cut drill hole CB-124-1 intersected the Yalowega Trend Fault in the basement rocks below the unconformity.  Uranium geochemical enrichment of the basement was encountered that included 181 ppm U from 496.6 to 497.0 m and 172 ppm U from 508.2 to 508.4 metres.  The uranium enrichment was hosted within a much wider interval of visible hydrothermal alteration that penetrated more than 60 m into the basement below the unconformity. The UEX team believes that the combination of enhanced uranium geochemical enrichment, permissive fault structures and widespread basement hydrothermal alteration suggest that there is good potential for uranium mineralization to occur in the basement rocks below and extending from the north end of the Ōrora Deposit.  Widely spaced holes in the vicinity of the north end of the Ōrora Deposit drilled by the previous operator contain basement-hosted uranium mineralization that has yet to be followed up, that will be tested in future exploration programs.
Drill hole CB-153A tested the potential for unconformity-hosted uranium mineralization on L79N, in the Ōrora North Resistivity anomaly area, approximately 40 m southwest of 2020 drill hole CB-151.  Hole CB-153A tested the unconformity expression of the extensive faulting, alteration, and geochemical anomalism encountered in the basal sandstone of CB-151 (see UEX news release October 1, 2020). Hole CB-153A intersected anomalous uranium geochemistry averaging 1.9 ppm U within in the basal 29.4 m of the sandstone.
Hole CB-154A was drilled 110 m southwest along strike of the Yalowega Trend from CB-153A.  CB-154A tested the unconformity for the intersection of the Yalowega Trend Fault with the east-west striking fault encountered within the sandstone columns of both CB-151 and CB-150.  CB-154A returned two unusual and highly anomalous boron geochemical anomalies within the sandstone column, one that averaged 620 ppm boron over 70 m between 100 m and 170m above the unconformity and the second that exceeded 645 ppm boron over the basal 45.8 m of sandstone.  The presence of such strong sandstone-hosted boron anomalies and the intersection of fault structures indicate that there is good potential for uranium mineralization to occur in the basement rocks within the Yalowega Trend north-east and along strike from the Ōrora Deposit, that will be tested in future exploration programs.
The anomalous uranium geochemistry in the basement of CB124-1 shows a strong indication of the uranium potential in the immediate vicinity of the Ōrora Deposit. The technical team continues to evaluate the structural controls for the mineralization along the Yalowega Trend and this degree of anomalism is tremendously exciting for future work UEX is planning. The addition of two solid vectors that support further exploration work in this area shows the increasing potential of the Yalowega Trend.
Chris Hamel Vice President, Exploration 
UEX is currently in the process of planning and preparing for the 2022 exploration program at Christie Lake that will commence in the new year.  The Christie Lake JV partners are proposing work along the Yalowega Trend at depth in the Paul Bay through Ōrora Deposits area to test for basement-hosted uranium deposits based upon the UEX team's new structural interpretation of the area, as well as new drilling along the A and B Trends of the P2 Corridor extending onto the project from the adjacent McArthur River Mine Property.  The B Trend has only seen limited exploration drilling, whereas the A Trend has very limited drilling and is essentially untested.
About the Christie Lake Project
UEX currently holds a 82.775% combined direct and indirect interest in the Christie Lake Project which the Company is in joint venture with JCU (Canada) Exploration Company, Limited. The Project is located approximately 9 km northeast and along strike of Cameco's McArthur River Mine, the world's largest uranium producer. The P2 Fault, the controlling structure for all of the McArthur River deposits, continues to the northeast beyond the mine and onto the Christie Lake Project. UEX believes that through a series of en-echelon steps the northeast strike extension of the P2 Fault not only crosses the Project but also controls the three known uranium deposits on Christie Lake: the Ōrora, Paul Bay and Ken Pen Deposits.
The Christie Lake Project is currently estimated to contain 588,000 tonnes grading 1.57% U3O8, which equates to 20.35 million pounds of U3O8 using a cut-off grade of 0.2% U3O8 and as documented in the "Technical Report for the Christie Lake Uranium Project, Saskatchewan, Canada" which was filed on February 1, 2019 and has an effective date of December 13, 2018. The Technical Report is available on the Company's website at www.uexcorp.com and on SEDAR at www.sedar.com.
Qualified Persons and Data Acquisition
The technical information in this news release has been reviewed and approved by Roger Lemaitre, P.Eng., P.Geo., UEX's President and CEO and Chris Hamel, P.Geo, UEX's Vice President, Exploration, and Nathan Barsi, P.Geo., UEX's District Geologist, who are each considered to be a Qualified Person as defined by National Instrument 43-101.
About UEX
UEX is a Canadian uranium and cobalt exploration and development company involved in an exceptional portfolio of uranium projects.
UEX's directly-owned portfolio of projects is located in the eastern, western and northern perimeters of the Athabasca Basin, the world's richest uranium belt which in 2020 accounted for approximately 8.1% of the global primary uranium production. In addition to advancing its uranium development projects through its ownership interest in JCU, UEX is currently advancing several other uranium deposits in the Athabasca Basin which include the Paul Bay, Ken Pen and Ōrora deposits at the Christie Lake Project , the Kianna, Anne, Colette and 58B deposits at its currently 49.1%-owned Shea Creek Project, the Horseshoe and Raven deposits located on its 100%-owned Horseshoe-Raven Development Project and the West Bear Uranium Deposit located at its 100%-owned West Bear Project.
UEX is also 50:50 co-owner of JCU (Canada) Exploration Company, Limited with Denison Mines Corp. JCU's portfolio of projects includes interests in some of Canada's key future uranium development projects, notably a 30.099% interest in Cameco's Millennium Uranium Development Project, a 10% interest in Denison's Wheeler River Project, and a 33.8123% interest in Orano Canada's Kiggavik Project, located in the Thelon Basin in Nunavut, as well as minority interests in nine other grassroots uranium projects in the Athabasca Basin.
UEX is also leading the discovery of cobalt in Canada, with three cobalt-nickel exploration projects located in the Athabasca Basin of northern Saskatchewan, including the only primary cobalt deposit in Canada. The 100% owned West Bear Project hosts the West Bear Cobalt-Nickel Deposit, the newly discovered Michael Lake Co-Ni Zone, and the West Bear Uranium Deposit. UEX also owns 100% of two early-stage cobalt exploration projects, the Axis Lake and Key West Projects.
FOR FURTHER INFORMATION PLEASE CONTACT
Roger Lemaitre
President & CEO
(306) 979-3849
Forward-Looking Information
This news release contains statements that constitute "forward-looking information" for the purposes of Canadian securities laws. Such statements are based on UEX's current expectations, estimates, forecasts and projections. Such forward-looking information includes statements regarding UEX's drill hole results, uranium, cobalt and nickel prices, outlook for our future operations, plans and timing for exploration activities, and other expectations, intentions and plans that are not historical fact. Such forward-looking information is based on certain factors and assumptions and is subject to risks, uncertainties and other factors that could cause actual results to differ materially from future results expressed or implied by such forward-looking information. Important factors that could cause actual results to differ materially from UEX's expectations include uncertainties relating to the, interpretation of drill results and geology, assay confirmation, additional drilling results, continuity and grade of deposits, fluctuations in uranium, cobalt and nickel prices and currency exchange rates, changes in environmental and other laws affecting uranium, cobalt and nickel exploration and mining and other risks and uncertainties disclosed in UEX's Annual Information Form and other filings with the applicable Canadian securities commissions on SEDAR. Many of these factors are beyond the control of UEX. Consequently, all forward-looking information contained in this news release is qualified by this cautionary statement and there can be no assurance that actual results or developments anticipated by UEX will be realized. For the reasons set forth above, investors should not place undue reliance on such forward-looking information. Except as required by applicable law, UEX disclaims any intention or obligation to update or revise forward-looking information, whether as a result of new information, future events or otherwise.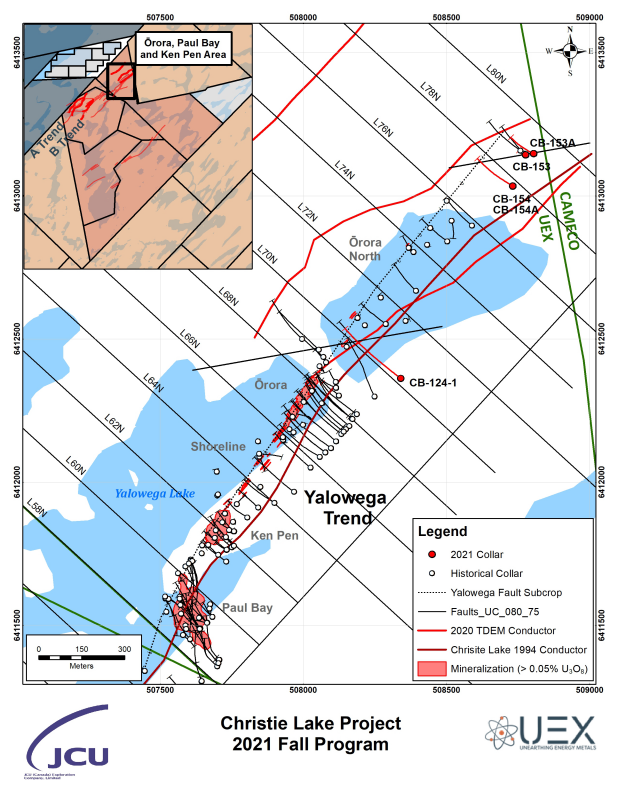 Click Image To View Full Size
Figure 1
Copyright (c) 2021 TheNewswire – All rights reserved.
drill results
drilling
drill program
intersection
drill hole
tsx-dml
denison-mines-corp
denison mines corp
tsx-uex
uex-corporation
acquisition
press-release
Nevada Copper Provides Operational Activity Update
YERINGTON, Nev., Dec. 09, 2021 (GLOBE NEWSWIRE) — Nevada Copper Corp. (TSX: NCU) (OTC: NEVDF) (FSE: ZYTA) ("Nevada Copper" or the "Company")…
YERINGTON, Nev., Dec. 09, 2021 (GLOBE NEWSWIRE) — Nevada Copper Corp. (TSX: NCU) (OTC: NEVDF) (FSE: ZYTA) ("Nevada Copper" or the "Company") today provided an operations update and overview of the H2 2021 milestones achieved at its underground mine at the Company's Pumpkin Hollow Project (the "Underground Mine").
The Company has experienced a significant reset and demonstrated significant operational and corporate improvements in H2 2021. These milestones provide a foundation for an accelerating pace of operational ramp-up.
"I am very pleased with the progress the Company has made in H2 of this year," stated Randy Buffington, President and Chief Executive Officer. "Our mining rates, a key metric for ramp-up production advancement, have been increasing month over month. We are now seeing the efficiencies generated from the advanced management systems implemented in Q3 of this year. The building blocks are in place for increased mining rates and production as we move into H1 of next year."
Operations
Equipment availabilities materially improved: 14% improvement from 65% to 74% in total fleet availability since the beginning of Q4, 2021. Additional equipment expected to be added in Q4, 2021.
Contractor performance improved: Productivity increased by 31% from 1.75 to 2.29ft per person shift between October and November resulting in substantial improvement in operating efficiency as well as cost reductions.
Increased mining development rates: Sequential monthly increases in development rates, a key leading indicator of production ramp-up, delivered since management changes in August 2021. Rates achieved in December are currently 50% higher than August. Commissioning of additional bolters planned to deliver a further 50% increase in development rates in the coming weeks.
Consistent mill performance: Milling operations have performed well throughout 2021, with batch processing reaching 4700tpd, recoveries over 90% and concentrate quality performing in-line with design specifications.
Dike crossing completion: First crossing of the water bearing dike was completed in August 2021, and the second crossing is anticipated to occur later this year. No further crossings are required during the ramp up to 3ktpd expected in H1, 2022.
Ventilation infrastructure in place: All underground ventilation infrastructure was completed in H1 2021. Final addition of surface ventilation fans remains on schedule, with commissioning planned to be completed in January, 2022, with ventilation no longer expected to be a constraint to production rates thereafter.
Corporate
Transformational financing completed:

Closed C$125m public equity offering in November 2021, with a significant portion of the funds provided by select mining sector corporates. This was further complemented by broad participation from other new and existing institutional investors.
The upsized financing provides additional liquidity to fund exploration and expansion studies at the Company's open pit project (the "Open Pit Project") in addition to the ramp-up of Underground Mine.

Significantly enhanced balance sheet flexibility:

Long term debt reduced by approximately 30% during Q4, 2021.
First debt repayment under the Company's senior credit facility with KfW-IPEX Bank deferred by 2 years to July 2024.

Hiring of key management positions:

Joining as Chief Executive Officer on October 6, 2021, Randy Buffington brings substantial operational and development experience in both underground and open pit mines in Nevada and internationally.
8 key operational management positions added in H2 2021, resulting in operational improvement and enhanced planning and execution systems.

Development

Developed program for Open Pit Project resource extension and feasibility study: The budget and execution plan have been defined and the Company expects that drilling to support the updated open pit feasibility study will commence in Q2 2022, potentially sooner depending on drill rig availability.
Open Pit Project Decarbonization Program Advanced:

Solar power studies were completed in 2021, which show:

Pumpkin Hollow benefits from ample sun and land to support a large solar project with the capacity to meet a significant portion of the Open Pit Project's power requirements;
The solar potential at the site is up to 200MW;
The already low grid power costs in Nevada could be further reduced through an on-site solar plant; and
A third-party solar project provides an option to remove upfront power infrastructure costs from the Open Pit Project.

Electric fleet study for mobile mining equipment fleet electrification at the Open Pit Project was completed by US-based energy and sustainability consultant Sprout Energy, which concluded:

Scope 1 carbon emissions over the life of mine could be reduced by approximately 10% of total estimated emissions; and
Fuel and maintenance costs could be reduced by up to approximately US$200m over the life of mine.

Exploration

Undertook further property reconnaissance on the Copper Ridge Area, which is located to the northeast of the Open Pit.
Defined target exploration plan: Initiated further refinement and interpretation of the newer geophysics in key areas such as Tedeboy, Tedeboy porphyry and Copper Ridge.
Initial grab sampling and mapping of these areas have resulted in areas with high grade copper samples. Surface mapping and sampling are planned for Q1 of 2022, supporting the commencement of drilling in Q2 2022.
Qualified Persons
The technical information and data in this news release was reviewed by Greg French, C.P.G., VP Head of Exploration of Nevada Copper, and Neil Schunke, P.Eng., a consultant to Nevada Copper, who are non-independent Qualified Persons within the meaning of NI 43-101.
About Nevada Copper
Nevada Copper (TSX: NCU) is a copper producer and owner of the Pumpkin Hollow copper project. Located in Nevada, USA, Pumpkin Hollow has substantial reserves and resources including copper, gold and silver. Its two fully permitted projects include the high-grade Underground Mine and processing facility, which is now in the production stage, and a large-scale Open Pit Project, which is advancing towards feasibility status.
NEVADA COPPER CORP.
www.nevadacopper.com
Randy Buffington, President and CEO
For further information contact:
Rich Matthews, Investor Relations
Integrous Communications
[email protected]
+1 604 757 7179
Cautionary Language
This news release includes certain statements and information that constitute forward-looking information within the meaning of applicable Canadian securities laws. All statements in this news release, other than statements of historical facts are forward-looking statements. Such forward-looking statements and forward-looking information specifically include, but are not limited to, statements that relate to mine development, production and ramp-up objectives, exploration activities, equipment installation and the completion of a new feasibility study.
Forward-looking statements and information include statements regarding the expectations and beliefs of management. Often, but not always, forward-looking statements and forward-looking information can be identified by the use of words such as "plans", "expects", "potential", "is expected", "anticipated", "is targeted", "budget", "scheduled", "estimates", "forecasts", "intends", "anticipates", or "believes" or the negatives thereof or variations of such words and phrases or statements that certain actions, events or results "may", "could", "would", "might" or "will" be taken, occur or be achieved. Forward-looking statements or information should not be read as guarantees of future performance and results. They are subject to known and unknown risks, uncertainties and other factors which may cause the actual results and events to be materially different from any future results, performance or achievements expressed or implied by such forward-looking statements or information.
Such risks and uncertainties include, without limitation, those relating to: the ability of the Company to complete the ramp-up of the Underground Mine within the expected cost estimates and timeframe; requirements for additional capital and no assurance can be given regarding the availability thereof; the impact of the COVID-19 pandemic on the business and operations of the Company; the state of financial markets; history of losses; dilution; adverse events relating to milling operations, construction, development and ramp-up, including the ability of the Company to address underground development and process plant issues; ground conditions; cost overruns relating to development, construction and ramp-up of the Underground Mine; loss of material properties; interest rates increase; global economy; limited history of production; future metals price fluctuations; speculative nature of exploration activities; periodic interruptions to exploration, development and mining activities; environmental hazards and liability; industrial accidents; failure of processing and mining equipment to perform as expected; labor disputes; supply problems; uncertainty of production and cost estimates; the interpretation of drill results and the estimation of mineral resources and reserves; changes in project parameters as plans continue to be refined; possible variations in ore reserves, grade of mineralization or recovery rates from management's expectations and the difference may be material; legal and regulatory proceedings and community actions; accidents; title matters; regulatory approvals and restrictions; increased costs and physical risks relating to climate change, including extreme weather events, and new or revised regulations relating to climate change; permitting and licensing; volatility of the market price of the Company's securities; insurance; competition; hedging activities; currency fluctuations; loss of key employees; other risks of the mining industry as well as those risks discussed in the Company's Management's Discussion and Analysis in respect of the year ended December 31, 2020 and in the section entitled "Risk Factors" in the Company's Annual Information Form dated March 18, 2021. Should one or more of these risks or uncertainties materialize, or should underlying assumptions prove incorrect, actual results may vary materially from those described in forward-looking statements or information. The forward-looking information or statements are stated as of the date hereof. Nevada Copper disclaims any intent or obligation to update forward-looking statements or information except as required by law. Readers are referred to the additional information regarding Nevada Copper's business contained in Nevada Copper's reports filed with the securities regulatory authorities in Canada. Although the Company has attempted to identify important factors that could cause actual actions, events, or results to differ materially from those described in forward-looking statements, there may be other factors that could cause actions, events or results not to be as anticipated, estimated or intended. For more information on Nevada Copper and the risks and challenges of its business, investors should review Nevada Copper's filings that are available at www.sedar.com.
Nevada Copper provides no assurance that forward-looking statements and information will prove to be accurate, as actual results and future events could differ materially from those anticipated in such statements or information. Accordingly, readers should not place undue reliance on forward-looking statements or information.


drill results
drilling
tsx-ncu
nevada-copper-corp
nevada copper corp
financing
press-release