Barrick Maintains Its Spot in DJSI's World Index for 14th Consecutive Year
TORONTO, Nov. 18, 2021 (GLOBE NEWSWIRE) — Barrick Gold Corporation (NYSE:GOLD)(TSX:ABX) has been listed in the Dow Jones Sustainability Index's (DJSI)…
TORONTO, Nov. 18, 2021 (GLOBE NEWSWIRE) — Barrick Gold Corporation (NYSE:GOLD)(TSX:ABX) has been listed in the Dow Jones Sustainability Index's (DJSI) World Index for the 14th consecutive year, ranking in the 95th percentile for mining and metals.
The DJSI World Index represents the top 10% leaders in environmental, social and governance (ESG) performance through the Corporate Sustainability Assessment (CSA) of the largest 2,500 companies in the S&P Global Broad Market Index. The DJSI is the longest-running global sustainability benchmark worldwide and has become a key reference point for sustainability investment.
This year, Barrick demonstrated industry leading performance by scoring full marks (100th percentile) in the categories of environmental reporting, social reporting, materiality and water risk management. It also ranked within the top 5% for environmental policy and management systems, biodiversity, mineral waste management, closure and social impact on communities, while substantially improving its scores in occupational health and safety, human capital development and climate strategy.
President and chief executive Mark Bristow says the company's continued inclusion in the DJSI is a tribute to Barrick's strong commitment to sustainability and the integration of ESG throughout the business.
"It is encouraging to note the increase in our climate strategy ranking, off the back of our updated climate strategy and greenhouse gas emissions reduction roadmap, while leading scores in the categories of community development and biodiversity underscore our belief that our ability to operate successfully is dependent on delivering long-term value for all our stakeholders and proactively managing our impacts on the wider environment," he said.
"Barrick's philosophy of sharing the benefits its operations create is applied at a local level through the establishment of fully functional Community Development Committees at each of our sites. In these forums, community leaders and management engage productively to identify appropriate upliftment projects for investment, and then oversee their development. This is partnership in action, at ground level, and it is doing much to strengthen our relationships with our host communities and countries."
Bristow said that despite Barrick's sustained and improved performance in most of the DJSI categories, there was more work to be done. The company would not rest on its laurels and it remained a key focus for the group to further enhance its ESG credentials.
Enquiries:
Investor and Media Relations
Kathy du Plessis
+44 20 7557 7738
Email: [email protected]
Website: www.barrick.com
Cautionary Statement on Forward-Looking Information
Certain information contained or incorporated by reference in this press release, including any information as to our strategy, plans, or future operating performance, constitutes "forward-looking statements". All statements, other than statements of historical fact, are forward-looking statements. The words "continue", "encourage", "belief", "deliver", "manage", "engage", "strengthen" "remain", "focus" and similar expressions identify forward-looking statements. In particular, this press release contains forward-looking statements including, without limitation, with respect to Barrick's future sustainability performance and commitment to deliver long-term value to stakeholders while proactively managing its impacts on the wider environment and the role of Community Development Committees and partnerships with Barrick's host communities and countries. Forward-looking statements are necessarily based upon a number of assumptions, including material assumptions considered reasonable by Barrick as at the date of this press release in light of management's experience and perception of current conditions and expected developments, and are inherently subject to significant business, economic, and competitive uncertainties and contingencies.
Many of these uncertainties and contingencies can affect our actual results and could cause actual results to differ materially from those expressed or implied in any forward-looking statements made by, or on behalf of, us. Readers are cautioned not to put undue reliance on forward-looking statements which are not guarantees of future events, and speak only as of the date made. Specific reference is made to the most recent Form 40-F/Annual Information Form on file with the SEC and Canadian provincial securities regulatory authorities for a more detailed discussion of some of the factors underlying forward-looking statements, and the risks that may affect Barrick's ability to achieve the expectations set forth in the forward-looking statements contained in this press release. All of the forward-looking statements made in this press release are qualified by these cautionary statements. Barrick disclaims any intention or obligation to update or revise any forward-looking statements whether as a result of new information, future events or otherwise, except as required by applicable law.
tsx
investment
tsx-abx
barrick-gold-corporation
press-release
Discovery Silver Reports NPV Of US$1.2 Billion For Cordero
Discovery Silver (TSXV: DSV) this morning reported a preliminary economic assessment for its Cordero Silver Project, which is found in
The post Discovery…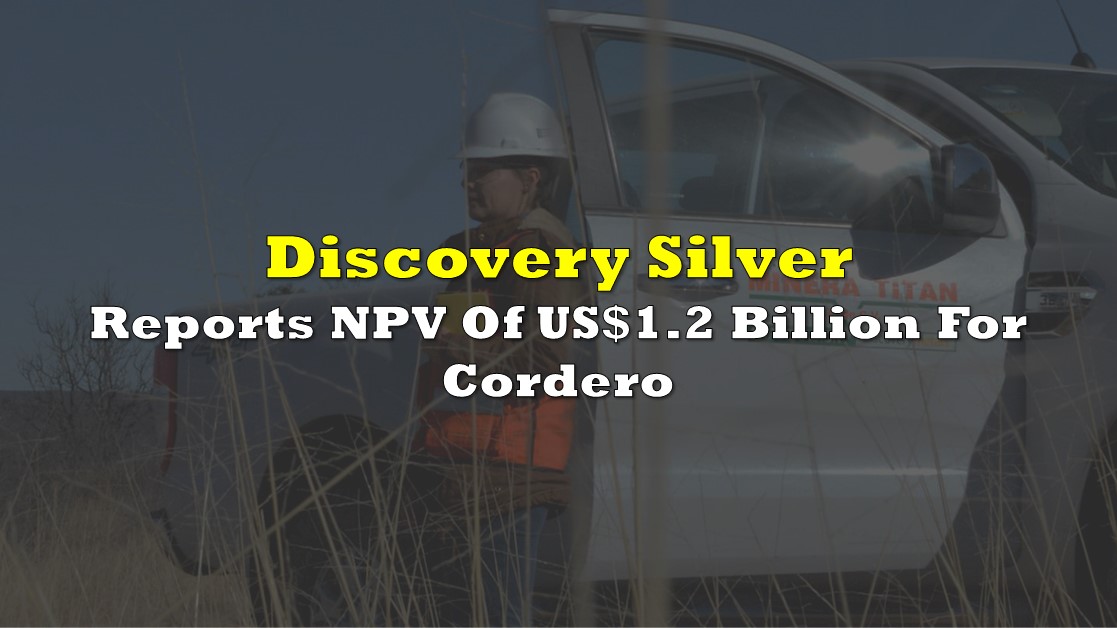 Discovery Silver (TSXV: DSV) this morning reported a preliminary economic assessment for its Cordero Silver Project, which is found in the Chihuahua State of Mexico. The project is said to have an after-tax net present value of US$1.2 billion.


The projected NPV is based on a 5% discount, with a bae case of $22.00 per ounce silver, and $1,600 per ounce gold. The IRR of the project is estimated at 38% based on the base case scenario. That NPV is expected to climb to $1.9 billion if silver were to climb to $27.50, and gold to $1,880, representing an IRR of 55%.
The projections are based on a large scale mine, with a mine life of 16 years. Annual production is slated for 26 million ounces of silver equivalent, with an AISC of $12.35 per ounce of silver equivalent. Payback meanwhile is estimated at 2.0 years for the base case, with initial CAPEX of $368 million.
Mine life has the potential to be expanded as well, with over 300 Mt of sulphide resources not included in the design pit, but are found within the resource pit shell. The project has a whole currently has a sulphide resource of 837 million ounces of silver equivalent on a measured and indicated basis at an average grade of 46 g/t, as well as an inferred resource of 119 million ounces of silver equivalent at 34 g/t.
An additional oxide resource of 74 million ounces of silver equivalent at 23 g/t on a measured and indicated basis, as well as 22 million ounces at a grade of 18 g/t on an inferred basis exists for the property.
A prefeasibility study is slated to be completed on the project in 2022, with the company viewing the project as a Tier 1 silver asset.
Discovery Silver last traded at $1.81 on the TSX Venture.
---
Information for this briefing was found via Sedar and Discovery Silver. The author has no securities or affiliations related to this organization. Not a recommendation to buy or sell. Always do additional research and consult a professional before purchasing a security. The author holds no licenses.
The post Discovery Silver Reports NPV Of US$1.2 Billion For Cordero appeared first on the deep dive.
Silver price outlook after positive Chinese manufacturing data
Silver price has been on a decline for two weeks. A week ago, it extended its losses by dropping below the crucial level of $24. In the new week, the US…
Silver price has been on a decline for two weeks. A week ago, it extended its losses by dropping below the crucial level of $24. In the new week, the US dollar and Chinese industrial data are the key drivers.  
Chinese manufacturing data
In the new week, investors were keen on the Chinese manufacturing PMI scheduled for release on Tuesday. China is the leading consumer of silver and other industrial metals globally. As such, progress in its economic growth influences silver price movements.
Analysts had forecast a reading of 49.6, which would have been a slight improvement from October's 49.2. However, it would mark the third consecutive month of reduced industrial production. The prediction was founded on a decline in China's domestic demand. Based on this forecast, silver price was expected to record further losses.
Interestingly, the released data has surpassed analysts' expectations. The reading of 50.1 is an indication that eased energy shortages in the Middle Kingdom boosted industrial production in November. Nonetheless, silver price has reacted rather subtly to the news. Granted, it has bounced off Monday's low of $22.76. However, it is now trading within a tight range as it experiences resistance at $23.00.
US dollar
In addition to its industrial demand, silver price movements are further linked to its status as a precious metal. From this perspective, its ongoing downtrend is a result of the strengthening US dollar. Granted, the declining Treasury yields have pushed the dollar index below the support zone of $96. The benchmark 10-year yields are at 1.42 after surging to 1.69 in the previous week. This downtrend is expected to offer some relief to silver price.
However, amid concerns over the latest COVID-19 variant – Omicron, greenback safe-haven appeal has sustained its uptrend. Precious metals tend to have an inverse correlation with the US dollar.  
Silver price prediction
Silver price is trading within a tight range even as it remains on a downtrend. The upper and lower borders of the aforementioned horizontal channel are 23.00 and 22.76 respectively. At the time of writing, it was up by 0.16% at 22.93.
On a four-hour chart, the precious metal is trading below the 25 and 50-day exponential moving averages. With an RSI of 29, it is still in the oversold territory.
In the near term, I expect silver price to remain within the current horizontal channel. Past the upper border, the resistance level will likely be along the 25-day EMA at 23.37. On the flip side, a further decline below the lower border may have it find support at 22.34. In the short term, the crucial level of 24.00 will likely remain evasive.
The post Silver price outlook after positive Chinese manufacturing data appeared first on Invezz.
Metalstech drops the Tlamino purchase option
 
Just a few weeks after announcing it had entered into an option agreement with Medgold Resources (MED.V) whereby Metalstech (MTC.AX) could acquire the…
Just a few weeks after announcing it had entered into an option agreement with Medgold Resources (MED.V) whereby Metalstech (MTC.AX) could acquire the Tlamino gold project in Serbia, Metalstech decided to terminate the option agreement as the project was 'not a fit'.
This means the company remains fully focused on its flagship Sturec gold project in Slovakia where the company is continuing its aggressive drill program which will expand and increase the credibility level of the underground gold mineralization. Metalstech has recently appointed a Chief Permitting Officer and country manager which seems to indicate the company wants to keep the momentum going at Sturec.
Metalstech is also looking into obtaining a listing in London which could help the company's financing efforts, considering it is working on an European project.

Disclosure: The author has no position in Metalstech. Metalstech is a sponsor of the website. Please read our disclaimer.