NextSource Materials Shares Up 5% After Announcing Intentions to Expand Opportunities in Clean Energy Materials
TORONTO, ON / ACCESSWIRE / September 8, 2021 / NextSource Materials Inc. (TSX:NEXT)(OTCQB:NSRCF) ("NextSource" or the "Company") announces that it intends…
TORONTO, ON / ACCESSWIRE / September 8, 2021 / NextSource Materials Inc. (TSX:NEXT)(OTCQB:NSRCF) ("NextSource" or the "Company") announces that it intends to assess emerging opportunities to accelerate expansion of its organic growth strategy through the potential acquisition and development of additional metals and mineral assets expected to play a vital role in associated clean energy technologies.
Following recent discussions with the Company's existing offtake partners in graphite, many of whom are significant participants in the global supply and trading of battery materials, there is clear enthusiasm for NextSource to secure additional capacity in graphite and other critical minerals.
NextSource's management will be conducting further meetings with its offtake partners, and other strategic parties, in September to discuss how best to create additional value in complementary commodities by exploiting NextSource's growing capabilities and network.
NextSource's current commodity portfolio of graphite and vanadium is already strongly aligned with expected demand for electric vehicles and large-scale energy storage systems, providing an ideal platform to expand further into the critical mineral supply chain.
In recent months, since the completion of the Vision Blue investment in NextSource, a close working relationship has developed between the two companies and their management teams. As a result, both companies have recognised the potential for increased collaboration and mutual benefit across the asset evaluation, investment and development cycle. Vision Blue is NextSource's largest shareholder and is a private investment company with a focus on metals and minerals linked to the clean energy revolution.
As previously announced, the Company's Molo graphite and Green Giant vanadium projects continue to progress with; i) commencement of a metallurgical optimisation study for the vanadium asset; and ii) the construction of the Molo mine in Madagascar on track and on budget to commission in mid-2022.
In addition, NextSource is now accelerating completion of the technical studies already underway for both its Phase 2 expansion of the Molo graphite mine ("Molo Project") and for its stand-alone, battery anode facility in which to value-add its SuperFlake® concentrate.
Craig Scherba, CEO of NextSource Materials commented,
"Realising our vision of building a company capable of providing the next source of critical minerals to power the clean energy revolution requires clear and timely communication with all stakeholders and strategic partners.
It is evident that the market for battery materials is on the cusp of significant growth and NextSource is well positioned to capture this opportunity. The next step is further discussion with our offtake partners, global electric vehicle OEM's and other strategic parties that have approached NextSource as a potential supplier to fully capture opportunities to create value by building on the platform we have already established.
Our technical teams continue to make excellent progress in constructing Phase 1 of the Molo Project. We are now accelerating the technical studies for Phase 2 of the Molo mine and our planned battery anode facility to meet the expected and growing demand from OEMs for a sustainable source from whom they can secure supply of high-quality graphite."
About NextSource Materials Inc.
NextSource Materials Inc. is a strategic materials development company based in Toronto, Canada that is intent on becoming a fully integrated, global supplier of critical battery and technology materials needed to power the sustainable energy revolution.
The Company's Molo graphite project in Madagascar is one of the largest known and highest-quality graphite deposits globally, and the only one with SuperFlake® graphite. Construction of Phase 1 of the Molo Project is underway, with commissioning expected in Q2 2022.
NextSource Materials is listed on the Toronto Stock Exchange (TSX) under the symbol "NEXT" and on the OTCQB under the symbol "NSRCF."
For further information about NextSource visit our website at www.nextsourcematerials.com or contact us at +1.416.364.4911 or email Brent Nykoliation, Executive Vice President at brent@nextsourcematerials.com or Craig Scherba, President and CEO at craig@nextsourcematerials.com.
About VISION BLUE RESOURCES LIMITED
Vision Blue was founded in December 2020 by Sir Mick Davis to identify and capture opportunities in development of metals and minerals assets linked to the clean energy revolution.
Vision Blue targets companies in established mining jurisdictions, with well-advanced and best-in-class assets that are scalable and can be brought into production rapidly. Vision Blue aims to work with existing management teams to provide critical growth capital, technical support, support in strategy implementation, and experience in securing future finance. Where possible, Vision Blue utilizes a phased development approach based upon self-financed expansion to achieve large scale revenue and cash flows across the entire battery materials vertical supply chain. For further information about Vision Blue, visit their website at www.vision-blue.com.
Safe Harbour: This press release contains statements that may constitute "forward-looking information" or "forward-looking statements" within the meaning of applicable Canadian and United States securities legislation. Readers are cautioned not to place undue reliance on forward-looking information or statements. Forward looking statements and information are frequently characterized by words such as "plan", "expect", "project", "intend", "believe", "anticipate", "estimate", "potential", "possible" and other similar words, or statements that certain events or conditions "may", "will", "could", or "should" occur. Forward-looking statements include any statements regarding, among others; the successful and on-budget construction of the Molo Graphite mine, estimated future production from the Molo Graphite Project, joint venture or strategic partnership agreement with Vision Blue, completion of any technical studies and expansion of the Molo Graphite Project, any and all other economic and technical studies, graphite prices, project economics, permitting, the development timeline and the graphite market. All such forward looking statements are based on assumptions and analyses made by management based on their experience and perception of historical trends, current conditions and expected future developments, as well as other factors they believe are appropriate in the circumstances. However, these statements are subject to a variety of risks and uncertainties and other factors that could cause actual events or results to differ materially from those projected including, but not limited to, unexpected changes in laws, rules or regulations, or their enforcement by applicable authorities; the failure of other parties to perform as agreed; social or labour unrest; changes in commodity prices; unexpected failure or inadequacy of infrastructure and the failure of ongoing and contemplated studies to deliver anticipated results or results that would justify and support continued studies, development or operations.. Although the forward-looking statements contained in this news release are based on what management believes are reasonable assumptions, the Company cannot assure investors that actual results will be consistent with them. These forward-looking statements are made as of the date of this news release and are expressly qualified in their entirety by this cautionary statement. Subject to applicable securities laws, the Company does not assume any obligation to update or revise the forward-looking statements contained herein to reflect events or circumstances occurring after the date of this news release.
SOURCE: NextSource Materials Inc.


View source version on accesswire.com:
https://www.accesswire.com/663051/NextSource-Materials-to-Explore-Additional-Strategic-Asset-Opportunities-in-Clean-Energy-Materials

investment acquisition tsx-next nextsource-materials-inc press-release
Renewables Not So Reliable As US Hydropower Plunges 14%
Renewables Not So Reliable As US Hydropower Plunges 14%
The transition away from hydrocarbons is not a seamless as many hope. The latest data…
Renewables Not So Reliable As US Hydropower Plunges 14%
The transition away from hydrocarbons is not a seamless as many hope. The latest data from the Energy Information Administration (EIA) shows a significant decline this year in hydropower generation amid historic droughts.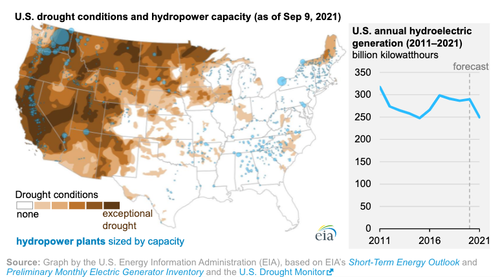 The magical thinking about renewable energy and President Biden's calls for the U.S. power grid to be 100% clean by 2035 is a pipe dream. 
The problem with renewable energy is sustainability. California and states in the Pacific Northwest have found out that out the hard way this summer as droughts and back-to-back heat waves have led to a plunge in hydropower capacity. The region produces a bulk of U.S. hydropower capacity. 
EIA estimates U.S. hydropower plants will be 14% lower in 2021 than it was in 2020. Hydropower generation in the Northwest, which includes the Columbia River Basin and parts of other Rocky Mountain states, is expected to be 12% lower than the prior year. Hydropower generation in California will be down a shocking 49% in 2021 than in 2020.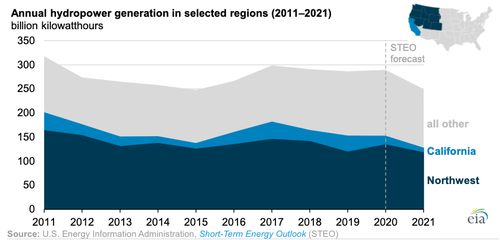 The dry conditions have reduced water levels across large parts of the Columbia River Basin this summer, drought emergencies were declared in counties across Washington, Oregon, and Idaho. Some reservoirs in California halted hydropower generation due to declining water levels. 
Between March and April, hydropower generation in Washington and Oregon was 10% below the 10-year range. Over the summer, hydropower generation in these states moved back within range. But in California, hydropower generation stayed below the 10-year range as the Edward Hyatt Power Plant at Lake Oroville went offline due to low water levels last month.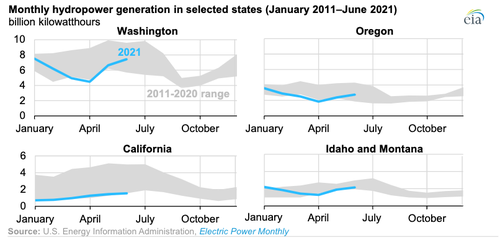 This summer, California's energy challenges show the state's aggressive push to slash carbon emissions by shifting to renewable energy has its disadvantages. The state's top grid operator, California Independent System Operator (CAISO), requested and was granted an emergency measure by the federal government to fire up natural gas generation plants to prevent blackouts amid the loss of some renewable energy sources. 
Maybe it's time for California to admit their "green" push has been a complete disaster, and the transition is not going to be as seamless as once thought. But wait, they already have:
The short-term strategy for California has been to fire up fossil fuel generation plants as renewable energy sources become unreliable. This is just one ugly truth about renewable power the progressives don't want you to hear. 
Tyler Durden
Fri, 09/24/2021 - 22:20
renewable
Personal Tracking Devices Moving Toward A "Dangerous" New Era
Personal Tracking Devices Moving Toward A "Dangerous" New Era
Tracking devices can sometimes be useful: you can attach one to your phone or…
Personal Tracking Devices Moving Toward A "Dangerous" New Era
Tracking devices can sometimes be useful: you can attach one to your phone or wallet and know where it is at all times, for example.
But the Bluetooth and ultra-wideband (UWB) tracking devices are moving towards a "dangerous new era", according to a new writeup by Android Authority. 
The devices are getting so small, prominent and widely available that risks of both stalking and general surveillance using them can no longer be ignored, the piece argues. 
It calls stalking the "biggest and most obvious threat". It can happen when a tracker, usually a thin tile-like piece of plastic, gets slipped into someone's bag, vehicle or clothing, tracking them everywhere they go. 
One such instance of stalking took place in 2018 when  a woman in Houston said she found a Tile planted inside the console of her car, which her ex was using to follow her. The ex was charged with a misdemeanor as a result.
Even overaggressive parents could take advantage of the trackers, the article argues: "An abusive husband could use trackers to follow their spouse to a shelter or the police. An overprotective mother could prevent their child from going anywhere but home or school."
Surveillance is another way trackers can be abused. Android Authority writes:
The more items a person tracks through first- or third-party apps, the more comprehensive surveillance can theoretically become. Let's say you have a tracker on your backpack or laptop. If your phone and the tracker leave for a specific place every morning, it's not hard to guess that the origin is your home, and the destination is an office or worksite. Placing another tracker on a TV remote immediately confirms your home location, and if you're monitoring headphones or a personal electric vehicle, hackers can pick out some of your favorite haunts, like parks or the gym.
Hacking into a phone could even allow an attacker to figure out where in a building devices are kept, or where a specific person sits and sleeps, the report says: "In the wrong hands, this data could be used to plan burglaries or even murders."
Tracking apps could eventually even become the target of ransomware attackers, the piece suggests. And, with everything from shoes to cars in the future moving toward being trackable, you may not even know when or how you're being watched. 
Finally, the idea of government intrusion using such apps and trackers also becomes an obvious cautionary point. "More trackers translate into more data points for surveillance and suppressing dissent," the piece concludes.
Tyler Durden
Fri, 09/24/2021 - 21:00
electric vehicle
Nio Stock's Slide Likely Isn't Over as Broader Correction Looms
When I wrote about Nio (NYSE:NIO) last month, I argued that the risks that could send NIO stock lower outweighed factors that could help it bounce back.
Source:…
When I wrote about Nio (NYSE:NIO) last month, I argued that the risks that could send NIO stock lower outweighed factors that could help it bounce back.
Source: Robert Way / Shutterstock.com
The Chinese electric vehicle (EV) maker has numerous strengths, such as high projected rates of growth in its home market. It also has the potential to go global, first in Europe, and then possibly in other key markets like the United States.
However, I believe the company's rich valuation and jurisdictional risk from China outweigh these positives. What's more, the stock has taken a hit on concerns about the potential collapse of Chinese property development giant Evergrande (OTCMKTS:EGRNF).
In my opinion, NIO stock is nowhere near bottoming out and likely to move lower in the short term.
High Growth Far From Guaranteed
While NIO stock is down 47% from its all-time high of just below $67 per share, made in January, there's still a good deal of enthusiasm surrounding the company.
The main driver of that enthusiasm is the company's high projected levels of growth. Analysts forecast revenue will surge 120% this year and 65% in 2022.
Depending on how Nio's expansion into Norway goes, growth from Europe could cause analysts to raise their growth forecasts. This could also help counter a growth slowdown in China. Nio faces stiff competition in the Chinese EV market from local rivals such as Xpeng (NYSE:XPEV), as well as from the likes of Tesla (NASDAQ:TSLA).
Despite the high-growth forecast, I do not expect sentiment for NIO stock to shift back to prior levels of bullishness for two reasons.
First, it's not guaranteed that the company's rate of growth will stay as high as it's been in recent quarters. The global chip shortage resulted in Nio's August vehicle deliveries falling by 25.9% on a month-over-month basis and caused management to cut its delivery outlook for the current quarter (ending Sept. 30). With the chip shortage expected to drag on, it may affect results in subsequent quarters as well. A Chinese economic slowdown, even if the Evergrande crisis gets under control, could also negatively affect sales growth going forward.
Second, the company's European expansion could fail to deliver. If Nio stumbles in Norway, it may signal it doesn't have what it takes to become a global EV brand.
Given these two big unknowns, I don't see much to prevent NIO stock from tumbling if the broader market turns lower.
Downside Risk High if Appetite for Growth Stocks Wanes
With the odds of a correction climbing, it may be best to tread carefully with growth stocks. Whether caused by changes in Federal Reserve policy, or factors like slowing economic growth, it seems all the more likely that the runaway bull market is about to reverse course.
Missing required attributes. Please edit.
In the event of a broader market pullback or correction, investors will shift out of speculative growth plays like NIO stock and into safer plays. This is likely to be the case even if the company meets expectations.
If Nio faces the double-whammy of disappointing results and a rocky stock market, look out below. While shares probably won't head back to the low single-digits, investors can expect an outsized pullback compared to the broader market.
The Bottom Line on NOI Stock
Hopes for this popular EV maker run high, but the ongoing chip shortage and a slowing Chinese economy may stop Nio's revenue growth in its tracks. And the risk of a pullback is being exacerbated by a weakening broader market.
I think there is a high probability that NIO stock trades back down to $25, or even $20 per share. So, it's best to stay away for now.
On the date of publication, Thomas Niel did not have (either directly or indirectly) any positions in the securities mentioned in this article. The opinions expressed in this article are those of the writer, subject to the InvestorPlace.com Publishing Guidelines.
Thomas Niel, contributor for InvestorPlace.com, has been writing single-stock analysis for web-based publications since 2016.
More From InvestorPlace
The post Nio Stock's Slide Likely Isn't Over as Broader Correction Looms appeared first on InvestorPlace.
electric vehicle