Nickel Rock Provides Narrative on Recent Option Agreement
July 13, 2021 – TheNewswire – Vancouver, BC, Canada – Nickel Rock Resources Inc. (the "Company" and "Nickel Rock") (TSXV:NICL( (OTC:NICKLF) (FSE:NMK2) is…

July 13, 2021 – TheNewswire – Vancouver, BC, Canada – Nickel Rock Resources Inc. (the "Company" and "Nickel Rock") (TSXV:NICL( (OTC:NICKLF) (FSE:NMK2) is pleased to detail the positive effects of the recently announced Option to Joint Venture Transaction (the "Transaction") with Surge Battery Metals Inc. (TSXV: NILI) on two of its four nickel claim groups  in Northern British Columbia.  
Nickel Rock's exploration stage Nickel Project (the "Project") consists of four non-contiguous mineral claims groups held by the Company through three separate agreements. The claim groups are located in the Takla Lake and Trembleur Lake area of north-central British Columbia nearby or adjacent to FPX Nickel Corp.'s (TSXV: FPX) Decar Nickel Project, as shown in the map below: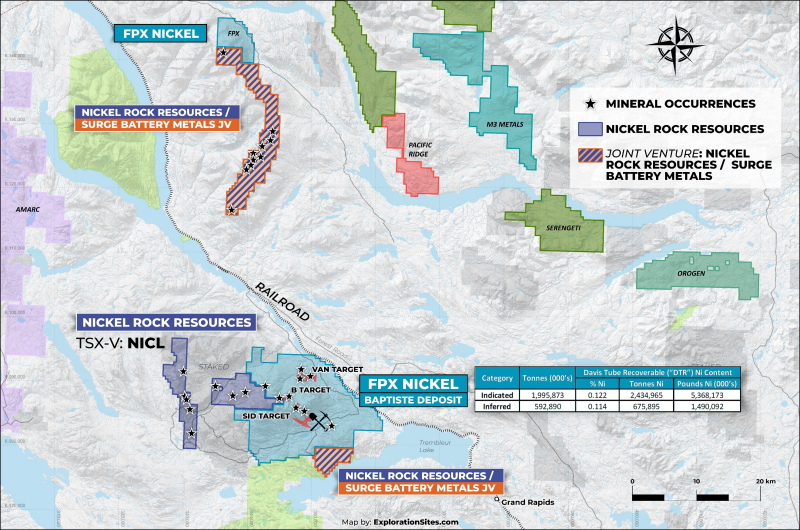 Click Image To View Full Size
Robert Setter, Company President & CEO comments "As we are well aware, the Decar Nickel Project is an advanced Nickel project targeting awaruite, a nickel-iron alloy mineral, hosted by serpentinized ultramafic intrusive rocks of the Trembleur Ultramafic Unit.  It is our desire to progress our nearby Nickel properties to the same advanced stage of development."
"After looking at the results of our recently completed exploration program within the Hard Nickel claim group (News Release June 28, 2021), our management team determined that it would be in the best interest of the Company to focus our exploration program (and all associated exploration dollars) on the two mineral claim blocks immediately to the west of the FPX Decar Project."  
Mr. Setter continues "This is in line with our exploration results and also the results coming from the FPX Nickel Corp. Decar Project, and our exploration team has determined it to be a highly desirable area within the region.  This is based on the cumulation of historical, current exploration and neighbouring exploration results."
"This is not to say that our other two large mineral claims in the immediate area, to the east and north of the Decar Project, do not hold any value, just that the Company needs to focus its exploration team and plans in a particular region.  Therefore, the Company has decided to option to joint venture these two mineral claims with a credible exploration partner in the region.  By doing so, we have the ability to extract some immediate value from these claims, improve our working capital position, focus our exploration efforts and continue to draw value from all four of our Nickel Project claim groups in the area by retaining a 20% interest in these claims and having a joint venture partner commit resources towards exploration on these joint venture claims.  Currently, the Company has over CAD$1.3 million in working capital, and this transaction will add to this total and is valued at CAD$1.275 million based on current share prices."
"We believe that this Transaction and exploration focus is in the best interest of the Company, and are excited to have active multiple exploration work programs being conducted in the area."
2021 Work Program
The Company plans for its 2021 Work Program are unaffected by the proposed Transaction.
The proposed work program consists of trenching, surface exploration, diamond drilling, camp construction, and exploration activities to support drilling and trenching such as soil sampling, rock sampling, prospecting, and geological mapping. The company proposes a 12-man camp to be built in a cirque on the north slope of the un-named mountain west of and adjacent to Mount Sydney Williams, and will be built next to a sub-alpine lake at the headwaters of Van Decar Creek. The location of camp was selected based on past exploration camps at this location and is suitable for supporting exploration. Camp will be used to accommodate field personnel and will be accessed with helicopter.
The Company estimates that this proposed work program will include CAD$600,000 in exploration expenditures spent over the summer – fall of 2021 which will fulfill the Company's flow-through mining exploration commitments for the 2021 calendar year.
Qualified Person
Jacques Houle, P.Eng., a qualified person as defined by NI 43 – 101, is responsible for the technical information contained in this release. Readers are cautioned that the information in this press release regarding the property of FPX Nickel Corp is not necessarily indicative of the mineralization on the property of interest.
About Nickel Rock Resources Inc. 
The Company is a Canadian-based mineral exploration company active in the exploration for nickel-iron alloy in British Columbia and lithium in Nevada. Nickel Rock Resources Inc. is a Canadian based exploration company whose primary listing is on the TSX Venture Exchange.  The Company's maintains a focus on exploration for high value battery metals required for the electric vehicle (EV) market.  (http://www.nickelrockresources.com/)
About Clayton Valley Lithium Project
Clayton Valley is a down-dropped closed basin formed by the Miocene age Great Basin extension and is still active due to movement along the Walker Lane structural zone.  As a result, the basin has preserved multiple layers of lithium bearing volcanic ash, resulting from multiple eruptive events over the past 6 million years including eruptions from the 700,000-year-old Long Valley Caldera system and related events.  These ash layers are thought to contribute to the lithium brines extracted by Albemarle and are also likely involved in the formation of the exposed lithium rich clay deposits on the east side of Clayton Valley. https://nickelrockresources.com/clayton-valley-lithium/
About the British Columbia Nickel Project
Hard Nickel and Nickel 100 ClaimGroups
The Mount Sidney Williams area Hard Nickel Claim Group consists of seventeen claims in three non-contiguous groups with a total area of 10,569 hectares, both adjoining and near the Decar project of FPX Nickel Corp., located 100 kilometres northwest of Fort St. James, B.C. Metallic mineralization includes nickel, cobalt, and chromium. At least some of the nickel mineralization occurs as awaruite.  The Mitchell Range area Nickel 100 Claim Group consists of five contiguous claims covering 8,659 hectares with demonstrated metallic mineralization including nickel, cobalt, and chromium. Nickel and cobalt mineralization have not been well explored, but the presence of awaruite has been documented.
The Transaction with Surge Battery Metals Inc. includes one of the three Hard Nickel Claim Groups, covering 1863 hectares immediately south of and adjacent to the Decar Project groups in the Mount Sidney Williams area, and entire Nickel 100 Claim Group, covering 8659 hectares in the Mitchell Range area.  All six claims included in the transaction are held 100% by Nickel Rock, and three of the claims are subject to 2% NSR, including the Hard Nickel 4 claim and the two southernmost claims of the Nickel 100 Claim Group.
Klone Claims
On October 15, 2020 the Company entered into an option agreement to earn an undivided 100% interest in the Klone group of mineral claims (1,400 ha) adjoining the property of FPX Nickel Corp (TSXV:FPX) located 100km northwest of Fort St. James BC in the Omineca Mining division.
Funk Claims
On February 1, 2021 and February 22, 2021, the Company entered into an option agreement to earn an undivided 100% interest, subject to a 2% NSR in 6 mineral claims located approximately 15 km west of Mt Sydney Williams near Fort St James, BC.  Additionally, the Company located two adjoining claims by title selection.  
On Behalf of the Board of Directors
"Robert Setter"
Robert Setter, President & CEO
Neither the TSX Venture Exchange nor its Regulation Services Provider (as that term is defined in the policies of the TSX Venture Exchange) accepts responsibility for the adequacy or accuracy of this release. This news release may contain forward-looking statements which include, but are not limited to, comments that involve future events and conditions, which are subject to various risks and uncertainties. Except for statements of historical facts, comments that address resource potential, upcoming work programs, geological interpretations, receipt and security of mineral property titles, availability of funds, and others are forward-looking. Forward-looking statements are not guarantees of future performance and actual results may vary materially from those statements. General business conditions are factors that could cause actual results to vary materially from forward-looking statements.
Copyright (c) 2021 TheNewswire – All rights reserved.
drilling
tsxv-fpx
fpx-nickel-corp
tsxv-nicl
nickel-rock-resources-inc
press-release
Integration of Assets, Investment in Future Secure NGM's Status as Industry Leader
ELKO, Nev., Oct. 25, 2021 (GLOBE NEWSWIRE) — Nevada Gold Mines (NGM) is demonstrating the impact of operator and majority-owner Barrick's strategy…
ELKO, Nev., Oct. 25, 2021 (GLOBE NEWSWIRE) — Nevada Gold Mines (NGM) is demonstrating the impact of operator and majority-owner Barrick's strategy of combining the best people with the best assets to deliver the best returns, Barrick president and chief executive Mark Bristow said here today.
Speaking at an update for local media and community leaders, Bristow said NGM — the world's largest gold mining complex — stood out from the rest of the industry not only because of its size but because its wealth of projects and prospects secure its future as a high-quality, long-life operation for decades to come.
"The combination of the Nevada assets of Barrick and Newmont has unlocked the vast geological potential of this mineral-rich region by consolidating mines, processing facilities and landholdings. Anchored by the massive Carlin and Cortez mines, NGM is building up the third Tier One1 asset, Turquoise Ridge, while Goldrush, a world-class project in its own right, heads up a long pipeline of quality prospects," he said.
"NGM has also built strong relations across the full spectrum of the mines' previously neglected stakeholders, and its wide-ranging support for educational and other community development initiatives is securing its social licence as a valuable partner with Nevada and its people."
Bristow cited Turquoise Ridge as an example of the transformative effect of asset consolidation. The high-grade underground orebody at Turquoise Ridge, then a Barrick property, was mined for years without a full understanding of its geology and was also constrained by the lack of its own processing plant. At the same time, Newmont's neighboring Twin Creeks was facing the decline of production from its open pits and its processing facilities had never been pushed to deliver. The ramp-up of underground production at Turquoise Ridge, based on a completely new geological model, will pick up speed when its third shaft is completed next year, more than offsetting the drop in production from the now-integrated Twin Creeks. The integration of the two assets has also delivered new exploration opportunities in the gap between the two.
During the past quarter, the Goldrush project's official Notice of Intent was published, putting NGM well on the way to permitting its next major orebody. The updated feasibility study and the successful processing of the first ore samples has strengthened confidence that additional resources will be converted to reserves later this year.
NGM continued to optimize its portfolio through the South Arturo/Lone Tree asset swap, which removed a closure liability from its balance sheet while securing additional ounces and geological upside by bringing the other 40% of South Arturo under its control. In the meantime, brownfields exploration is confirming a significant upside through prospects such as a major deposit in North Leeville and the promising Phoenix gold and copper satellite.
Bristow said NGM was continuing to invest in infrastructure capable of supporting mining far into the future. This includes advancing data analysis capabilities and reducing greenhouse gas (GHG) emissions. An example of the latter is the second phase of the TS solar power facility which will increase its solar capacity to 200MW and is the cornerstone of NGM's commitment to cutting GHG emissions by 20% by 2025.
Reviewing the past quarter, Bristow said improved run times at all of NGM's major processing facilities had lifted NGM's performance while the restoration of the Carlin mill operations had set it up for a strong end to the year.
Enquiries
Investor and Media Relations
Kathy du Plessis
+44 20 7557 7738
Email: [email protected]
Website: www.barrick.com
Endnote 1
A Tier One Gold Asset is an asset with a reserve potential to deliver a minimum 10-year life, annual production of at least 500,000 ounces of gold and total cash costs per ounce over the mine life that are in the lower half of the industry cost curve.
Cautionary Statement on Forward-Looking Information
Certain information contained or incorporated by reference in this press release, including any information as to our strategy, projects, plans, or future financial or operating performance, constitutes "forward-looking statements". All statements, other than statements of historical fact, are forward-looking statements. The words "potential", "will", "continue", "prospects", "securing", "strategy" and similar expressions identify forward-looking statements. In particular, this press release contains forward-looking statements including, without limitation, with respect to: Barrick's plans to unlock the geological potential of NGM and secure its future as a high-quality, long-life complex for decades to come; the expected benefits and timeline for completion of NGM's growth projects including the Goldrush and Turquoise Ridge Third Shaft projects; the ramp-up of production at the Turquoise Ridge underground; NGM's ability to convert resources into reserves; the anticipated benefits of the South Arturo asset swap and operational improvements at the Carlin mill; NGM's exploration strategy and planned exploration activities; Barrick's sustainability vision, including the expected environmental benefits from the TS solar power plant and NGM's greenhouse gas emissions reduction target; and Barrick's partnership with Nevada, local communities and other stakeholders.
Forward-looking statements are necessarily based upon a number of estimates and assumptions including material estimates and assumptions related to the factors set forth below that, while considered reasonable by Barrick Gold Corporation (the "Company") as at the date of this press release in light of management's experience and perception of current conditions and expected developments, are inherently subject to significant business, economic, and competitive uncertainties and contingencies. Known and unknown factors could cause actual results to differ materially from those projected in the forward-looking statements, and undue reliance should not be placed on such statements and information. Such factors include, but are not limited to: fluctuations in the spot and forward price of gold, copper, or certain other commodities (such as silver, diesel fuel, natural gas, and electricity); the speculative nature of mineral exploration and development; changes in mineral production performance, exploitation, and exploration successes; risks associated with projects in the early stages of evaluation, and for which additional engineering and other analysis is required; failure to comply with environmental and health and safety laws and regulations; timing of receipt of, or failure to comply with, necessary exploration permits and other permits approvals; uncertainty whether some or all of targeted investments and projects will meet the Company's capital allocation objectives and internal hurdle rate; changes in national and local government legislation, taxation, controls or regulations and/or changes in the administration of laws, policies and practices, expropriation or nationalization of property and political or economic developments in the United States and other jurisdictions in which the Company or its affiliates do or may carry on business in the future; damage to the Company's reputation due to the actual or perceived occurrence of any number of events, including negative publicity with respect to the Company's handling of environmental matters or dealings with community groups, whether true or not; risks associated with artisanal and illegal mining; risks associated with new diseases, epidemics and pandemics, including the effects and potential effects of the global Covid-19 pandemic; litigation and legal and administrative proceedings; employee relations including loss of key employees; risk of loss due to acts of war, terrorism, sabotage and civil disturbances; increased costs and physical risks, including extreme weather events and resource shortages, related to climate change; and availability and increased costs associated with mining inputs and labor. In addition, there are risks and hazards associated with the business of mineral exploration, development, and mining, including environmental hazards, industrial accidents, unusual or unexpected formations, pressures, cave-ins, flooding and gold bullion, copper cathode or gold or copper concentrate losses (and the risk of inadequate insurance, or inability to obtain insurance, to cover these risks).
Many of these uncertainties and contingencies can affect our actual results and could cause actual results to differ materially from those expressed or implied in any forward-looking statements made by, or on behalf of, us. Readers are cautioned that forward-looking statements are not guarantees of future performance. All of the forward-looking statements made in this press release are qualified by these cautionary statements. Specific reference is made to the most recent Form 40-F/Annual Information Form on file with the SEC and Canadian provincial securities regulatory authorities for a more detailed discussion of some of the factors underlying forward-looking statements and the risks that may affect Barrick's ability to achieve the expectations set forth in the forward-looking statements contained in this press release.
Barrick disclaims any intention or obligation to update or revise any forward-looking statements whether as a result of new information, future events or otherwise, except as required by applicable law.


investment
tsx-abx
barrick-gold-corporation
barrick gold corporation
press-release
West High Yield (W.H.Y.) Resources Ltd. Unaware of Any Material Change
Calgary, Alberta–(Newsfile Corp. – October 25, 2021) – West High Yield (W.H.Y.) Resources Ltd. (TSXV: WHY) ("West High Yield" or the "Company") announces…
Calgary, Alberta–(Newsfile Corp. – October 25, 2021) – West High Yield (W.H.Y.) Resources Ltd. (TSXV: WHY) ("West High Yield" or the "Company") announces that, at the request by the Investment Industry Regulatory Organization of Canada, the Company wishes to confirm that its management is unaware of any material change in the Company's operations that would account for the recent increase in market activity.
About West High Yield
West High Yield is a publicly traded junior mining exploration and development company focused on the acquisition, exploration, and development of mineral resource properties in Canada with a primary objective to develop its Record Ridge magnesium deposit using green processing techniques to minimize waste and CO2 emissions.
Contact Information:
West High Yield (W.H.Y.) Resources Ltd.
Frank Marasco, President and Chief Executive Officer
Telephone: (403) 660-3488 Facsimile: (403) 206-7159
Email: [email protected]
Cautionary Note Regarding Forward-looking Information
This news release may contain assumptions, estimates, and other forward-looking statements regarding future events. Such forward-looking statements involve inherent risks and uncertainties and are subject to factors, many of which are beyond the Company's control that may cause actual results or performance to differ materially from those currently anticipated in such statements.
NEITHER THE TSX VENTURE EXCHANGE NOR ITS REGULATION SERVICES PROVIDER (AS THAT TERM IS DEFINED IN THE POLICIES OF THE TSX VENTURE EXCHANGE) ACCEPTS RESPONSIBILITY FOR THE ADEQUACY OF THIS RELEASE.
To view the source version of this press release, please visit https://www.newsfilecorp.com/release/100755
investment
acquisition
tsxv-why
west-high-yield-why-resources-ltd
west high yield why resources ltd
press-release
Advance Gold Corp Announces a Patent Application Has Been Filed for a Unique Environmentally Friendly Method to Extract Lithium and Potassium from Its Salars in Mexico
Kamloops, British Columbia–(Newsfile Corp. – October 25, 2021) – Advance Gold Corp. (TSXV: AAX) ("Advance Gold" or "the Company") is pleased to announce…
Kamloops, British Columbia–(Newsfile Corp. – October 25, 2021) – Advance Gold Corp. (TSXV: AAX) ("Advance Gold" or "the Company") is pleased to announce that a patent application has been filed for a unique environmentally friendly method to extract lithium and potassium from its clay and fine sand salars in central Mexico. To date, the existing methods of extraction of lithium from clay deposits require the use of significant amounts of water and toxic chemicals. This new method is able to use recycled water and electricity from solar power to extract lithium with an electrical process.
This new method uses water and an electrical process to obtain a solution of lithium and potassium. This process can be repeated several times to produce a high-grade concentrate. Finally, the lithium and potassium are extracted using organic compounds. According to our new studies, this process might also be useful to extract boron.
Allan Barry Laboucan, President and CEO of Advance Gold Corp. commented:
"On behalf of the board of directors and our shareholders I would like to thank a number of people and especially, Dr. Roberto Pérez Garibay and his team for their outstanding work to invent a unique method to recover lithium from clay deposits. Our key geological advisor Jose de Jesus Parga who ran the Geological Survey of Mexico for over 30 years and recognized the lithium mining potential of the salt lakes/salars in central Mexico also deserves our thanks. Our partner Hot Spring Mining, led by Gilberto Zapata Castañeda who has a PhD in Law, has been instrumental in acquiring the salars, working with local communities, and through this patent we have been able to get an opportunity to move into the lithium mining space, his advice is greatly appreciated.
"I first met Dr. Roberto Pérez Garibay several years ago when he described to me the work he had been doing on a low cost method to extract lithium from the clay and fine sand deposits in central Mexico. He currently runs a state-of-the-art laboratory close to our salars, he has worked with many of the Mexican major mining companies and is a key advisor to one of them. Dr. Roberto Pérez Garibay is a professor-researcher at the prestigious Center of Research and Advanced Studies of the National Polytechnic Institute (Cinvestav-IPN). It is very exciting to have a method to extract lithium from clay deposits that was developed in Mexico.
"Until now, methods to extract lithium from clay deposits required the use of large amounts of water and toxic chemicals. This new method developed by Dr. Pérez Garibay for lithium and potassium extraction, that has now been filed as a new patent application, uses recyclable water, electrical separation of lithium and potassium using solar power, and finally uses organic compounds to extract the lithium and potassium from the water.
"Central Mexico is a key mining jurisdiction and is also the breadbasket of Mexico. Currently, there are no Mexican sources of potassium, it is all imported, and this method now gives Advance Gold the potential to become a major producer of potassium in close proximity to the farming centre of Mexico. In addition, we also have promising grades of boron which is crucial to plant health and enhances the strength of plants and increases the nutritional value of agriculture and increases the shelf life of fruits and vegetables. We are excited to have an environmentally conscious method to extract agricultural minerals and be a first mover in having Mexican sourced minerals to provide farmers with a domestic source.
"We are now well positioned to become a producer of lithium, crucial in battery technology and key agricultural commodities. Dr. Pérez Garibay is based in Saltillo, Mexico, which is near our salars. He is designing a test plant and will start construction shortly, to prepare for the bulk sampling of our salars to show the benefits and low costs of extracting lithium and potassium from these salars.
"The world is in the midst of a revolution to electrify everything, to move away from fossil fuels. Battery metals are crucial to electrical vehicles and other green solutions for alternative energy sources. Lithium will help power the future, we are gratified to have the potential to move into the forefront with this new extraction process.
"Being based in Mexico gives us tremendous advantages, logistically, geo-politically and economically. It has the raw materials needed for electrical vehicles and a long history of mining. Additionally, it has the labour force needed to build electrical vehicles and batteries. We look forward to the opportunity to provide a green solution to mine lithium for green energy."
Additional News
Advance Gold has filed the final agreement, previously discussed in the news release dated March 2, 2021, for regulatory approval. In addition to the purchase agreement, Advance has also secured the rights to use this new extraction method on its 13 salars in central Mexico on the terms outlined in the March 2, 2021 news release.
Dr. Julio Pinto Linares is a qualified person, doctor in geological sciences with an academic specialty in economic geology and a qualified professional, No. 01365 by MMSA. He is the qualified person as defined by National Instrument 43-101 for Advance Gold and is responsible for the accuracy of technical information contained in this news release.
About Advance Gold Corp.
Advance Gold is a junior exploration company focused on acquiring and exploring mineral properties containing precious metals, agricultural minerals and battery metals. The company acquired a 100-per-cent interest in the Tabasquena silver mine in Zacatecas, Mexico, in 2017, and the Venaditas project, also in Zacatecas state, in April, 2018. In addition, Advance Gold holds an 10.85% interest in strategic claims in the Liranda Corridor in Kenya, East Africa. The remaining 89.15% of the Kakamega project is held by Shanta Gold Limited (project previously owned by Barrick Gold Corporation, for details see Advance Gold News Release dated 08, 26, 2020). In March, 2021 Advance Gold acquired 13 salars in central Mexico containing potassium, boron and lithium, enabling it to move into agricultural minerals and the exciting lithium space.
For further information, please contact:
Allan Barry Laboucan
President and CEO
Phone 492-238-5282 (Direct-Mexico Cell)
Email: [email protected]
This news release contains certain statements that may be deemed "forward-looking statements. Forward-looking statements are statements that are not historical facts and are generally, but not always, identified by the words "expects", "plans", "anticipates", "believes", "intends", "estimates", "projects", "potential" and similar expressions, or that events or conditions "will", "would", "may", "could" or "should" occur. Although the Company believes the expectations expressed in such forward-looking statements are based on reasonable assumptions, such statements are not guarantees of future performance and actual results may differ materially from those in forward based on the beliefs, estimates and opinions of the Company's management on the date the statements are made. The Company undertakes no obligation to update these forward-looking statements in the event that management's beliefs, estimates or opinions, or other factors should change, except as required by law.
Neither TSX Venture Exchange nor its Regulation Services Provider (as that term is defined in policies of the TSX Venture Exchange) accepts responsibility for the adequacy or accuracy of this news release.
To view the source version of this press release, please visit https://www.newsfilecorp.com/release/100756
tsx-abx
barrick-gold-corporation
barrick gold corporation
press-release