Go Metals Reports 25.6 g/t Gold on AI Targets on Windfall Geotek's Optioned Ashuanipi Property in The Schefferville Area of Quebec
Brossard, Quebec – September 21st, 2021 – Windfall Geotek Inc. (TSXV:WIN) (OTC:WINKF) (FSE:L7C2) a leader in the use of Artificial Intelligence (AI)…
Brossard, Quebec – September 21st, 2021 – Windfall Geotek Inc. (TSXV:WIN) (OTC:WINKF) (FSE:L7C2) a leader in the use of Artificial Intelligence (AI) with advanced knowledge-extraction techniques since 2005 in the mining sector is pleased to report Go Metals Corp. (CSE: GOCO) ("Go Metals") has reported positive Gold Sample results on Windfall Geotek AI Targets on the Ashuanipi Land Claims owned by Windfall Geotek optioned to Go Metals (Figures 1-3).
News Highlights
Windfall Geotek signed a multi year option earn in agreement with Go Metals in February 2020 for the Ashuanipi project land claims in the Schefferville area of Quebec.
Windfall Geotek owns a 2% NSR Royalty on project claims optioned to Go Metals
Grab samples up to 25.6 g/t Au – 7 zones with inferred continuous gold mineralization
Localized confirmation of Windfall Geotek CARDS AI prospectivity map
| | | | | | |
| --- | --- | --- | --- | --- | --- |
| Zone | Average Au grade, 2021 sampling | Average Au grade, all sampling to date | Max Au grade, all sampling to date | Total number of samples 2021 | Total number of samples, all sampling to date |
| White Snake | 9.04 g/t | 8.94 g/t | 25.6 g/t | 3 samples | 5 samples |
| Red Ridge | 0.98 g/t | 1.98 g/t | 12.25 g/t | 6 samples | 11 samples |
| Nose | 1.5 g/t | 1.5 g/t | 4.19 g/t | 3 samples | 3 samples |
| Marie | 0.29 g/t | 0.52 g/t | 1.99 g/t | 5 samples | 12 samples |
| Baldie | 0.25 g/t | 0.87 g/t | 2.5 g/t | 2 samples | 5 samples |
| HB | 0.13 g/t | 0.49 g/t | 1.37 g/t | 2 samples | 5 samples |
| Ol' Rusty | 0.2 g/t | 0.28 g/t | 1.02 g/t | 5 samples | 12 samples |
Geological Context
The Ashuanipi property is located in the northern part of the Ashuanipi Complex which is characterized by irregular aeromagnetic anomalies associated with high-grade metamorphic and plutonic rocks. It consists of metasedimentary rocks ranging from metatexites to diatexites, an early tonalite-diorite suite and rare metavolcanic rocks, all of which were deformed and metamorphosed to the granulite facies. These rocks are intruded by widespread orthopyroxene, granite, granodiorite, tonalite and syenite plutons.
Simran Kamboj, President and CTO of Windfall Geotek commented: "It is great to see our partner Go Metals Corp. progress on the Ashuanipi project. We're confident in our targets and pleased to see the positive results. This is an important milestone to further follow up on key areas on the project. In an outcome based business model like ours, Windfall and our shareholders only win, when our partners do well."
Scott Sheldon, CEO of Go Metals added: "We optioned Ashuanipi from Windall Geotek due in part to their excellent track record in mineral exploration using advanced AI technology.  CARDS is a valuable tool to help de-risk mineral exploration."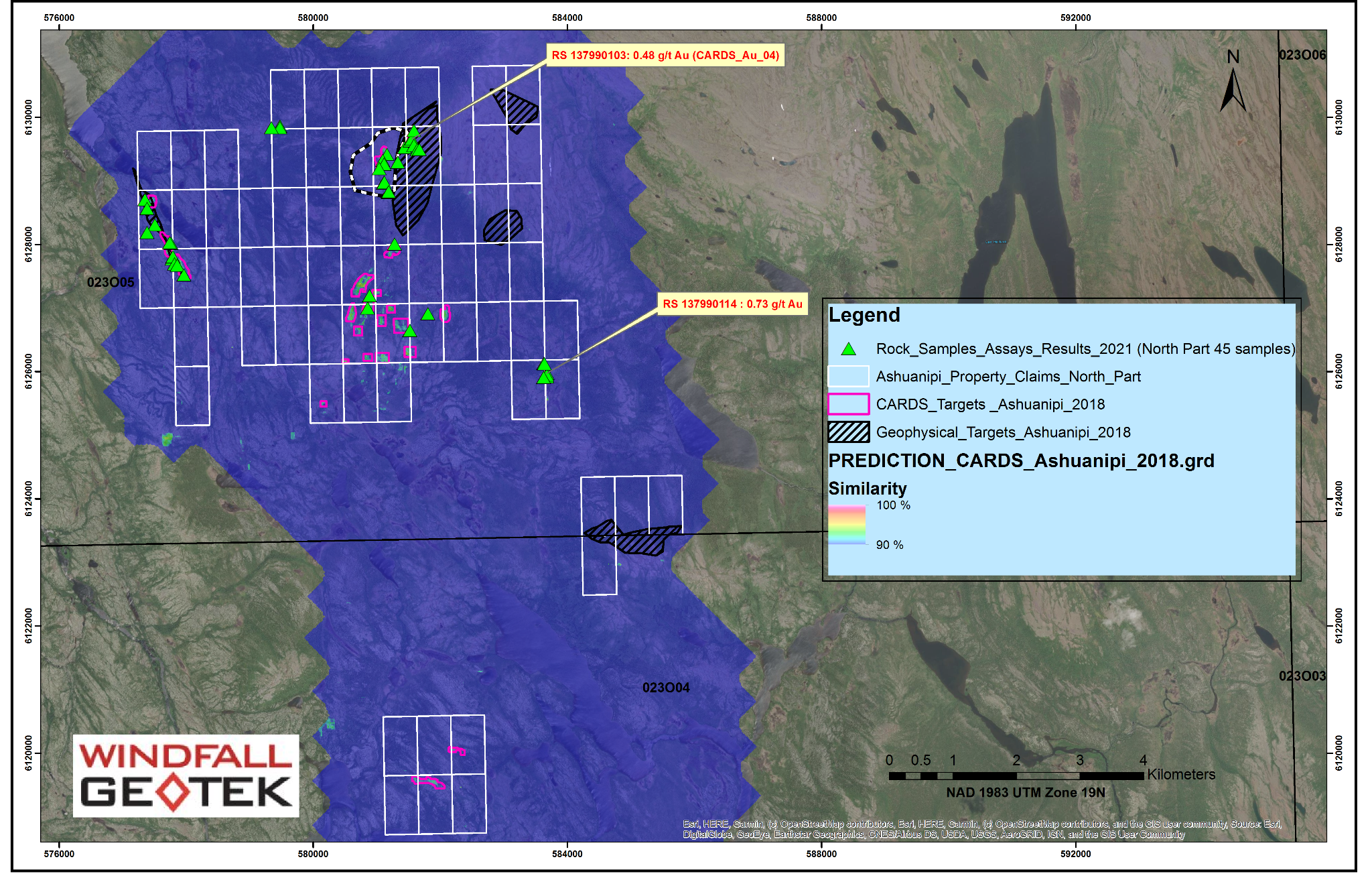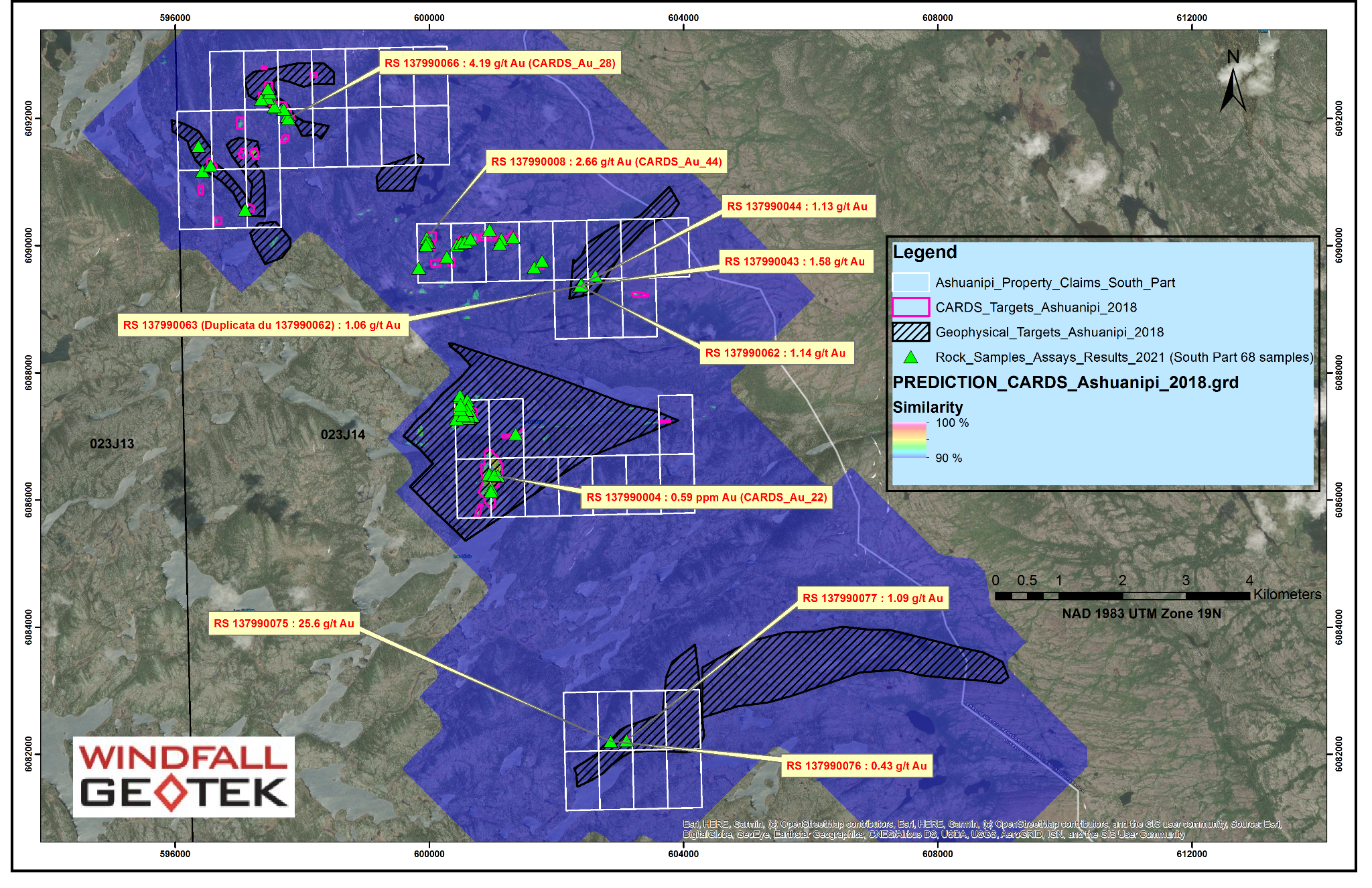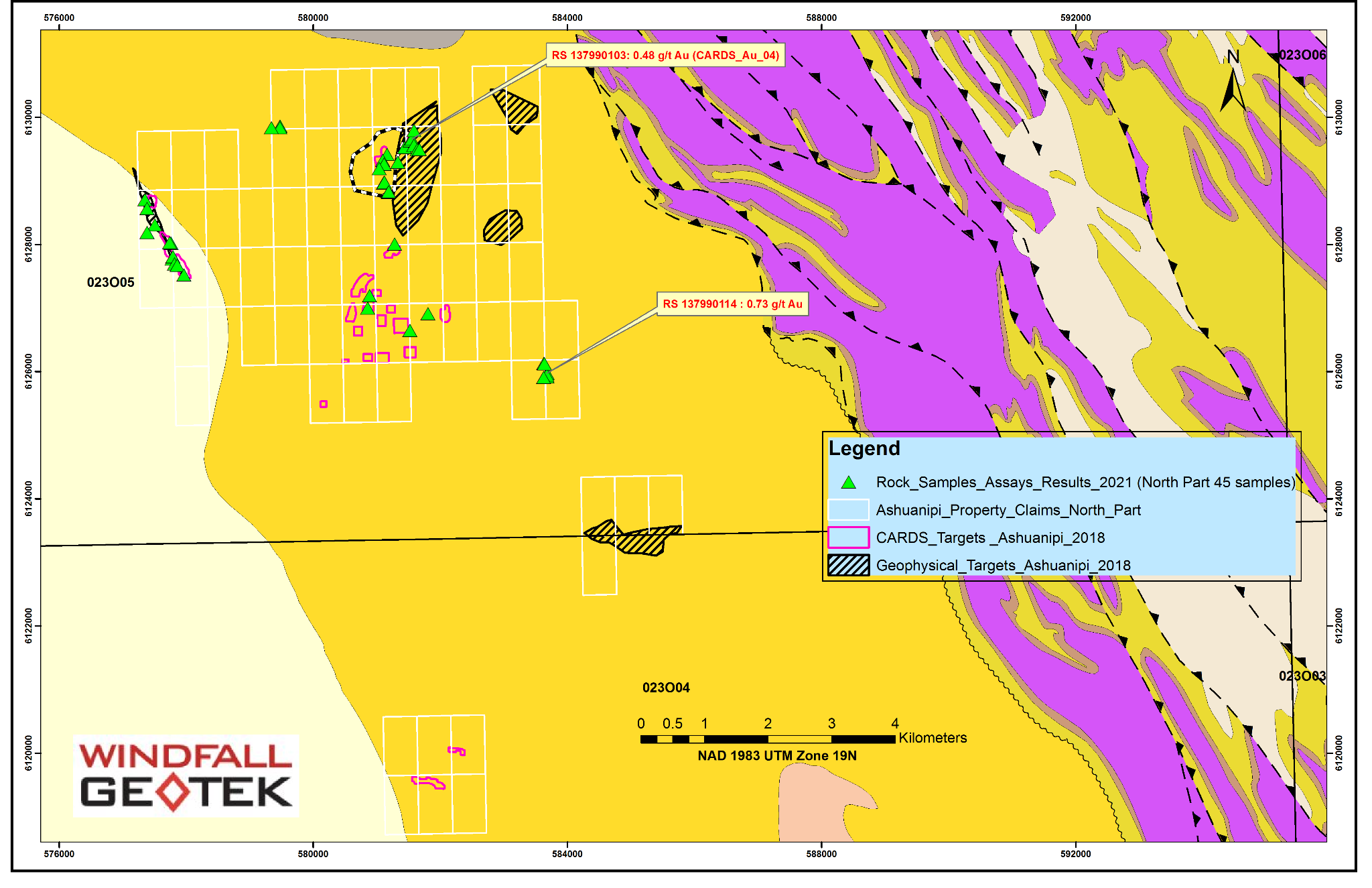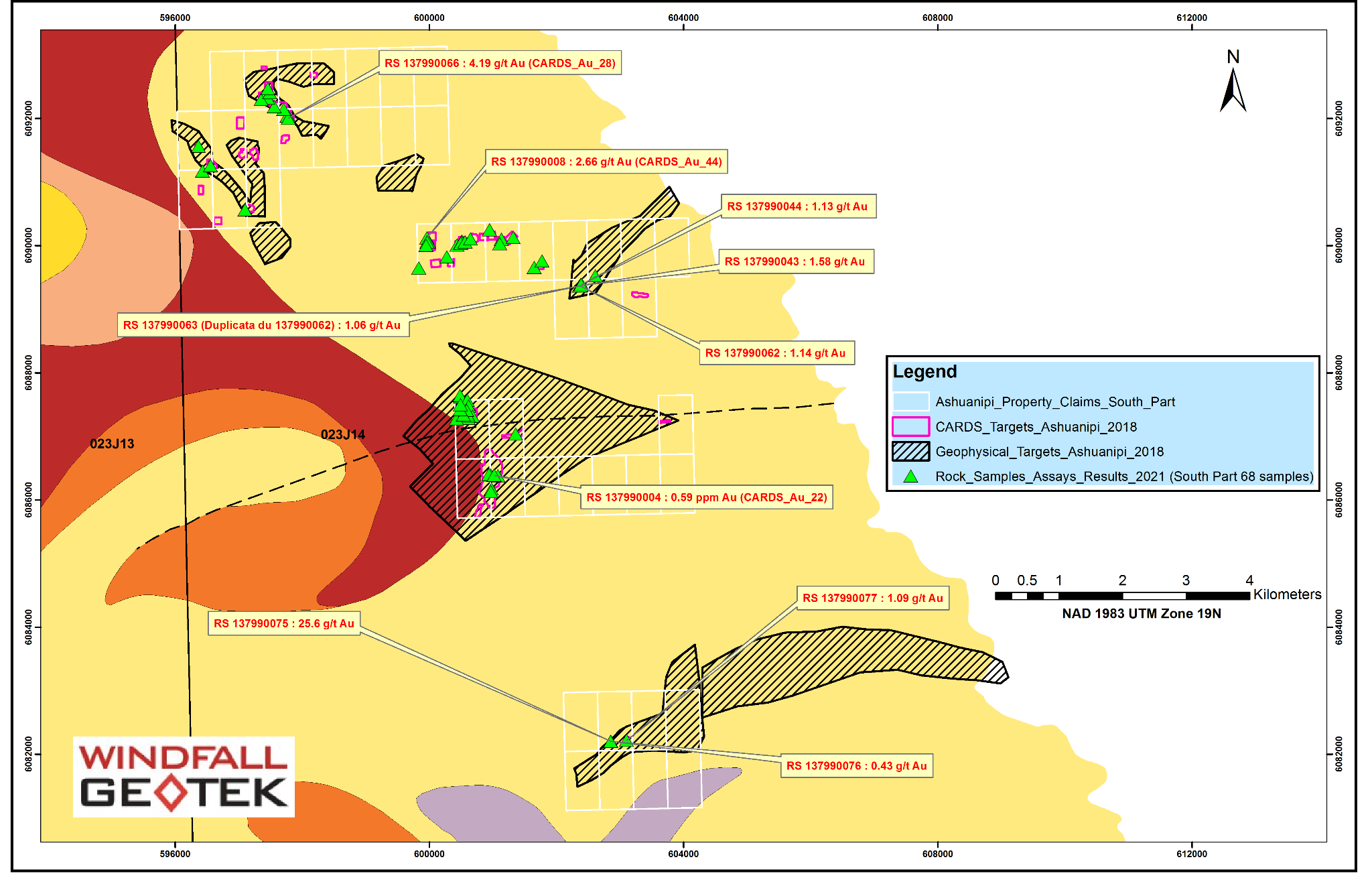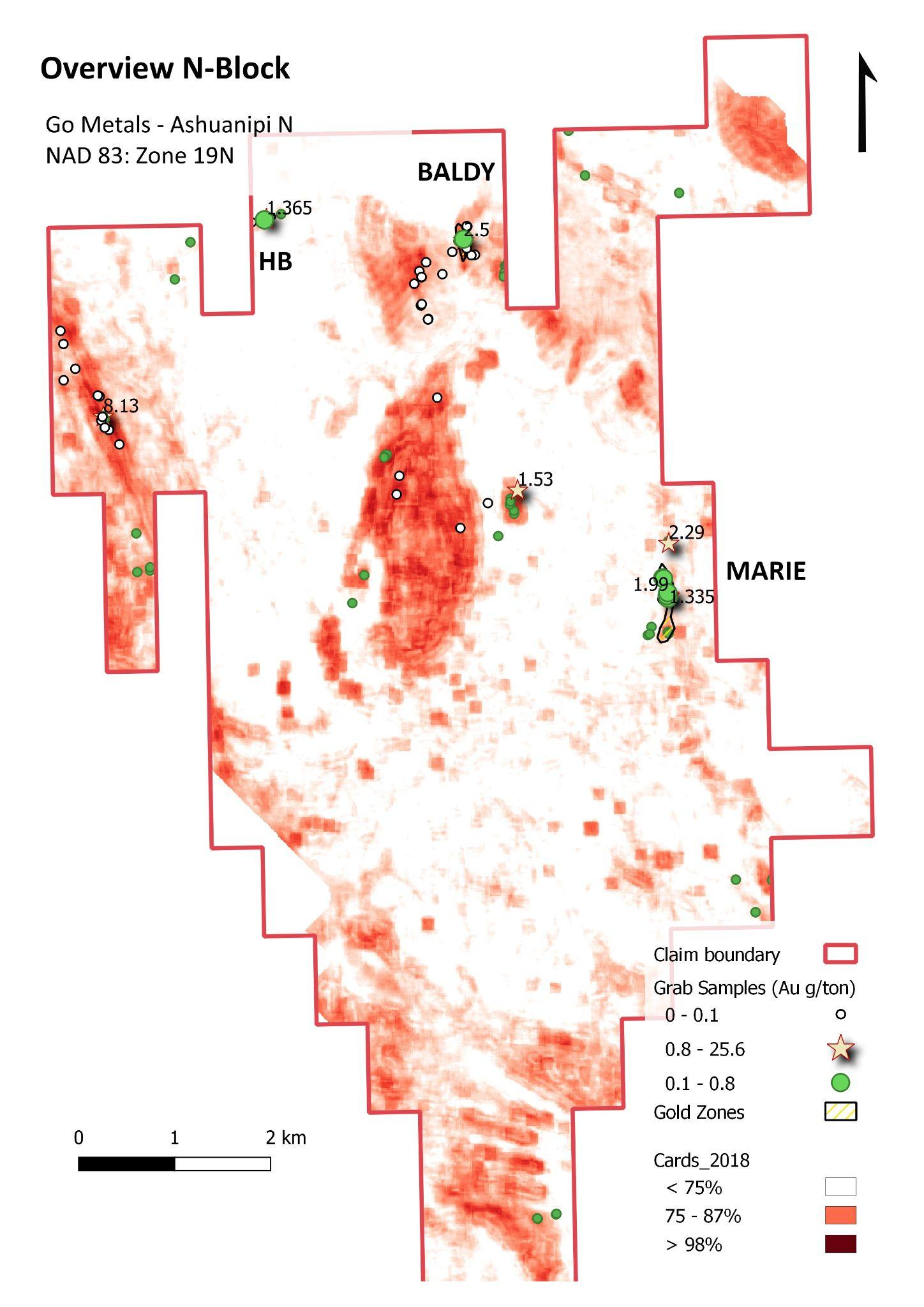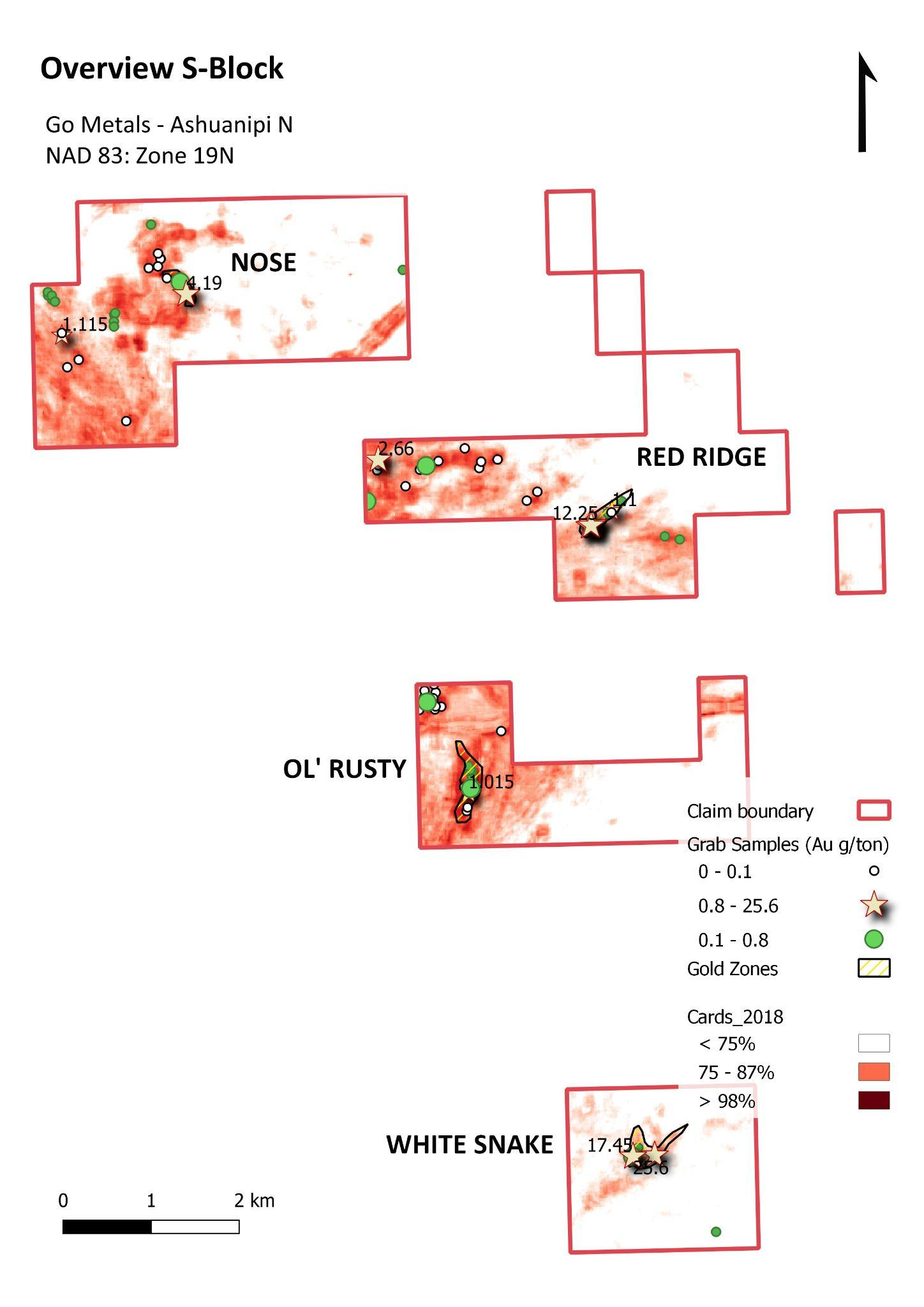 Qualified Person
The scientific and technical data contained in this press release was reviewed and prepared under the supervision of Grigor Heba, Ph.D., P.Geo., Principal Geologist and a Qualified Person as defined by National Instrument 43-101.

About Windfall Geotek – Powered by Artificial Intelligence (AI) since 2005
Windfall is an Artificial Intelligence company that has been in business for over 15 years developing its proprietary CARDS analysis (AI) and data mining techniques. Windfall Geotek can count on a multidisciplinary team that includes professionals in geophysics, geology, Artificial Intelligence, and mathematics. It combines available public and private datasets including geophysical, drill hole and surface data. The algorithms designed and employed by Windfall are calculated to highlight areas of interest that have the potential to be geologically similar to other gold deposits and mineralization. The Company's objective is to develop a new royalty stream by significantly enhancing and participating in the exploration success rate of mining and to continue the Land Mine detection application as a high priority. Windfall has played a part in numerous past discoveries utilizing its methodology as described at:https://windfallgeotek.com/.
For further information, please contact:for
President and CTO of Windfall Geotek
Email: [email protected]
Website: www.windfallgeotek.com
Phone: 1-855-946-5145
Additional information about the Company is available under Windfall Geotek's profile on SEDAR atwww.sedar.com. Neither the TSX Venture Exchange nor does its Regulation Services Provider (as that term is defined in the policies of the TSX Venture Exchange) accept responsibility for the adequacy or accuracy of this release.
FORWARD-LOOKING STATEMENTS: This news release contains forward-looking statements, which relate to future events or future performance and reflect management's current expectations and assumptions. Such forward-looking statements reflect management's current beliefs and are based on assumptions made by and using information currently available to the Company. Investors are cautioned that these forward-looking statements are neither promises nor guarantees, and they are subject to risks and uncertainties that may cause future results to differ materially from those expected. These forward-looking statements are made as of the date hereof and, except as required under applicable securities legislation, the Company does not assume any obligation to update or revise them to reflect new events or circumstances. All forward-looking statements made in this press release are qualified by these cautionary statements and by those made in our filings with SEDAR in Canada (available at WWW.SEDAR.COM).
tsx
tsxv
tsx venture
cse
otc
gold
tsxv-win
windfall-geotek-inc
cse-goco
go-metals-corp
go metals corp
2022-2030: Transformation Or Stagnation?
2022-2030: Transformation Or Stagnation?
Authored by Charles Hugh Smith via OfTwoMinds blog,
Some decades are easy and expansive, others…
Kinross Gold: BMO Lifts Targets On Buyback News
Kinross Gold (TSX: K) this past week announced that it is launching a new share buyback program, buying back $300
The post Kinross Gold: BMO Lifts Targets…
Meta's Version of the Metaverse Is a Joke. But This Emerging VR Tech Holds Great Promise
Amid the economic chaos of 2022, investors have all but forgotten about VR and the once-promising metaverse. Since late 2021, Google search interest in…