Weekly data: Oil and Gold price action on declining greenback
If there is a continuation to the upside the first point of resistance would be expected around the $84 area which is made up of the 61.8% of the Fibonacci…
If there is a continuation to the upside the first point of resistance would be expected around the $84 area which is made up of the 61.8% of the Fibonacci retracement level and also the upper band of the Bollinger bands.
Gold-dollar, daily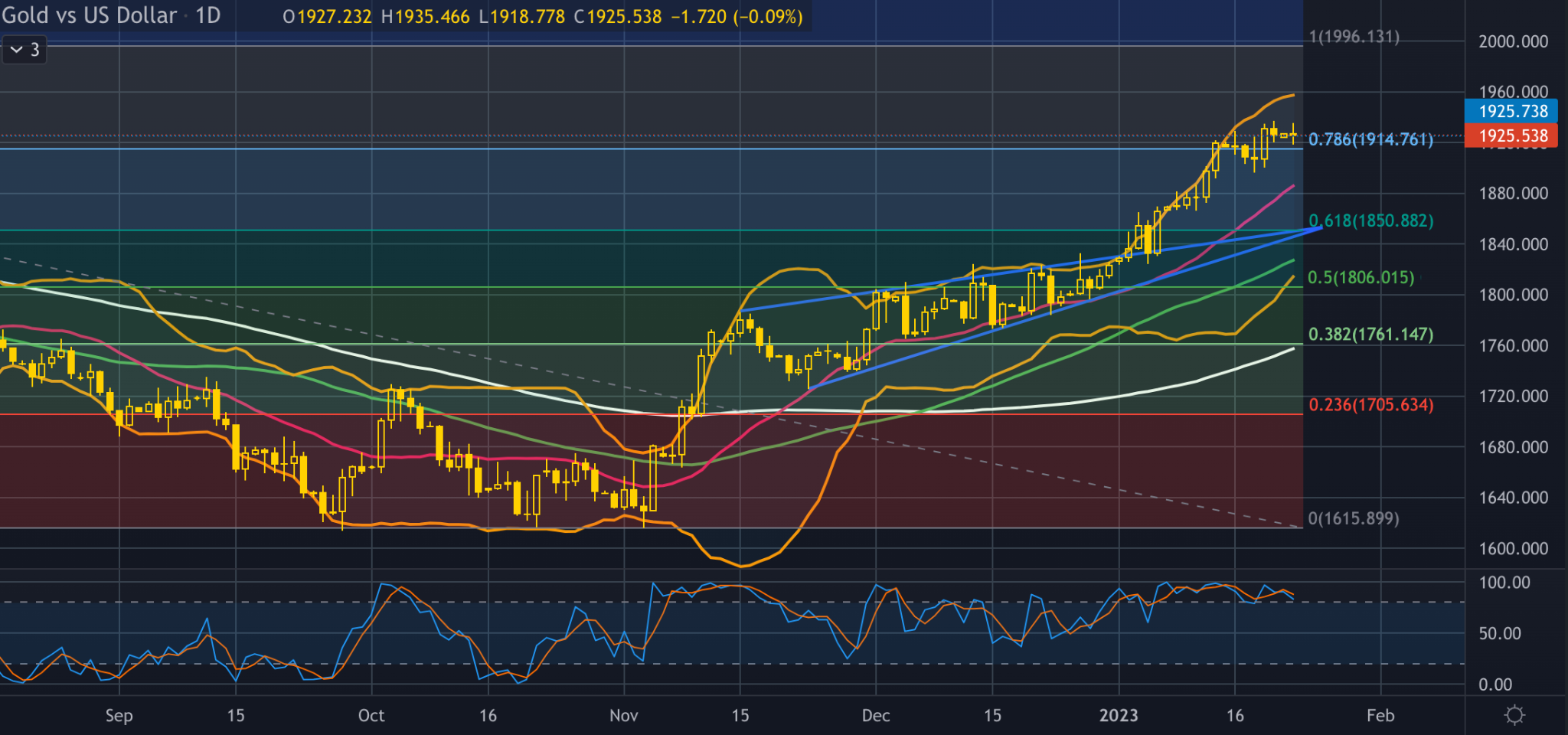 The US Dollar Index (DXY) is in free fall hitting a 7 month low which is making gold cheaper for other currency holders. The expectations for a single hike by the FED on their next meeting of February 1st is currently at 99.8%! This could potentially have a negative effect on the Dollar against its pairs , gold included, making gold an attractive investment for traders. The price of gold managed to remain above the psychological support of the round number of $1900 indicating that the bull sentiment is still strong.
From the technical point of view the price flattened and moved away from the Bollinger bands but is still trading well above all technical support levels of the moving averages and the Fibonacci levels. The combination of the prolonged overbought levels on the Stochastic oscillator and the closing below the upper band of the Bollinger bands could indicate that there is a minor correction upcoming in the following sessions before resuming the bullish momentum. In such a case we could possibly expect some support around $1880 which consists of the psychological support of the round number and also the 20 day moving average.
If the bulls are proven to be strong we might see the continuation of the current trend without the correction which in such a scenario we might see some resistance around the $1,950 which is the upper band of the Bollinger bands and also an inside resistance area since late April 2022.
---
Disclaimer: opinions are personal to the author and do not reflect the opinions of Exness or LeapRate.
The post Weekly data: Oil and Gold price action on declining greenback appeared first on LeapRate.
Legislators Seek Repeal of Wisconsin's Controversial Sales Tax on Gold and Silver
A large bipartisan contingent of Wisconsin legislators seek to end Wisconsin's controversial practice of levying sales tax on purchases of gold and …
Wisconsin Lawmakers Introduce Measure to End Sales Tax on Sound Money
A large bipartisan contingent of Wisconsin legislators seek to end Wisconsin's outdated practice of levying sales tax on purchases of gold and silve…
Gold Is Shining Again (After the Fed Killed King Dollar…Again)
For weekend reading, Gary Alexander, senior writer at Navellier & Associates, offers the following commentary: After fueling inflation in 2021, the…